'Improved' Mahedi offers Tigers variety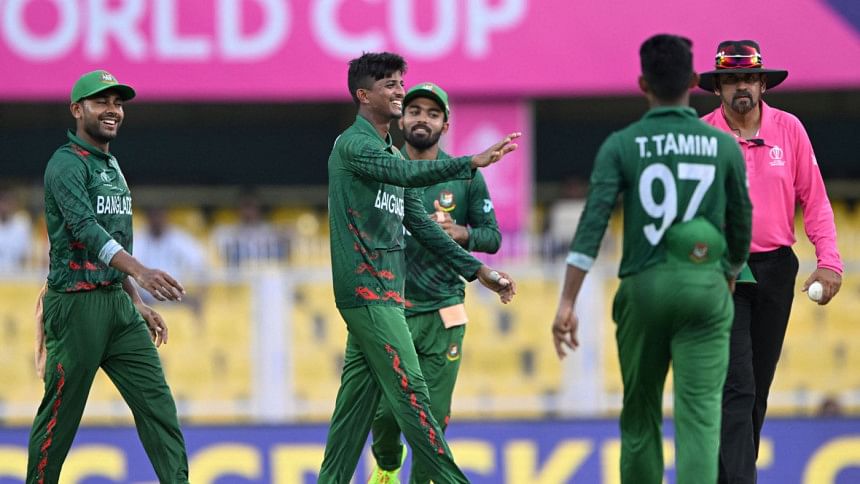 Off-spinner and all-rounder Mahedi Hasan has put his ability to bowl with the new as well as the old ball to good use in recent contests as his consistency coupled with guile has earned him a place in Bangladesh's World Cup squad.
Mahedi was not even in contention for a place in the final 15-member squad before the Asia Cup in August but the 28-year-old showed his worth in two matches he did get to play in the Asia Cup and then further solidified his claim with effective displays in the following New Zealand ODIs at home.
On Friday, Mahedi was instrumental in Bangladesh's win over Sri Lanka in their first World Cup warm-up match in Guwahati as his three wickets for 36 runs managed to not only pull the momentum back towards the Tigers after the Lankans got off to a blistering start but managed to upset their entire batting effort as he helped to restrict them for 263 on a good surface.
The off-spinner maintained tight lines, varied his pace, and displayed his guile through notable variations—all of which he is known for.
According to his mentor Mohammad Salahuddin, Mahedi, who has an economy of 4.48 in ODIs, has worked on his variations and ability to bowl in the middle overs which will help Bangladesh in the mega event.
"From what I observed in the last few matches, I think his bowling has improved a lot. In the early stage of his career, he bowled well only with the new ball but as the ball got older, he tended to struggle. But now. I think he has got a few variations and also understands how to bowl in the middle overs. I think this is his advantage and the best thing I noticed about him is that he is able to get some purchase even on flat tracks," Salahuddin told The Daily Star yesterday.
Mahedi along with Mehedi Hasan Miraz are the two specialist right-handed off-spinners in the Tigers squad. They are of the same breed but differ in strengths and weaknesses. Considering that, Salahuddin feels that both the players can offer a lot of variety for the captain.
"As spinners get older, they get mature as a result of playing more and are able to figure out what to do. When he (Mahedi) faces top batters, he will be able to improve and I think he and Miraz are two different bowlers and both can offer a lot of variety in the playing eleven considering the strength and weakness of the opponent," he said.
Bangladesh's revamped pace unit has shown great promise and already has brought results for the Tigers and naturally the pacers would be expected to play a massive role in India. However, considering the subcontinent conditions in store, Salahuddin has backed the spinners to play their part.
"The biggest strength of our bowlers is that they bowl at the stumps regardless of the variations but it won't be wise to judge them on their home performances only,'' Salahuddin said.
Apart from his bowling, Mahedi's batting can also come in handy for the Tigers. The right-hander has a reputation for being able to hit well and a decent domestic record backs that.