'Hopefully I won't have to bowl too much'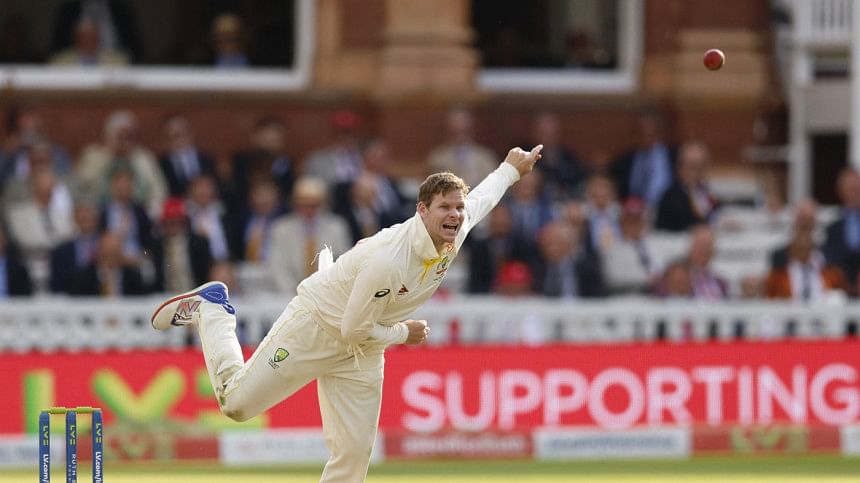 Having scored his 32nd test century for Australia earlier on Thursday, Steve Smith found himself in the unusual position of skipping in to bowl the final few balls of the day to England captain Ben Stokes - not a job he appears to relish.
"Hopefully I won't have to bowl too much," he told reporters, having stepped in just before the close of the second day of the second Ashes test to relieve Australia's tired fast bowlers following an injury to their regular spinner Nathan Lyon.
Lyon, appearing in his 100th consecutive test for the visitors, pulled up when running in to attempt a catch, and appeared to have strained his right calf.
That left Smith to bowl the final over of the day after Travis Head also put in a few overs of spin just before him.
"I haven't been working on my bowling at all!" Smith said with a laugh when asked about his single-over stint.
"I thought Heady bowled alright. Heady's probably the one that's going to have a take a fair chunk of the spin, and then maybe myself and Marnus (Labuschagne) will chop in here and there," he added when asked about the team's options for the rest of the Lord's test.
England's Ben Duckett said the home side sent their best wishes to Lyon, an opponent they clearly respect.
"I really hope it's not too bad for him. You never want see anyone go down with an injury. He was going to play a massive role in that fourth innings, he's such a good bowler," Duckett told reporters.
"It'll be interesting to see how they go about it. If they keep going bonkers with all four (fast) bowlers they'll be pretty tired by the end of it," he said.
Smith said he felt the Australia squad had the resources it needed if Lyon's injury were to put him out of action for any length of time, however.
"He could be a huge loss. However we've got Todd Murphy waiting in the wings. He's been bowling beautifully in the nets," he said.
"I'd be confident if he came in he'd do a terrific job for us. But fingers crossed Nathan's alright."