'Heat of the moment': Robinson unapologetic over reaction to Khawaja exit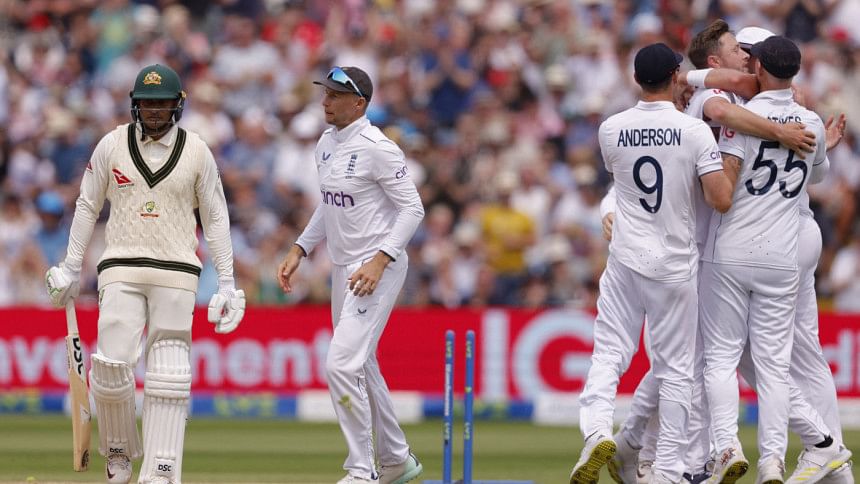 England paceman Ollie Robinson said he had been "in the heat of the moment" after appearing to verbally abuse Usman Khawaja in the first Test at Edgbaston on Sunday.
Robinson bowled Khawaja for 141 after the Australian opener extended his overnight century on the third day.
He seemed to have some choice words for Khawaja as the batsman returned to the pavilion.
Robinson then helped clean up the tail as the Ashes-holders were bowled out for 386 -- just seven runs behind England's first-innings 393-8 declared.
England, after openers Ben Duckett and Zak Crawley were dismissed in overcast, seam-friendly conditions in between two downpours, reached stumps on 28-2 in their second innings.
"It's my first home Ashes and to get the big wicket at the time was special for me," Robinson told a post-play press conference.
"I think Ussie played unbelievably well. And to get that wicket for us at the time as a team was massive."
- 'Theatre of the game' -
The 29-year-old added: "And I think we all want that theatre of the game, don't we? So I'm here to provide it. I don't really care how it's perceived to be honest. It's the Ashes, it's professional sport. If you can't handle that, what can you handle?"
Robinson, asked if abusing opponents was part of that "theatre" replied: "No, it's not but I think when you're in heat of the moment and you have the passion of the Ashes that can happen.
"I think we've all seen Ricky Ponting, other Aussies do the same to us. So just because the shoe's on the other foot, it's not received well."
His words to Khawaja could land Robinson in trouble with match referee Andy Pycroft but the England man said: "I'm not going to comment on that."
He was more forthcoming about the dismissal itself, which he said was inspired by a conversation with Ben Stokes the ball before where Robinson reminded the England captain how he had set 'umbrella fields' during a 3-0 series win away to Pakistan in December.
Stokes then suggested Robinson bowl a yorker before placing a ring of fielders in the batsman's eyeline that Khawaja tried to pierce
"I just went for a yorker, Ussie came down the wicket and played a different sort of shot to what he's been playing and luckily it hit the off stump," said Robinson.
"It was one of those plans that comes off and Stokesy looks like a genius."
Australia lost their last four wickets for 14 runs in 23 balls as their tail faltered against the short ball while captain Pat Cummins made 38 batting at No 8.
"We said once we get past Cummins, we feel like they have three No 11s," said Robinson.  "It's something we can target through the series."
Australia wicketkeeper Alex Carey, meanwhile, refused to be drawn on Robinson's words to Khawaja.
"I didn't see it at all," he said. "Usman hasn't said anything. It's the Ashes, at times it will be pretty exciting and hostile cricket. I didn't see anything over the top there."