Economist, entrepreneur, entertainer: The man who wears all three hats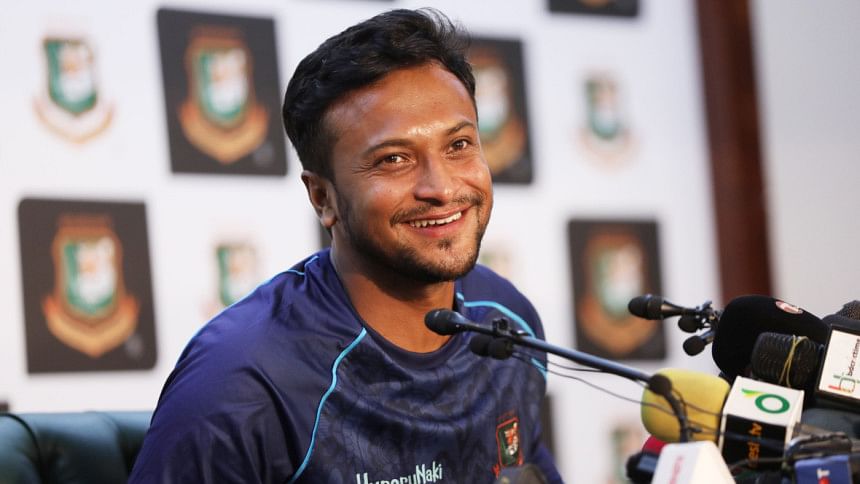 Whether on the field or off it, Shakib Al Hasan has remained the biggest attraction in Bangladesh cricket for his unconventionally bold attitude over the years.
After drama and controversy related to the all-rounder signing a contract with Betwinner News, the star cricketer terminated the contract and was rewarded with captaincy of the T20I team. Although Shakib had provided a reaction to that news during a commercial engagement, yesterday the star faced the media at the home of cricket in Mirpur for the first time since taking up the role.
Keeping aside questions about his plans and expectations ahead of the upcoming Asia Cup, it was a phenomenal sight to observe how calmly Shakib handled the barrage of questions during a media interaction that lasted for more than half an hour.
At times, he sounded like an astute economist, aware of the greater world context, eloquently speaking about the need to make better use of existing resources. He related a question about long-term goals to the necessity to switch from oil to gas when it is more efficient.
"The main area of focus for the next two and half months is to see how much we can improve during this period. We have a lot of injury concerns and, with the current scenario in mind and the number of matches we are going to play, they will persist. But despite such hurdles, it is important how we improve. We can't change our physical structure and make it bigger overnight. But we need to ensure we utilise the resources at our disposal," Shakib told the media yesterday.
"Suppose I don't have oil at the moment. There would be no point in thinking about what could be done with oil. But I could have gas. So it becomes important how I utilise the gas and see where I can make it work. I believe we can be a good team if we are able to utilise our resources properly."
After that, Shakib the businessman, known for ventures and investments from importing and selling gold bars to owning a brokerage house, made a brief appearance, speaking about getting the best possible return on investment when asked about the things he wants to change on his return as the captain.
"I don't think it would be wise to think that I will come and change everything overnight. When an organisation gives someone a responsibility, that person has to do some specific work and I will try to do those things. It's not that I will have to make changes and I don't think we don't need to change. It is important how we utilise our resources to get the best return on investment, I am only thinking about that," he said.
Normally a compulsive puller of the cricket ball whenever he gets the opportunity on the field, Shakib also showed good judgement outside off stump when a question was asked about how he viewed the saga of going from a controversial contract to becoming T20 captain.
"It's how you guys (media) started and finished the entire thing. That is how it is. I don't have much to say about this," Shakib replied with a smile.
The poster boy of Bangladesh cricket, however, continued to ensure that he would never become monotonous, employing his sense of humour to perfection and keeping everyone in a packed press conference room mesmerised by his aura.
Shakib joked about his training methods when asked how he was able to perform better than his teammates despite training less than them, replying: "I won't say I have any less preparation [than others]. I do the exact amount of training I need. If you see me training in Mirpur for three days, that doesn't mean I only trained for those three days. Maybe I trained for ten days, just not in Mirpur," he said, before unleashing a one-liner left the room in stitches. "I don't post many videos on social media, so not everyone knows whether I am training or not."