Ebadot gets his man but India stage rearguard resistance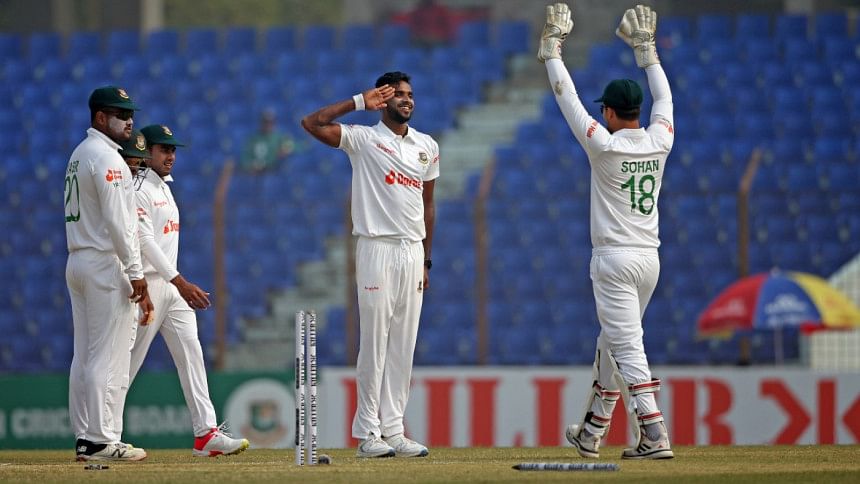 Ebadot Hossain, who dropped Shreyas Iyer on 67 yesterday, finally made up for his error on day one, denying the batter his second Test hundred by removing the right-hander for 86.
Iyer was dropped again, this time on 85 in the sixth over of day two off a Ebadot short delivery as Liton Das put one down at fine-leg while diving forward to take it. Liton hurt his knee in the process and had to go off the field for a while.
The Zing bails had denied Ebadot yesterday while Iyer was batting on 77 but this time Ebadot was not denied as the pacer got his man next over, going right through his defences to disturb the woodwork. The ball glanced the off-stump yesterday with the stump light glowing but unfortunately the bails were not dislodged leading to a reprieve for Iyer.
Ebadot went off after bowling that 98th over of the innings due to some discomfort and came back to the field in the 117th over.
India staged a rearguard action with Ravichandran Ashwin and Kuldeep Yadav, notching the third-highest partnership of the innings with an unbroken 50-run stand for the eighth wicket to reach 348 for 7 at lunch.
Ashiwn remained unbeaten on 40 while Kuldeep on 21 as the session produced 70 runs in 30 overs for one wicket.