Dream comes true for Balbirnie's parents in Mirpur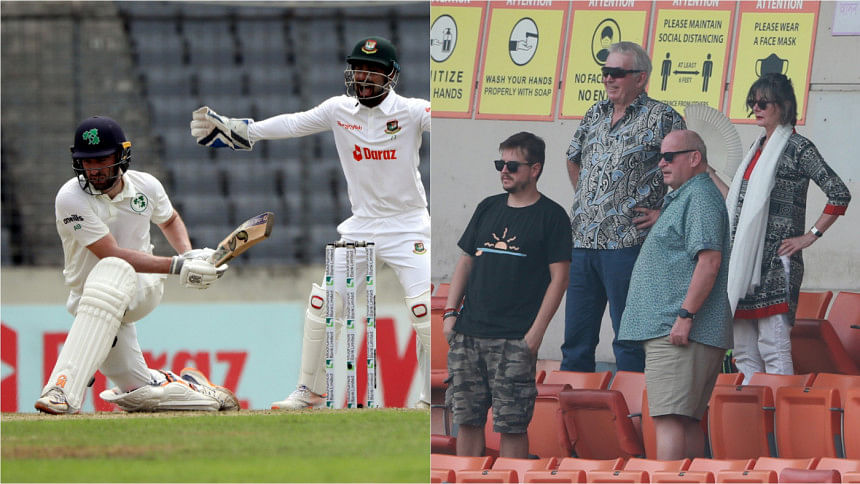 Some nerves set in when you are watching, a person you have known since there childhood.
Ireland last played a Test in 2019, at the home of cricket in Lord's against England. Having gotten their Test status in 2017, the Irish side have only had three Test assignments against Pakistan, Afghanistan and England respectively before they began their fourth Test at Dhaka today against Bangladesh. Thus, every Test appears to be new one and when it is your child playing the game, it is something special.
"Stomach is churning a little bit. I know mine is anyway. I get very nervous but it's a privilege to be here. Doubly charmed to see him bat," skipper Andrew Balbirnie's father Ashley Balbirnie, enjoying the game between Bangladesh and Ireland at Sher-e-Bangla National Cricket Stadium, said.
Both of Balbirnie's parents arrived on Monday morning to catch the only Test match. They were not too keen on watching the ODI or the T20Is but Tests represent something special.
"We just came Monday morning. It's wonderful. Test match is the purest form of the game and Ireland have played so few, something like three years since our last Test match so it's great to see them in whites," Ashley said.
Candy Lappin, his mother was enjoying the cricket too, having seen the young players turn into international stars. As any youngster, Balbirnie too had emotional and difficult moments when he lost his wicket. The Irish skipper spent fifty balls at the crease today before falling prey to Taijul Islam after scoring 16.
"We have three sons and they all played cricket. We went to all their matches and they used to play a lot of cricket as children," she said.
"It feels really good. It was difficult when they were very small and cried when they got out. But he [Balbirnie] is a man now and doesn't cry anymore when he gets out," she reminisced.
For her, it was a dream come true to watch her son play in different parts of the world.
"Yes [dream come true] and it's lovely. We know a lot of the players and we will be waving to them all. We have known them since they were very small. Some of them when they were younger, used to hang out at our house.
"It feels like a real privilege. We would never be in Dhaka if it wasn't for the cricket. It's so gorgeous to be here and watch him play a Test," she suggested.
Cricket has not really been a go-to as a career choice in Ireland. The Test status was still a big thing for Ashley.
"Cricket is getting more popular in Ireland and people coming in from different countries especially Asian countries are playing cricket. When we got the Test status, it increased the profile. It's difficult since the numbers are very small and you see the same players playing all the different formats because there is such a small pool of talent," Ashley said.
Balbirnie had always wanted to play and watching him here is special for many reasons.
"He wanted to play. When he was six years old, we moved to a house right beside a cricket pitch and since then all he wanted to do was play cricket for Ireland," his father said.
Happiness in the Balbirnie household will increase ten-fold very soon as his mother suggested.
"The big news is that he is going to be a dad for the first time. His wife is having the baby in August so that's very exciting," she said.
Cricket got them to Dhaka and Balbirnie's parents will be moving to Sri Lanka next to catch the two-match Test series and they will be hoping that they get to see something inspiring from the Irish sides in a game they enjoy.