Cricket coaches in Mymensingh struggling to make ends meet since pandemic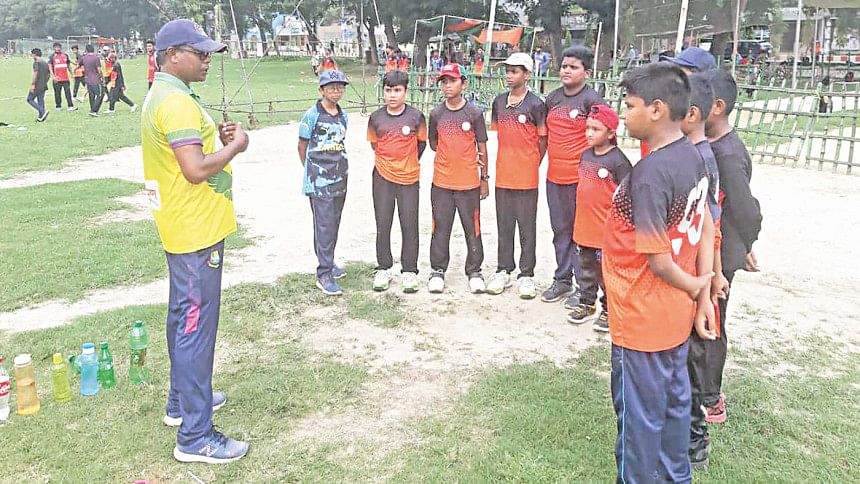 Continuing to brave the blows delivered by the Covid-19 pandemic that has lasted over two years, cricket coaching academies in Mymensingh are still struggling to impart their expertise.
The pandemic made their lives increasingly difficult, with coaches and players enduring some bleak moments.
"The situation was beyond imagination. We wondered if we would return to the field again, but since lockdowns have been lifted, we returned to the field with our boys and great hope," said coach Golam Kibria Tara, who represented Bangladesh Railway and Oriental Club in the Dhaka First Division.
Head coach of Mohammedan Cricket Academy, Tara said he resumed coaching in full swing at the end of last year and that there were now around 200 boys in his academy. Of them, 50 were regulars, mainly competing in different age groups.
The 48-year-old said there was a five-member coaching staff at his academy but it had become difficult to pay the staff on a regular basis.
Tara added that coaching was also disrupted several months due to the rainy season and examinations at educational institutions.
Of the 20 cricket coaches in Mymensingh, a majority lead their lives with constant financial constraints. Given the lack of indoor facilities, coaching ceases when it rains. Fitness sessions are conducted exclusively at the Zainul Abedin Park in Mymensingh. Regular students pay Tk 300 to Tk 500 each month but many fees remain unpaid for months.
Zakir Hasan, the founding coach of Brothers Cricket Academy who was nominated by the Bangladesh Cricket Board as Mymensingh's divisional coach, said there were 150 boys in his academy, with 80 regulars.
There are three other members in the coaching staff, and even coming up with their modest wages proves a challenge. Zakir's academy makes around Tk 40,000 as monthly fees from boys and girls, of which Tk 10,000 is spent behind pitch maintenance, nets and other operating expenses. Each staff member gets between Tk 7000 and Tk 8000 monthly, but it adds up quickly.
Jahid Hossain Emon, the founder of Panditpara Cricket Academy, said he currently coaches about 20 boys regularly and that it had become hard to continue running his academy because he cannot afford another coach.
"We cannot leave because of our fascination towards the field, but it is becoming increasingly difficult to continue in this profession, especially as the price of daily essentials and other commodities has increased many-fold," said Emon, who played in the Dhaka League from 2000-2015.
81-year-old veteran Kazi Mohammad Hasan, who has been a coach since 1965, said that the present condition had left coaches in serious dilemma. He added there were around 500 cricketers and cricket-related professionals at district level and club level that needed support to ensure their survival.
Tara provided a glimpse into what keeps them going, beaming as he informed that two boys from his academy were admitted to BKSP this year. But a profession they considered a decent future after their retirement as players has left them frustrated, many said. As the Covid-19 situation has deescalated, more optimistic coaches were hopeful that better days would come. For the moment, they continue to brave the blows.