Captain Joty leads Bangladesh's thrilling win over Sri Lanka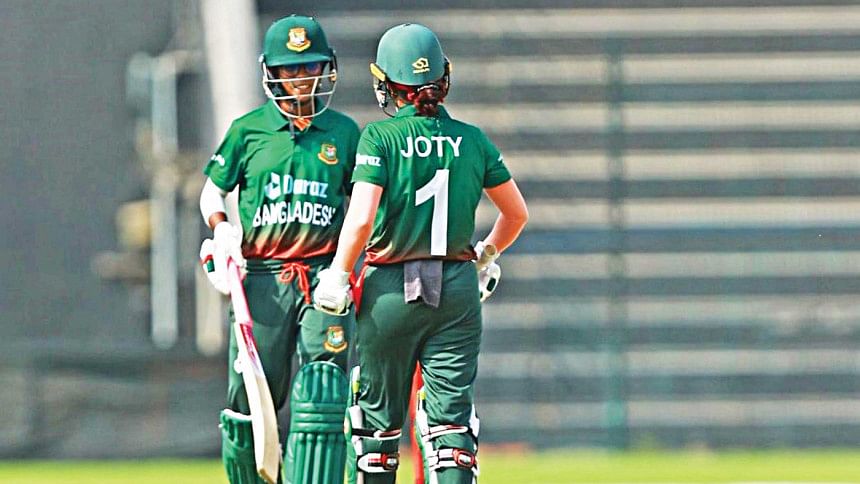 Nigar Sultana Joty struck an unbeaten 51-ball 75 as Bangladesh women's team beat their Sri Lankan counterparts by six wickets in the first T20I in Colombo on Tuesday.
Nigar smashed seven fours and two sixes as Bangladesh chased down 146-run target with one ball to spare and six wickets in hand.
The win comes after Bangladesh had lost the only completed one-dayer out of three scheduled on their tour of Sri Lanka by 58 runs on May 4.
After opting to bat first at the SSC in Colombo, Sri Lanka piled on 145 for six, thanks to a 28-ball 38 from skipper Chamari Atthapattu and a 44-ball 45 from Harshitha Samarawickrama. Nilakshi de Silva remained unbeaten on 29 off 28 deliveries as all the five Bangladeshi bowlers used got at least a wicket.
Bangladesh, as usual, started slowly and lost a couple of wickets early. But Joty, coming in at No. 4, took matters into her own hands. After the Powerplay, Bangladesh were 38 for two, which became 63 for two at the half-way stage, still needing 83 runs to win.
Bangladesh went into the 19th over still needing 25 runs, but Joty and Ritu Moni took the Sri Lanka captain for 17 runs in the over before Joty finished off the chase despite losing Ritu, who scored 33 off 23, to a run-out in the last over.
The two teams will meet again at the same venue in the second T20I on Thursday. Bangladesh are eighth in Women's T20I ranking while Sri Lanka are a place above them.