'Brumbrella': England's latest Ashes innovation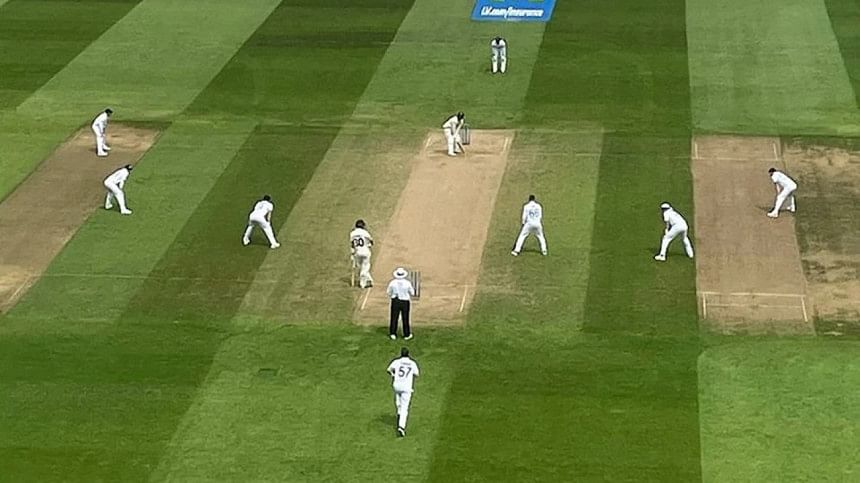 The third day of the Ashes was action-packed at Edgbaston, despite about half of the day's play being lost to poor weather conditions.
Australia's bowlers struck twice in quick succession in a devastating spell against England at Edgbaston on Sunday, before heavy rain washed out the later sessions on the third day of the series-opening Ashes test.
England were on 28-2, a lead of 35 runs, after Australia were bowled out for 386 in the morning session in reply to the hosts' first-innings total of 393.
Australia's first innings total was seven runs short of England's 393, with Usman Khawaja's mammoth innings coming to an end when he was bowled for 141 by Robinson before lunch.
Khawaja played with great composure for most of his knock, but when England captain Ben Stokes piled on the pressure with an aggressive field placement, the 36-year-old took the bait.
He came charging down the wicket in his attempt to blast a shot over the 'reverse umbrella' field, but Robinson's inch-perfect yorker uprooted his off-stump.
Having set up an on-side field for a couple of deliveries in an unusual wall formation, captain Ben Stokes opted to match it on the off side, with six catchers in front of Khawaja in a field that some have described as the "Brumbrella".
The Ben Stokes era enriched the modern lexicon of cricket further. After Bazball, Bazbait, Nighthawk, a new word was coined—the Brumbrella. Originally used to signify a large pitch cover to protect the ground, it can be used to describe the absurd field Stokes and Ollie Robinson set to end the 321-ball resistance of Khawaja.