Bangladesh Premier League 2023 full fixtures: Dates, time, venues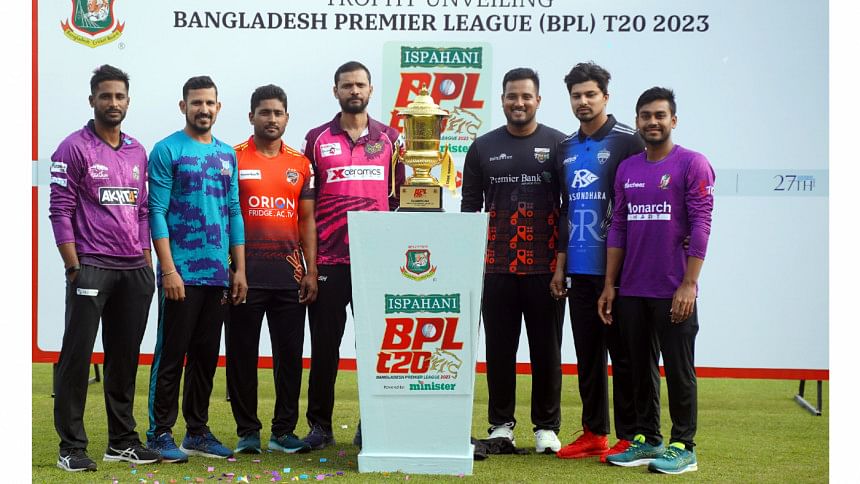 The Bangladesh Premier League 2023 will run from January 6 to February 16 as seven teams will fight it out to be crowned champions of the ninth edition. The Sher-e-Bangla National Cricket Stadium in Dhaka, the Zahur Ahmed Chowdhury Stadium in Chattogram, and the Sylhet International Cricket Stadium in Sylhet will host 46 matches across the the three cities.
Comilla Victorians, Rangpur Riders, Dhaka Dominators, Khulna Tigers, Fortune Barishal, Chattogram Challengers and Sylhet Strikers are the seven franchises that will battle it out for the BPL title.
BPL full fixtures 
| | | | |
| --- | --- | --- | --- |
| Date | Match | Time  | Venue  |
| January 6, Friday | Chattogram Challengers vs Sylhet Strikers  | 2:00 pm | SBNCS, Dhaka |
| January 6, Friday  | Comilla Victorians vs Rangpur Riders | 7:00 pm | SBNCS, Dhaka |
| January 7, Saturday  | Dhaka Dominators vs Khulna Tigers | 1:30 pm | SBNCS, Dhaka  |
| January 7, Saturday  | Fortune Barishal vs Sylhet Strikers  | 6:30 pm  | SBNCS, Dhaka |
| January 9, Monday  | Comilla Victorians vs Sylhet Strikers  | 1:30 pm | SBNCS, Dhaka  |
| January 9, Monday | Chattogram Challengers vs Khulna Tigers  | 6:30 pm  | SBNCS, Dhaka  |
| January 10, Tuesday | Fortune Barishal vs Rangpur Riders  | 1:30 pm  | SBNCS, Dhaka |
| January 10, Tuesday  | Dhaka Dominators vs Sylhet Strikers  | 6:30 pm | SBNCS, Dhaka  |
| January 13, Friday  | Chattogram Challengers vs Fortune Barishal  | 2:00 pm | ZACS, Chattogramn |
| January 13, Friday  | Khulna Tigers vs Rangpur Riders  | 7:00 pm  | ZACS, Chattogram  |
| January 14, Saturday  | Comilla Victorians vs Fortune Barishal  | 1:30 pm | ZACS, Chattogram |
| January 14, Saturday  | Chattogram Challengers vs Dhaka Dominators | 6:30 pm | ZACS, Chattogram |
| January 16, Monday | Dhaka Dominators vs Sylhet Strikers  | 1:30 pm | ZACS, Chattogram |
| January 16, Monday | Chattogram Challengers vs Comilla Victorians  | 6:30 pm | ZACS, Chattogram |
| January 17, Tuesday  | Khulna Tigers vs Rangpur Riders | 1:30 pm | ZACS, Chattogram  |
| January 17, Tuesday  | Comilla Victorians vs Sylhet Strikers  | 6:30 pm | ZACS, Chattogram |
| January 19, Thursday  | Comilla Victorians vs Dhaka Dominators | 1:30 pm | ZACS, Chattogram |
| January 19, Thursday | Fortune Barishal vs Rangpur Riders | 6:30 pm | ZACS, Chattogram  |
| January 20, Friday  | Chattogram Challengers vs Khulna Tigers   | 1:30 pm | ZACS, Chattogram |
| January 20, Friday | Dhaka Dominators vs Fortune Barishal  | 6:30 pm | ZACS, Chattogram |
| January 23, Monday  | Chattogram Challengers vs Rangpur Riders | 1:30 pm | SBNCS, Dhaka |
| January 23, Monday  | Comilla Victorians vs Dhaka Dominators  | 6:30 pm | SBNCS, Dhaka |
| January 24, Tuesday  | Fortune Barishal vs Sylhet Strikers  | 1:30 pm | SBNCS, Dhaka |
| January 24, Tuesday  | Dhaka Dominators vs Khulna Tigers  | 6:30 pm | SBNCS, Dhaka |
| January 27, Friday  | Sylhet Strikers vs Rangpur Riders  | 1:30 pm | SICS, Sylhet  |
| January 27, Friday  | Chattogram Challengers vs Fortune Barishal  | 6:30 pm | SICS, Sylhet  |
| January 28, Saturday  | Comilla Victorians vs Khulna Tigers  | 1:30 pm | SICS, Sylhet  |
| January 28, Saturday  | Chattogram Challengers vs Sylhet Strikers  | 6:30 pm | SICS, Sylhet  |
| January 30, Monday | Dhaka Dominators vs Rangpur Riders  | 1:30 pm | SICS, Sylhet  |
| January 30, Monday  | Khulna Tigers vs Sylhet Strikers  | 6:30 pm | SICS, Sylhet  |
| Jan 31, Tuesday | Dhaka Dominators vs Fortune Barishal  | 1:30 pm | SICS, Sylhet  |
| Jan 31, Tuesday | Comilla Victorians vs Khulna Tigers  | 6:30 pm | SICS, Sylhet  |
| February 3, Friday  | Fortune Barishal vs Khulna Tigers | 1:30 pm | SBNCS, Dhaka |
| February 3, Friday  | Dhaka Dominators vs Rangpur Riders | 7:00 pm | SBNCS, Dhaka |
| February 4, Saturday  | Chattogram Challengers vs Comilla Victorians | 1:30 pm | SBNCS, Dhaka |
| February 4, Saturday | Rangpur Riders vs Sylhet Strikers  | 6:30 pm | SBNCS, Dhaka |
| February 7, Tuesday | Chattogram Challengers vs Dhaka Dominators  | 1:30 pm | SBNCS, Dhaka |
| February 7, Tuesday  | Comilla Victorians vs Fortune Barishal | 6:30 pm | SBNCS, Dhaka |
| February 8, Wednesday  | Khulna Tigers vs Sylhet Strikers  | 1:30 pm | SBNCS, Dhaka |
| February 8, Wednesday | Chattogram Challengers vs Rangpur Riders | 6:30 pm | SBNCS, Dhaka |
| February 10, Friday  | Comilla Victorians vs Rangpur Riders  | 2:00 pm | SBNCS, Dhaka |
| February 10, Friday | Fortune Barishal vs Khulna Tigers  | 7:00 pm | SBNCS, Dhaka |
| February 12, Sunday | Eliminator | 1:30 pm | SBNCS, Dhaka |
| February 12, Sunday  | Qualifier 1 | 6:30 pm | SBNCS, Dhaka |
| February 14, Tuesday  | Qualifier 2 | 6:30 pm | SBNCS, Dhaka |
| | | | |
| --- | --- | --- | --- |
| February 16, Thursday  | Final | 6:30 pm | Sher-e-Bangla National Cricket Stadium, Dhaka |