Namibia U19 ousts SA to reach quarters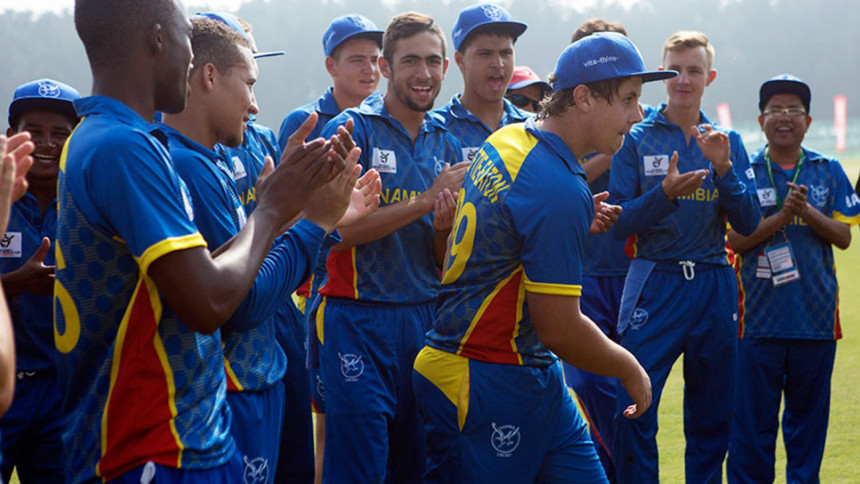 Namibia Under-19s reached the quarter-finals with a sensational upset, pulling off a two-wicket win over South Africa Under-19s in Cox's Bazar.
Defending champions South Africa, who also lost their opening game against Bangladesh, are now out of contention for the quarter-finals.
The match-winner in a low-scoring game was Lohan Louwrens, who came in at 10 for 2 and scored an unbeaten 58 to steer Namibia to a target of 137. Louwrens did not receive too much support apart from Charl Brits, who scored 27 and added 52 with him for the sixth wicket, as Namibia steadily lost wickets. But he stayed there even as Brits, Chrischen Olivier and Francois Rautenbach fell in the space of 13 balls, steering Namibia home in the 40th over.
Having chosen to bat, South Africa were on the back foot right from the start. Left-arm seamer Fritz Coetzee dismissed both their openers within the first three overs, and reduced them to 2 for 2. Namibia kept chipping away at the wickets, and South Africa were 60 for 8 and in danger of falling short of 100 before Willem Ludick (42) and Lutho Sipalmla (17) averted that danger with a 55-run ninth-wicket stand. Sipamla and last man Ziyaad Abrahams ensured South Africa batted out the 50 overs, but could only stretch the score to 136 for 9. Coetzee finished with three wickets, and Michael van Lingen with four.
The win was Namibia's first over Test-playing opposition in a Youth ODI since they beat Sri Lanka Under-19s in the 2002 edition of the tournament.