Mustafizur's weight loss worries BCB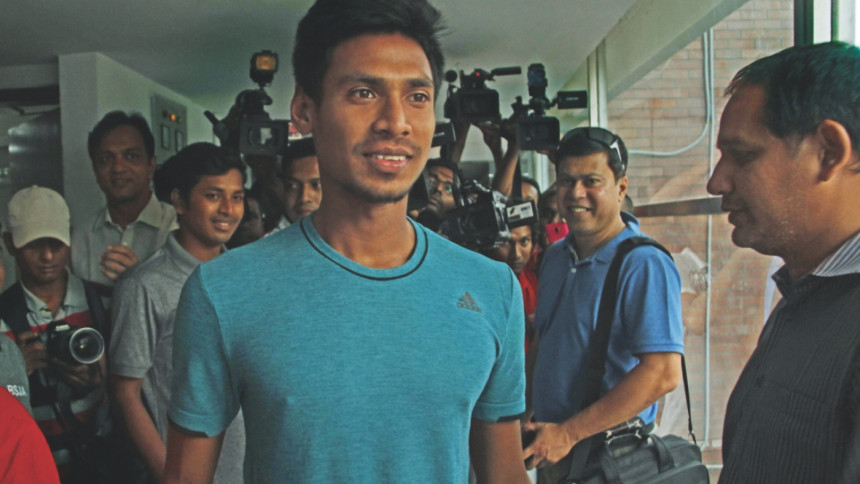 Bangladesh Cricket Board (BCB) is mulling over providing Mustafizur Rahman, who left for Satkhira last night, with a long leave in order to help him recover from home sickness.
According to BCB sources, the plan, as of now, is to let the youngster spend as much time as possible with his family. Meanwhile, the BCB is also planning on formulating a rehab strategy for the bowler who has apparently lost plenty of weight.
Sources state that the rehab is set to begin after the break. If this plan does get confirmed then it could further delay Mustafizur's stint with Sussex for whom he was supposed to begin playing from the second week of June.
The plans of providing him a break and making a rehab strategy were made following a fitness test and some medical examinations that Mustafizur took yesterday at the Sher-e-Bangla National Stadium in Mirpur and the Apollo hospital respectively.
The reports suggested that he lost a decent amount of weight and this was a factor that concerned the medical team. The loss of weight, according to sources close to Mustafizur, was because of his home sickness.
However, the good news for Mustafizur is that the hamstring injury that he suffered in India was termed as 'not serious' by the concerned authorities.
Earlier Mustafizur spent yesterday afternoon at Mirpur doing a bunch of exercises under the supervision of BCB physio Bayjedul Islam.
The pacer, who sustained an injury in India is yet to regain full fitness. The BCB medical team and Mustafizur were not ready to speak to the media yesterday. However, BCB CEO Nizamuddin Chowdhury told reporters that Mustafizur's immediate future would depend on the fitness tests.
When asked if Mustafizur would be given permission to go play for Sussex, he said: "It won't be right to say anything before we get the fitness report. It will take a couple of days to know Mustafizur's situation. After we get the report, we will know how to progress.
"At the moment, what matters is how much his body can take rather than what he wants," he added.  
Aside from the fitness tests, Mustafizur also took the opportunity to meet with his national colleagues like Mashrafe Bin Mortaza and Soumya Sarkar.