Mustafizur Rahman might have had a brilliant first season at the Indian Premier League (IPL) but there were times when he had to overcome several obstacles.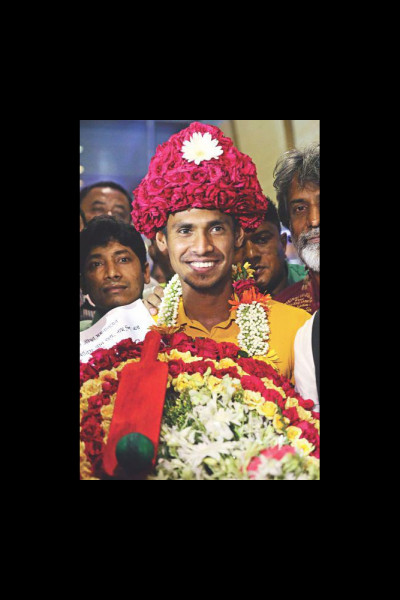 And on top of that list was the challenge of staying away from home alone for such a long period.
"Throughout the tournament I missed home a lot. I constantly thought about my father, my mother and everyone else," the left-arm pacer told reporters at the Shahjalal International Airport in Dhaka upon his return yesterday.
He also had to battle a hamstring injury towards the end of the tournament. In fact, the injury may affect Mustafizur's immediate future.
When asked if he was keen to take part in the ongoing Dhaka Premier League, he said: "I have a bit of a problem with my leg. I will need to first speak to the BCB physio and then think about the next steps. I injured myself in the third-last game of the IPL."
Aside from those little issues though, Mustafizur had a great time with the Sunrisers Hyderabad.
"My English is not really good. I just know a few cricketing terms. Everyone tried to learn Bangla from me and everyone seemed to have a lot fun while doing that," he smiled.
"This was the first IPL of my life and I did well. I am still young and I have a lot more to learn. There were many people from different countries there and I learnt a lot. If I get more opportunities like this I will try to do better.
At the airport yesterday, Mustafizur was welcomed by his family and the Deputy Minister for Youth and Sports, Arif Khan Joy. Joy told reporters that Mustafizur's performances would soon be recognised with an award.