Mustafizur red hot, other youngsters lukewarm
When Mustafizur Rahman came to bowl his second spell, there was a palpable buzz around the Shere Bangla National Stadium. What the crowd saw in the first two ODIs of the series, they expected in the third despite everyone around Mustafizur telling them to be realistic now that he had taken 11 wickets in his first two matches.
After his match-winning five-for in the first ODI, all the focus in the ODI series has been on him. Others were expected to do their job in the background, and that included senior players and youngsters in the Bangladesh team. Everyone was so struck by Mustafizur's pastoral innocence and the novelty he brought to the bowling attack, that hardly anyone focused on the other debutant Litton Das despite his domestic credentials and the fact that he was asked to bat at the poison chalice of Bangladesh's ODI line-up, the No 3 spot.
Soumya Sarkar and Sabbir Rahman were similarly pushed to the shadows despite also making impressive starts to their ODI careers. Mustafizur's five-for and six-for confirmed that this ODI series between Bangladesh and India will forever be remembered for him.
In the first ODI, Mustafizur took two and three wickets in his second and third spells respectively while in the second ODI he took five wickets in his second spell. On both occasions, he was heavily used up front but came back later in the batting Powerplay to achieve success.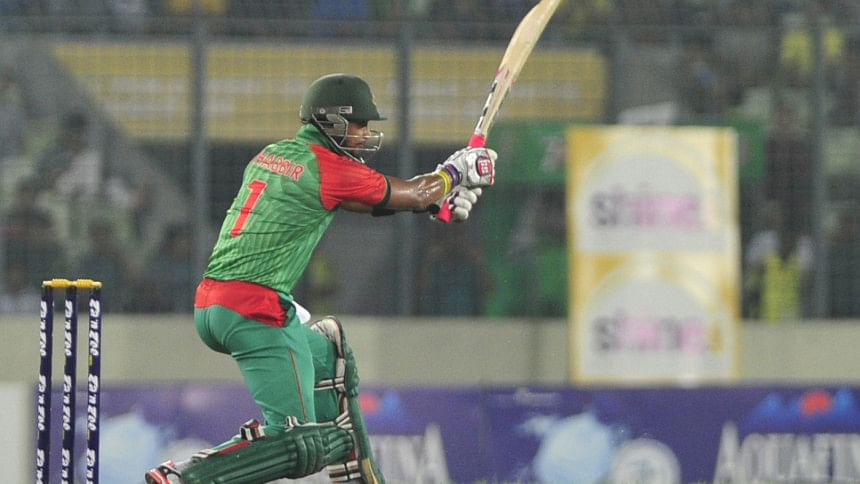 On Wednesday, his second spell started with Mashrafe posting himself in a wide gully very close to both MS Dhoni and Ambati Rayudu with a short third man and a point on top of the 30-yard circle behind him. He bowled two tight overs with both batsmen walking across to outside off-stump to cover his angle and not play his off-cutters too far away from their bodies.
The plan was well thought out and there were a couple of unplayable deliveries that Dhoni and Rayudu were lucky to escape but Mustafizur was taken off after two overs and brought back for one over in the 43rd where he conceded four runs. He returned in the 47th to bowl his last spell, picking the Suresh Raina wicket that put him on top of two lists: highest wicket-taker in first three ODIs of a player's career and the highest wicket-taker in a three-match ODI series.
As the youngest and one of the least experienced players, there were not many who would have expected Mustafizur to have such a prosperous start to his ODI career, let alone break three ODI bowling records. Nasir Hossain said on the eve of the third ODI that Mustafizur's contribution to the series win was about 80 per cent.
Among the rookies, Sarkar was perhaps second to Mustafizur. He continued to bat with much class to have scores of 54, 34 and 40. There were moments when he looked uniquely elegant but he holed out twice in three innings and in none of those he kicked on after making good starts.
Litton must have disappointed himself, particularly after his encouraging Test debut in the rain-affected Fatullah Test. Although he was impressive behind the stumps, he got out in the 30s twice in three innings. His 50-ball 34 in the third ODI looked directionless for most of his 82 minutes at the crease.
Sabbir had the opportunity to bat for a longer period in the third ODI but he was undone by a Stuart Binny off-cutter for a rapid 43. In the first ODI he had helped Bangladesh recover from a middle-order slump while in the second game he shepherded the chase with a 22 not out.
Bangladesh's captain Mashrafe Mortaza said that while Mustafizur did phenomenally in his debut ODI series, the other younger players should have kicked on from their starts with the bat. He expects them to analyse their performance ahead of the South Africa series.
"The way Mustafizur performed, it was unbelievable," Mashrafe said. "You can't compare that to anyone. But you can say there were many batsmen who couldn't score despite being set. I thought the way Soumya batted, we wanted him to bat that way.
"Soumya did well in the first two matches and also got a good start in the third match but he couldn't carry on. Hopefully those who made mistakes will review and fix it in the next series."
It would be unreasonable to expect young players to have glorious starts like Mustafizur's all the time but there were opportunities for Soumya, Litton and Sabbir to flaunt their fare in this ODI series. With the performance landscape changing every series, they still have time in their hands, but not a lot.