Mushy & Naeem's record stand powers Rupganj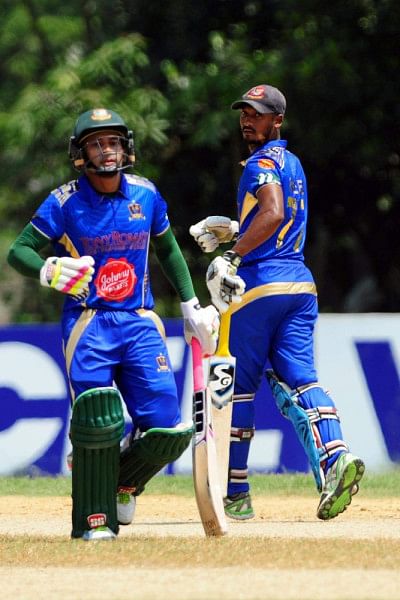 A record partnership between centurions Mushfiqur Rahim and Naeem Islam for the third wicket not only helped Legends of Rupganj recover from a poor start, but also set up a thumping 68-run win over Abdur Razzak's Sheikh Jamal Dhanmondi Club at the BKSP in the second round of the Dhaka Premier League yesterday.
Batting first, Rupganj slumped to 13 for two after Shahadat Hossain's opening burst removed the Rupganj openers. That is when Naeem and Mushfiqur joined hands to put on a 225-run stand for the third-wicket, which is the highest ever stand for this wicket in List A cricket for Bangladesh.
Initially, both Naeem and Mushfiqur took it easy. They did not want to lose any more wickets and just played out the new ball. Once they got settled, the boundaries started coming regularly. Mushfiqur ended up scoring 134 off 134 balls with 14 fours and a six, whie Naeem hit 103 off 118 balls with seven fours and one six. While Mushfiqur reached his century off 115 balls, Naeem reached the landmark off 113.
By the time the duo were separated with Mushfiqur  being caught off Razzak, Rupganj were at a comfortable 238 in 41.1 overs. Mashrafe Bin Mortaza and Jalaj Saxena came in and hit a few quick-fire boundaries to help Rupganj amble across the 300-mark and post 305.
The momentum was with Rupganj and with scoreboard pressure weighing heavy, Sheikh Jamal crumbled after the exchange. While a number of their batsmen got starts, none of them managed to carry on. Mahbubul Karim, Fazle Rabbi and Ziaur Rahman all got out after getting to their 30s.
They were bowled out for 237 in 46.2 overs. Mosharraf Hossain, Asif Hasan, Naeem and Mohammad Sharif took two wickets each.
In the other game at the BKSP, Abahani continued their good run by thrashing Partex Sporting Club by seven wickets. Batting first, Partex managed to post 234 courtesy of Jubair Ahmed's unbeaten 50. However, it was a good batting track and this was going to be hard to defend.
While they did manage to reduce Abahani to 43 for two, a 150-run stand for the third wicket between Mahmudullah and Nazmul Hossain took Abahani home in just 38.3 overs.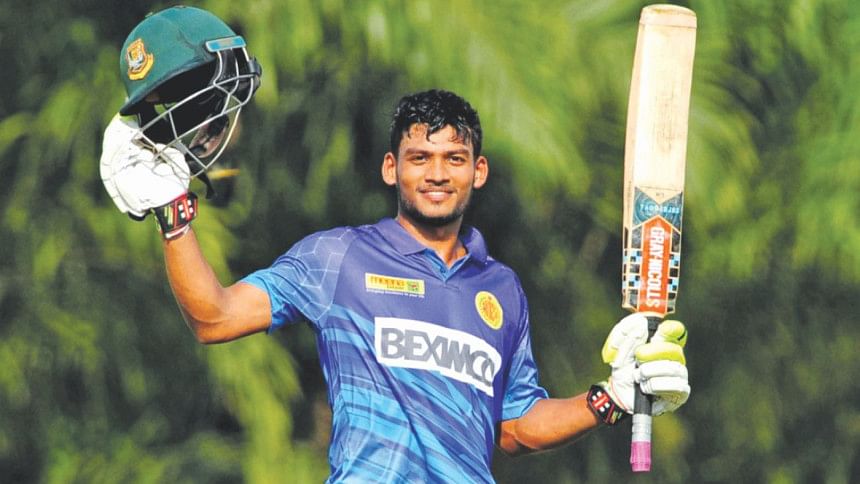 While Nazmul remained unbeaten on 101, Mahmudullah hammered a 52-ball 77 with five fours and three sixes. Nazmul, who scored his highest List A score yesterday and his first century, hit four sixes and five fours.
Mahmudullah was caught in the 31st over and that is when the in-form Mosaddek Hossain arrived at the crease and supported Nazmul with an unbeaten 23 to take Abahani home.
At the Khan Shaheb Osman Ali Stadium in Fatullah, Prime Doleshwar won their second consecutive game when they overcame Brothers Union's 246 with four wickets and 1.3 overs to go.
Doleshwar were guided by their opener, Imtiaz Hossain who scored a 143-ball 99.
Batting first, Brothers rode on Junaid Siddique's 87. Doleshwar's Arafat Sunny, who had taken a five-wicket haul in his previous game, took four scalps yesterday and was the key wicket-taker.
After the exchange, Imtiaz's 99 along with Abdul Majid's 45 and Marshall Ayub's 33 helped them get across the line.