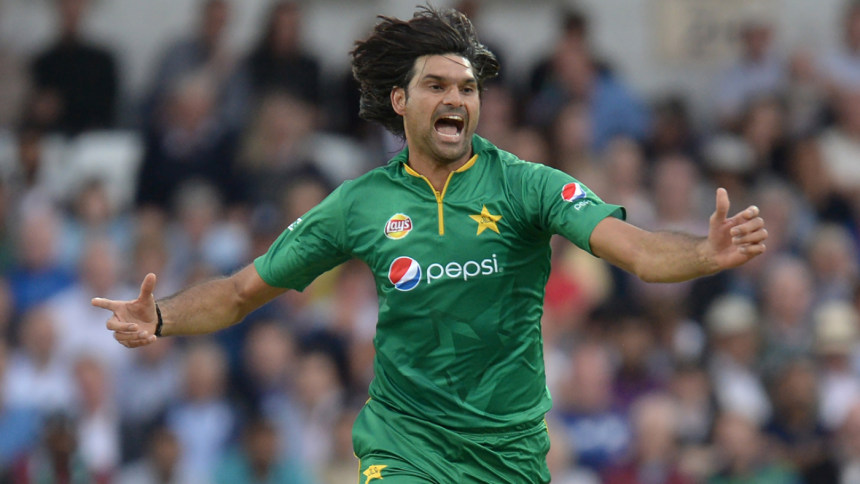 Pakistan on Tuesday charged and suspended giant fast bowler Mohammad Irfan over allegations of spot-fixing during a recent Twenty20 league, in a case that has so far ensnared three other current or former national stars.
The widening scandal threatens to take some of the sheen off the recently completed Pakistan Super League (PSL), which was hailed as a step towards restoring international cricket in the terror-hit country after the final in Lahore passed without incident.
A guilty verdict for the players would prove disastrous for Pakistan cricket, which was last rocked by a match-fixing scandal in 2010 that deprived it of three top players including paceman Mohammad Amir, who has since made a comeback.
"The Pakistan Cricket Board (PCB) in furtherance to its investigation issued a Notice of Charge and provisionally suspended Irfan under the PCB Anti-Corruption Code," the body said in a statement.
It added: "Irfan has been charged with two violations of the anti-corruption code and now has 14 days to respond to the Notice of Charge," without giving further details.
"He has also been provisionally suspended with immediate effect from participating in all forms of cricket."
Sharjeel Khan and Khalid Latif, fellow members of the Islamabad United team that took part in the tournament, were also provisionally suspended and charged last month over meeting a man suspected of being linked to an international betting syndicate.
Former Pakistan opener Nasir Jamshed was also provisionally suspended on charges of being a "go between" in the spot-fixing incident. Jamshed and another unnamed person were arrested in Britain last month but were bailed until April.
The PCB, which has formed a three-member tribunal under retired judge Asghar Haider to probe the allegations, said the investigation would continue.
Irfan, 34, appeared before the anti-corruption unit of the PCB on Monday and confessed to being approached by a bookmaker about fixing matches in the past six months.
He admitted he failed to report the incidents because of the death of his father in September followed by his mother's passing in January.
Rags to riches
Irfan made headlines for his extraordinary height -- seven feet and one inch or 216 centimetres -- when he made his international debut in 2010 and stands as the tallest-ever player to feature in world cricket.
He has so far played four Tests and 20 Twenty20 internationals, but has achieved most success in his 60 one-day internationals where he has taken 83 wickets at an average of 30.71.
His stature makes him a dangerous bowler as each ball is released from a height rarely experienced by batsmen.
Born a farmer's son in the small village of Gaggu Mandi, he told AFP that in his younger days he was mocked by classmates and strangers because of his height.
Unable to make a breakthrough in the sport, he once made ends meet by working in a pipe factory, earning just 300 rupees ($3) a week, before being spotted by former first-class cricketer Nadeem Iqbal in a club match, and went on to make his first-class debut in 2009.