Miraz finally lives up to potential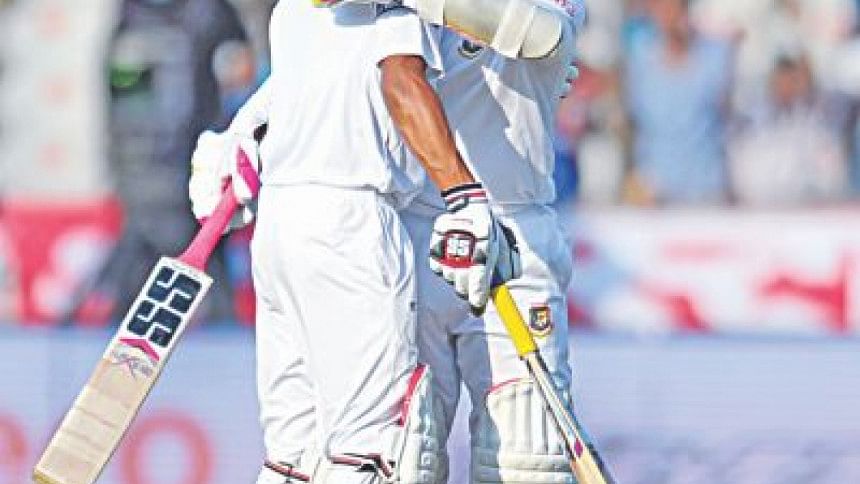 If you had a penny for every time someone at a press conference asked Mehedi Hasan Miraz about his poor batting form in international cricket, your life savings would have been taken care of.
The former Bangladesh under-19 all-rounder soared into the national team in 2016, the same year he played his last under-19 game, the semifinal of the Under-19 World Cup in Bangladesh which received plenty of attention.
Even before entering the national team, he had mesmerised the country with a match-saving century and a few other brilliant knocks, not to mention his displays with the ball.
The absence of a genuine off-spinner helped him quickly enter the national team. While he was drafted in as a specialist bowler, there was plenty of pressure on him to perform as a batsman as well, since he had proved himself in the age-level competitions. Well before making his debut, he was being called the junior Shakib Al Hasan.
When Mehedi scored his half-century yesterday, it was a huge relief, not only for the team management but also for those who have watched him grow. Prior to yesterday, his highest Test score was 10 and his batting average was around 2.5.
The most interesting aspect of his half-century yesterday was his duel with Ravichandran Ashwin. Going into the game, Mehedi was asked a number of times whether he would talk to Ashwin or try to learn something from the senior off-spinner.
Mehedi said that he would talk to him after the game for some tips, but what questions like this can do is make a player intimidated of a particular bowler.
It could have been extremely easy for a batsman averaging below three to be bewildered by Ashwin, no matter how flat a deck he is bowling on. However, Mehedi handled him quite well.
Ashwin was brought on over number 93. At first, he let Ashwin earn a maiden and tried to see him off. From the second over onwards though, he started going down the track and attacking the off-spinner. He went down the track and hit him through covers twice.
The surge in Mehedi's confidence was best understood when he cut Ashwin for a four behind point to reach his maiden half-century.
The long hug that he received from Mushfiqur Rahim at the other end best explained how important Mehedi's innings was for the team.
Shakib described Mehedi's knock as something special.
"It was crucial for him to stay at the wicket for Mushfiqur. He did it perfectly and played just how we expected him to. We rate him very highly both with the bat and the ball. I am hopeful that he will make it a big one tomorrow," said Shakib.
Like Shakib, many of Mehedi's observers, who watched him carry the under-19 team to a number of unlikely victories, will also hope he can bat through the morning session on day four.