Manuka Oval is a Little Bangladesh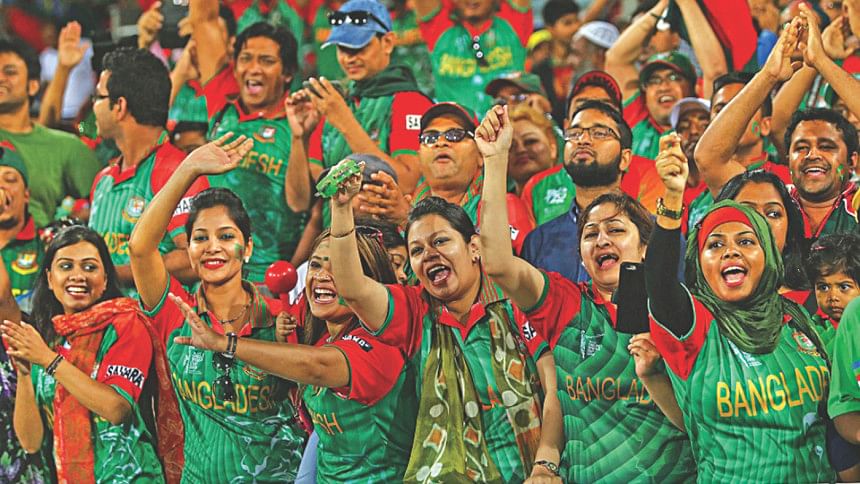 Around seven to eight thousand Bangladeshis live in Canberra, the capital of Australia. But there are many more living in other big cities like Sydney, who made most of the Bangladesh contingent at the Manuka Oval yesterday.
It's only two-and-a-half hour's drive from Sydney to Canberra. A large number of Bangladeshis living in Sydney took the opportunity to watch the Tigers from close quarters during their opening match of this World Cup against Afghanistan.  A few also came all the way from Bangladesh, making most of the presence of their relatives living in Australia.
Musa Ibrahim was among those who were at the Manuka Oval yesterday to cheer on the Tigers. The first Bangladeshi to summit the Mount Everest informed he has been living in Australia for the past three months and went to meet the Tigers at the team hotel on the night prior to Wednesday's match.
Many of those present here informed that they had planned watching this match from the venue as soon as the World Cup fixtures were released. "Oh, it's fantastic. We decided to come here once we got the fixtures. Lot of Bangladeshis came from Sydney just for this match," said an elated Sultana Begum, who came along with her family.
"We came from Sydney with a big contingent, travelling by 35 cars," said Hasan, a student studying in Sydney for a couple of years.
It was fantastic to see Bangladesh's red and green flag on many cars on the streets of Canberra 'Bangladesh, Bangladesh' slogan chanted through the streets from early in the morning. The whole atmosphere was electric and it felt like the match was being held in any of the venues in Bangladesh. Most of the supporters wore the team jersey and caps. The song 'Purba Digante Surjo Uteche', when played on loud speakers around the stadium, took the emotions to an altogether different level.
Although there was a large contingent of Afghan supporters present as well, they were outnumbered by the Bangladeshi fans, just like their players were outplayed by the Tigers on the field.