'It was a perfect game alright'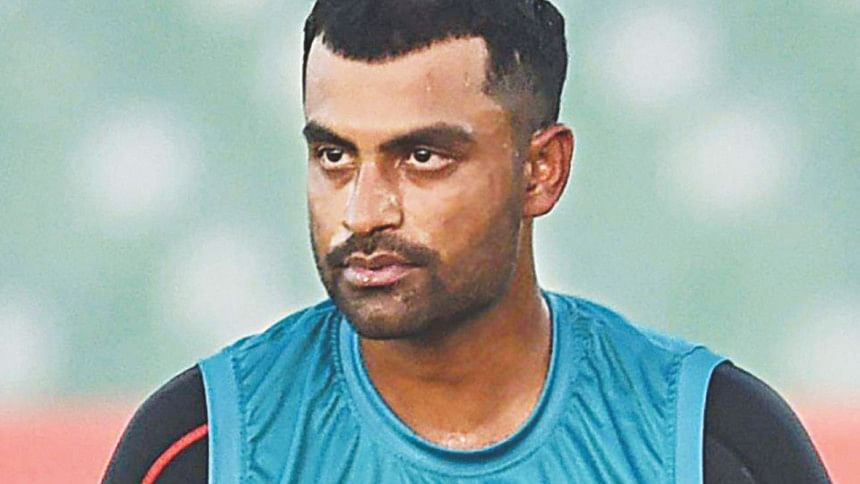 It took Tamim Iqbal almost six months to score a one-day century after his last one against Afghanistan at the home of Bangladesh cricket in Mirpur in October last year. The left-handed opener struck a magnificent 127 in Dambulla on Saturday, an innings of assurance that fashioned Bangladesh's robust 90-run victory against hosts Sri Lanka.
But for those who follow the Tigers closely, Tamim's ton has got a special meaning since it has finally lifted a curse of some sort or a locker-room theory that the left-hander has been trying to overcome.
On October 1, 2016 when Tamim scored 118 against Afghanistan, his seventh ODI hundred, his captain Mashrafe Bin Mortaza wrote down in the dressing room that 'it would take him another six months to score his next century'. The captain wrote that so that it would ignite Tamim. It's not that the left-hander was not trying hard -- he got starts in the last six innings he played after that. But bad luck, combined with judgmental errors in shot selection held him back.
However, Tamim was quite happy when a century finally came on Saturday.
"Mashrafe bhai told me he was very happy when I walked into the dressing room after scoring that century," Tamim told this reporter over phone yesterday.
"He [Mashrafe] is threatening to curse me again. But I'm happy that it has so far been confined to threats," said Tamim with a smile.
It was Tamim's second successive innings of authority after his fabulous 82 on the fifth morning of the second Test in Colombo, which Bangladesh won by 4-wickets to showcase their centenary Test in some style.
But both innings are quite different. He was attacking in his 82 while his 127 was more like a vintage wine.
"I'm happy that I could play according to the demands of the team. Sometimes you need to be attacking and sometimes you need to shift that gear. And at the end of the day you feel happy knowing that you have contributed to the cause of the team," said Tamim about his two contrasting innings.
Tamim's 127 helped Bangladesh post a massive 324 for five in the first ODI before the Lankans were bundled out for 234 in their chase. It was a match Bangladesh played like true professionals. They built their innings with minimum risk, bowled beautifully and fielded brilliantly. It was a match where they overwhelmed the Lankans in every department of the game that prompted Mashrafe to call it 'a perfect game'.
"It's a perfect game alright. But it was one of those perfect games we have played. I think we played perfect games against Pakistan in our 3-0 series win, we were perfect in our 2-1 series success against India and we played a perfect game in that third ODI against South Africa. We have also played a few perfect games in Zimbabwe and West Indies," said Tamim.
"In this match we constructed the innings very well. Sabbir played a vital knock and even those late-order thrusts by [Mahmudullah] Riyad bhai and Mosaddek [Hossain] were equally impressive. But our fourth wicket partnership after the loss of two quick wickets was the best part of the match. It was very pleasing to see the way Shakib [Al Hasan] played. It shows the maturity of a team," Tamim observed.
Asked how tough it was for him to keep pace with a fleet-footed Shakib, the left-hander said: "I enjoyed batting with him. He is the fastest player in our team when it comes to running between the wickets."
When asked if the senior players are taking more responsibility Tamim said: "We are four to five players who have been playing in the national team together for the last ten years or so. We always try to play according to the demand of the team. You see when you come up with a game plan you can't be 100 per cent successful in executing those plans. We are working very hard to work with those 10 per cent mistakes. And the senior players are playing a vital role to minimize those mistakes. The positive effect was quite evident on the field on Saturday," said a confident Tamim.
The 28-year-old batman, who celebrated his birthday on March 20, said that he enjoyed that little break after the second Test.
"We have been playing non-stop cricket for a long time. So, these sort of breaks are very helpful for us to recover. I thank the team management for allowing those free spaces," said the Chittagonian.
Asked how he enjoyed his birthday in Mumbai, where he also consulted with his dentist, Tamim said: "It was a family affair. We enjoyed a quiet dinner."
The left-hander will come to play the second ODI at Dambulla on Tuesday and said what happed on Saturday was history.
"We will have to start afresh. We know they will come hard. But our effort will be to play another perfect match. And if I get an opportunity I will try to make it big again," said a self-assured Tamim, who is also the first Bangladeshi batsman to complete 10,000 international runs.