'Want to see a Shakib in every discipline'
Pratap Sankar Hazra -- a versatile athlete who played football, hockey, cricket, table tennis and volleyball at the top level -- was the vice-captain of the Swadhin Bangla Football Team, which played a tremendous role bridging opinions during the Liberation War by playing matches in different parts of India. To mark the nation's 50th year of independence, Hazra told The Daily Star's Anisur Rahman new tales about the country's sport. The excerpts are below: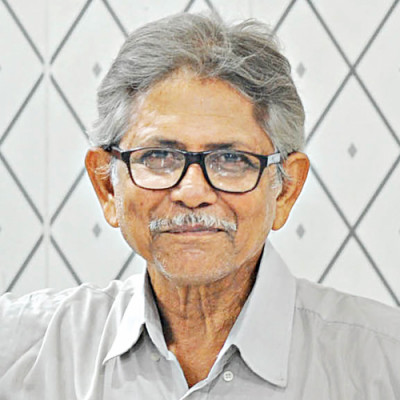 The Daily Star (DS): December 16, 2021 is the golden jubilee of Bangladesh's independence. How do you feel as a freedom fighter?
Pratap Sankar Hazra (PSH): As a freedom fighter, everything from my burnt home to the bloody situation of 1971 is still vivid in my memory. The more important thing is that I believe those who fought, sacrified and suffered during the war are now happy to see the way the country is developing. On behalf of the Swadhin Bangla Football Team, I want to thank to our government.
TDS: You fought a different battle, one with football, under the banner of the Swadhin Bangla Football Team. What was the thinking behind such a battle, through football on foreign soil?
PSH: Shamsul Haque [MP] called and asked me to form a football team after explaining the reason behind the formation of such a team. I agreed to his proposal because a lot of footballers crossed the border to take shelter in Agartala.
Later, the formation of the Swadhin Bangla Football Team gathered steam after an announcement from the Swadhin Bangla Beter Kendro.  We were also successful in our endeavor.
TDS: We have learnt that the Bangladesh Krira Samiti was behind the formation of the Swadhin Bangla Football Team and that the Krira Samiti recently asked the sports ministry to recognise them.
PSH: After the meeting with Mr Shamsul, I went to a meeting at the Bangladesh Krira Samiti the next day but none of the committee members were involved in sport. Then they included me, Jakaria Pintu and Nani Basak as members of the committee. Then, Mr Lutfor, Mr Mohsin and I went to Agartala to assemble footballers under the banner of the Swadhin Bangla Football Team.
I don't know who is demanding further recognition. Maybe they want to prove themselves as freedom fighters after 50 years. That committee was changed several times, with only three members -- ex-deputy prime minister Shah Moazzem, Jakaria Pintu and I –alive. The rest are no more as far as I know. It would be contradictory to the statement of the government to make a list of true freedom fighters if new ones are enlisted after 50 years.
TDS: How much has sport changed and progressed in Bangladesh after liberation?
PHS: We have progressed a lot but we can't hold onto success because of a lack of genuine organisers at the grassroots, upazilla and district levels. A lot of money is being spent but we can't get the expected results. We got success in women's football, women's cricket and men's cricket, in which Shakib Al Hasan was recognised as the world's number one all-rounder. Makeshift organsiers are at helms despite their failure and they even made big promises like taking Bangladesh to the World Cup.
TDS: You once played a lot of sports, including football and hockey, for the national team. How much have both disciplines progressed after the Liberation War?
PHS: I don't know about football but I want to say something about hockey. It once showed a lot of progress but could not hold sustain that due to irregular competitions. The federation officials are more interested in holding onto their posts than making hockey functional on the ground.
TDS: What is your satisfaction and dissatisfaction 50 years after the Liberation War?
PHS: The big satisfaction is that the country is developing fast. I now travel my village three to four times in a week within half-an-hour whereas it took seven to eight hours reach Munshiganj from Dhaka before. I don't have any regrets.
TDS: Where do you want to see the country's sport in the future?
PHS: Such thoughts can lead to delusions of grandeur, but we should all make the effort to find a Shakib Al Hasan in every discipline.