Green light for Russell's black bat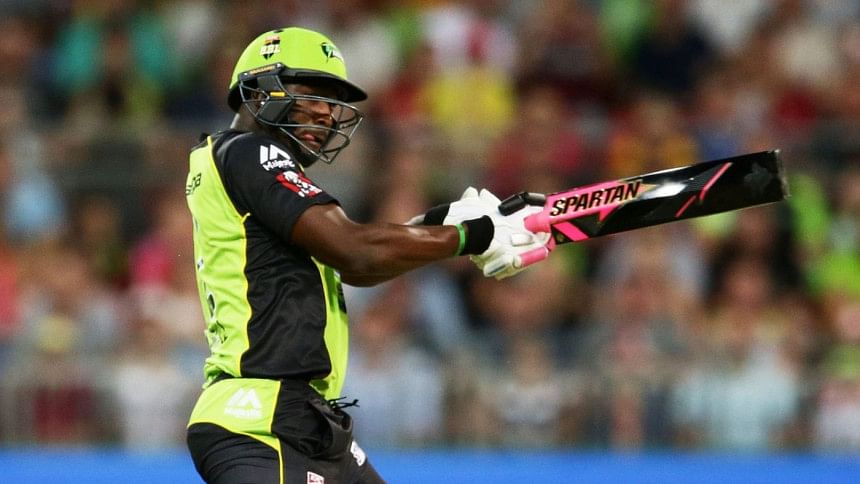 West Indies all-rounder Andre Russell was given the all-clear to use his black bat in Australia's Twenty20 Big Bash League on Tuesday after it was initially banned for leaving marks on the ball.
Russell was banned from using the distinctive bat after it discoloured the white ball during the derby between his Sydney Thunder and the Sydney Sixers last week.
Cricket Australia reversed the ruling on Tuesday after assurances that the bat had been modified with the addition of a "clear laminate cover" to prevent the problem recurring.
"We're now satisfied that the bat will not compromise the integrity of the game by discolouring the match ball and we have granted approval for Andre to use the bat in any future BBL matches," said league chief Anthony Everard.
The decision fits with the Big Bash League's embrace of novelty to attract and entertain crowds but it appears the arrival of the touted Dec. 25 match might have to wait until the 2018-19 season.
Christmas Day has traditionally been a day of rest even for professional sportsmen and women in Australia but Cricket Australia chief James Sutherland, the driving force behind day-night Test cricket, is clearly open to the idea.
"I'm not sure we'll be ready for it (next year)," he told ABC Radio on Tuesday.
"I think there is a growing sentiment that it is a possibility. We need to think about the right venue for it and we also need to consult widely.
"I think it is an opportunity, and it'll be a good thing for the game and for cricket fans around the country."
The Big Bash League runs until Jan. 28.