'Finally creating chances'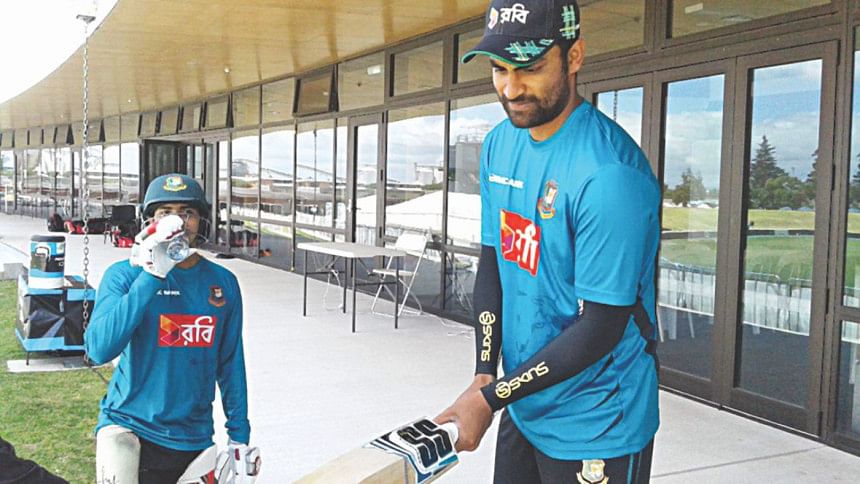 Creating chances and losing opportunities are perhaps the two most popular slogans of the Bangladesh cricket team in their away series in New Zealand so far. Since the opening ODI at Christchurch till the second T20 international at Mount Maunganui on Friday, whoever spoke after the game or during a pre-match briefing these two phrases have dictated terms.
Opener Tamim Iqbal was no exception when he had his first media session of the tour after what was an optional training session at the Bay Oval yesterday. The left-hander, who has been starving for runs in the series, said that his personal form has left a lot to be desired.
"If we play well collectively, we win games. The worst part of the tour is that we have got starts in every game but could not finish. I'm also guilty of that. In five innings got starts but could not capitalise on them which is disappointing," Tamim told reporters.
But then he said the positive from the five defeats was that they had created chances.
"We lost all the five games and in that context there is nothing positive to say. But I believe in every game we have created chances. There was a situation when he thought we could win games. We came here in 2010 or even before and we had not even created chances then. We have at least created a situation this time when a player or the fans think that we could win," added the left-hander.
He was also a bit philosophical about their first away series.
"There was a time when people told us we should start winning at home and then start thinking winning away from home. Now we are winning at home. This is our first proper overseas tour after our home dominance and we have created chances and we should all take it as a positive step forward. We should all be a bit patient and give us some time so that we can turn those chances into wins. We are fully committed," Tamim said.
But when asked whether the scenario in all the five games suggested a case of stagnation, he admitted that but at same time demanded some more time to overcome that barrier.
"The rhythm of the five games was almost the same. A good partnership and then we lost our way. Cricket is not a game where we can improve everything overnight. You have waited almost ten years to be successful at home. Away from home we might not be able to win a few more games but we should not be disheartened. We have the belief that we can win in overseas conditions. Our results are not backing our belief but I can tell you on behalf of 22 players that we never stopped dreaming to win games in overseas condition.
"When you are not winning, a thousand issues can be raised for the defeat. We could have been better in three departments, not just fielding. If we can correct those small mistakes either in batting, bowling or fielding, we will get different results," said Tamin.
The experienced batsman also reminded the critics that winning away from home is difficult for even the best teams in the world.
"You are always comfortable at home. Any team playing away from home does not feel that same comfort. England are one of the best teams in Test cricket, but they were beaten 5-0 in India," Tamim concluded.