Chandika's 'freedom' works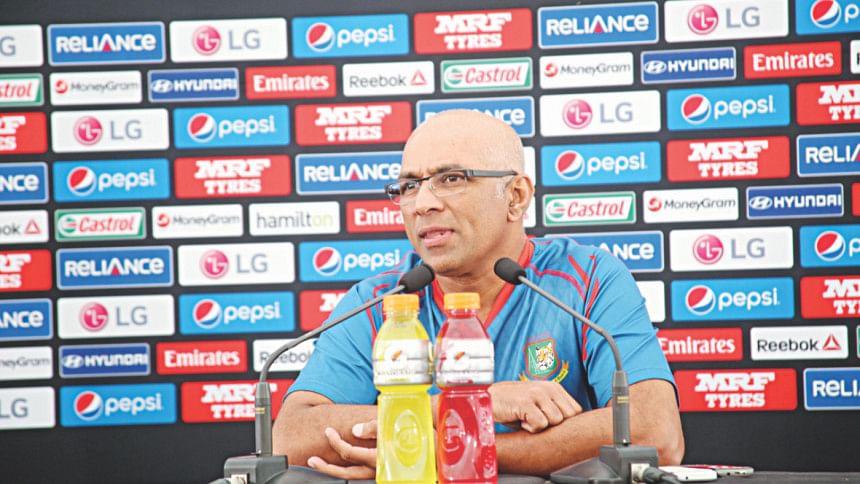 Cricket is a captain's game. A decision from the captain on the field can change the game in a blink of an eye and it's the captain who basically calls all the shots. But in modern day cricket from overall planning, analysing the opponents and to prepare the players are equally important for bringing success to a team.
And in that context the coach and his support staff play a major role. The Bangladesh Cricket Board took the bold step of overhauling the coaching staff ahead of the World Cup and wisely appointed Mashrafe Bin Mortaza as the new Tigers captain. The inspiring and proactive leadership of Mashrafe has already got the attention of many after Bangladesh made it to the quarterfinals. The captain on the other hand publicly acknowledged that coach Chandika Hathurusingha's methodical work played a major role behind their success.
"He had arranged a batting practice on granite surface for two months at home which ultimately helped us to cope up with the Australia-New Zealand conditions. Many didn't feel comfort initially and there were uneasiness among the batsmen but coach made them understand that it would help them to adjust with the bounce. I just gave you one example, and there are many," said Mashrafe while praising the Lankan mentor.
It was not only Mashrafe but Tamim Iqbal, Mahmudullah Riyad and Mushfiqur Rahim who also highly lauded their coach's effort behind their batting success in the tournament.
His hard work with the batsmen is quite visible but it's his "freedom to do the things" mantra that made a huge impact in the changed attitude of Bangladesh's batting. There has been huge problem among most of the Bangladeshi batsmen regarding their double-mindedness about shot selection but he gave them the confidence so that they can express themselves. If you want to play a shot play with the confidence, don't hesitate is his philosophy according to his charges.
Talking to the reporters ahead of the Tigers' today's match against co-host New Zealand, Chandika said that he is not a man who want to reflect on the past rather focus on what's next.
"If you can remember I said after that win [against England] that I'll focus on the other game. So we're still focusing on New Zealand, and then we'll focus on the next game in the quarterfinals. So I'd still believe that we can do that thing that we haven't done before," said the Bangladesh head coach when asked whether he set any new target for his charges.
"I think it's overall we were not afraid to fail. That is the keyword that we spoke about. I think we are paralysed by failure, we were not pushing ourselves. We talked about that throughout this World Cup. So I think for us, it's a freedom to do things and believing in ourselves is the key for not only the England game but for every other game. Even when Scotland put up 300, we were still backing ourselves to do things," he responded to a quarry about his bowlers, particularly the pacers energetic effort against England.
What his charges love most that he is not monotonous in his thinking and he exerted that idea when he said: "We don't stick to the same plan. We are not afraid to rethink our game plan and our combination as well. Our batting and my bowling coach, we have some ideas, but, again, the goal is to go ahead and execute."