Chandika's dreams of grandeur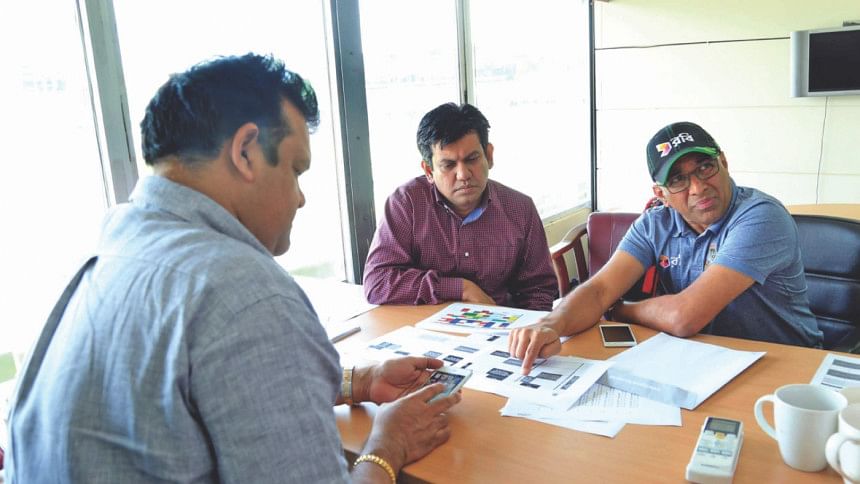 Chandika Hathurusingha returned to Dhaka on Wednesday night after a long vacation. As the Sri Lankan -- who joined the Tigers in June 2014 on a two-year contract -- is all set to continue with the Tigers till the 2019 ICC World Cup to be held in England with an increased pay package to be confirmed in the next board meeting, he had a long chat with cricket operations committee chairman Akram Khan and Bangladesh Cricket Board (BCB) chief executive officer Nizamuddin Chowdhury regarding Bangladesh cricket's long-term future at the BCB's headquarters in Mirpur yesterday. Bangladesh's maiden tour to India is yet to be confirmed, so at this moment he has no plans for international assignments and is therefore eager to watch some Dhaka Premier League matches.
"We have discussed many things about our future during the meeting. I am not in a position to say anything in detail. The planning for the India tour will only take place when it's confirmed. At this moment he [Hathurusingha] is willing to watch the league matches," said Akram Khan.
If results could speak then they would tell you how successful Chandika Hathurusingha has been during his two-year tenure as head coach of the Tigers. But a successful man never stops moving forward and so the Sri Lankan has come up with grander dreams for the Tigers in the days to come.
He said he foresees a golden era of Bangladesh cricket in the next two to three years while speaking to the media on various issues ranging from the performance of young players in the ongoing Dhaka Premier League to Mustafizur Rahman's opportunity at Sussex, but he was also keenly aware of the challenges ahead as the Tigers gear up to play most of their matches away from home in the near future.
"I think Bangladesh's golden era is going to be within the next two-three years because the players of the calibre of Tamim [Iqbal], Shakib [Al Hasan], Mashrafe [Bin Mortaza], Mushfiqur [Rahim] and Riyad [Mahmudullah] are there now.
"This is the time they have to use their experience and consistently perform in international cricket; so that's going to be exciting as well as challenging because in the next two years we will play more cricket overseas. In the past two years we have played more at home. We will see how much Bangladesh cricket can develop," said the former Sri Lanka Test cricketer.
He also stressed on developing a good bowling unit as he said: "To win matches we need a good bowling unit to take 20 wickets," he responded when asked how he saw the challenge of playing Tests away from home. However, he added: "We are on the right path; we have found a few good bowlers as well as a few good youngsters, [at a time when] the seniors are coming into their prime."
Chandika was also excited to be involved in the selection process.
"They [the board] are going to speak to me in the next couple of days about the plan they have. I think it is a good concept [because] at the end I am responsible for the outcome. If I have a say in selection it will make things easier for everyone; the players as well as the selectors. The communication will be much better."
Speaking about the ICC Champions Trophy in England next year -- where the Tigers have been drawn in Group A alongside England, Australia and New Zealand -- he said he was looking forward to the challenge.
"It is tough because we are playing the hosts, Australia and New Zealand. They are the best, one and two in ODI cricket. So we are in the toughest group. We are looking forward to the challenge. We have to prepare thoroughly. We have prepared for that. We are going early to Ireland to be prepared with the conditions and are playing a tri-nation with Ireland and New Zealand prior to that," the ever-confident coach said.
Eventually, the questions about Mustafizur began to come and Chandika said that the main challenge would be to look after the 20-year-old and develop him further. He also said that he was looking forward to Mustafizur's 'intelligent cricket' once his 'mystery was found out'.
Chandika once again said that he would prefer that the left-armer play county cricket, because it would help him develop as a cricketer while also helping him to acclimatise to foreign conditions.