Bangladesh Premier League
Another youth makes his grade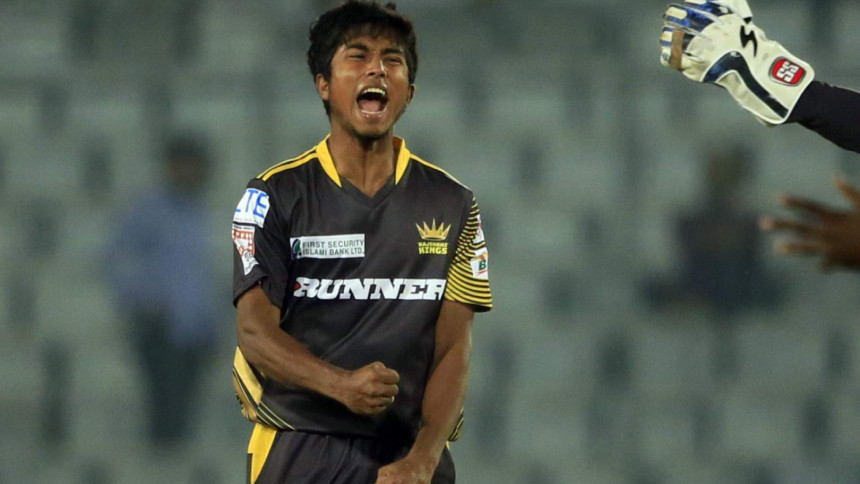 The country's cricketing fraternity yesterday got to witness perhaps a fraction of the amount of talent stored in the national pipeline in the form of 17-year-old Afif Hossain.
The right-arm offbreak bowler, who plays for BKSP and is also vice-captain of the Bangladesh Under-19 team, played his first game at the top level of any format yesterday and ended up scalping five wickets, including that of Chris Gayle's.
He was lucky to get his first wicket, an LBW, as replays showed that Jahurul Islam had clearly edged the ball to his pad. However, the way he grabbed the next four suggested that this youngster has plenty of guts.
And that is because of the sheer amount of flight which he had bowled with. He provided the likes of Gayle, Shoaib Malik and Mohammad Nabi juicy, loopy deliveries in a T20 game and that is something that perhaps no bowler in the competition has had the guts to do on such a consistent basis so far.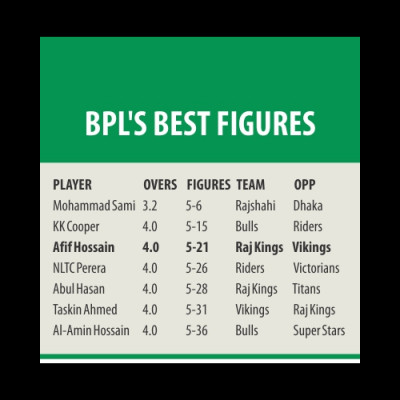 Speak to Nazmul Abedhin Fahim, the national manager of the Bangladesh Cricket Board's (BCB's) Game Development under whom the Under-19 team, including Afif, recently completed a camp and he will surprise you by saying: "He is actually a better batsman than a bowler."
"But of course that doesn't mean that the bowling has come all of a sudden or that it was a fluke. He has bowled well on a regular basis but I thought he was fantastic in this game," he added.
Afif and co will be leaving for Sri Lanka on December 13 to take part in the Youth Asia Cup and he was given a chance to play for a franchise so that he could earn some valuable experience in high-pressure situations.
"We thought that he was strong enough and we wanted to see how he played. It was good to see him perform," said Nazmul.
"It's too early to comment on his future, but the courage that he has shown was very encouraging. You need to be very brave to bowl flighted deliveries against such batsmen up front.
"There are many big players who get nervous on such a stage, but he wasn't nervous at all. He was focused and he looked to attack," said Nazmul.