Great South African all-rounder Rice dies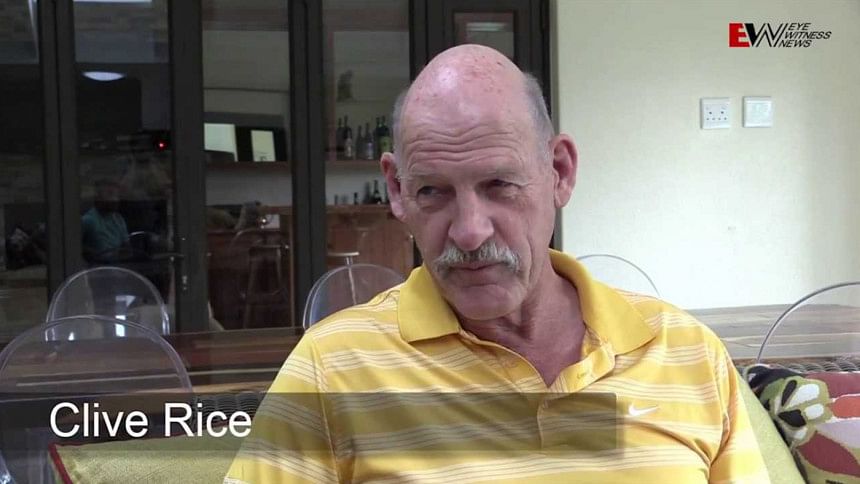 Clive Rice, the former South Africa captain who led the national team on their return from isolation, has died at the age of 66 in a Cape Town hospital on Tuesday after suffering from a brain tumour.
His death has been mourned by cricketers from across the globe, including in England where he was a leading player on the county circuit, reports ESPNcricinfo.
Rice had learned he had a large brain tumour at the age of 49; it was diagnosed after he sought medical advice about a gradual loss of hearing in his left ear.
"It's called an acoustic neuroma and it's about 4cm long," Rice had said at the time.
"The good news is that it's benign, although removing it will cost me the hearing in my left ear."
In March this year, Rice had travelled to India for treatment in Bangalore.
Rice, an allrounder, played only three ODIs for South Africa because his career coincided with the country's sporting isolation during apartheid.
At the age of 22, he had been selected for the 1971-72 tour of Australia before it was cancelled.
Then at the age of 42, Rice captained South Africa in their first series after the end of isolation - to India in 1991- but was left out of their 1992 World Cup squad and did not play for his country again.
His first-class career comprised 482 matches primarily for Transvaal, Natal and Nottinghamshire, and he scored 26,331 runs at an average of 40.95 and took 930 wickets at 22.49 apiece between 1969 and 1994.
He also played 479 List A matches, making 13,474 runs and taking 517 wickets.
Rice made his first-class debut in 1969-70, just before South Africa were isolated by the international cricket community, and moved to Nottinghamshire in 1975, captaining them between 1979 and 1987.
He led them to the county championship title in 1981 for the first time since 1929, and then again in 1987.
After retirement, Rice continued to be active in cricket, returning to Nottinghamshire as coach between 1999 and 2002.
In 2000 he signed a young Kevin Pietersen, who was looking to move away from South Africa for lack of opportunities.
The ICC chef executive David Richardson, who played for South Africa after Rice's era, called him a "giant of the game, not just in South Africa, but across the cricketing world.
Though his international appearances for the Proteas were limited to just three ODIs, Clive was a hugely inspirational figure for those of us who had the privilege to represent our country.
When South Africa was readmitted to international cricket in 1991, it was fitting that Clive was named as captain." Richardson also noted Rice's role as a coach, inspiring Lance Klusener, Shaun Pollock and Jonty Rhodes, among others.
Cricket South Africa chief executive Haroon Lorgat said Rice had put up a "typically courageous and inspirational fight" against the illness.
"Clive was our first captain and we knew him to be a great fighter all his life. Clive will always be remembered for captaining the Proteas on our historic first tour to India in 1991 and, as one of the great allrounders and captains of the game, it was fitting that he got the chance to play international cricket even though he was at an age when most players might have called time on their careers."
Former South Africa allrounder Mike Procter, a contemporary of Rice's, said Rice had been "incredibly positive" even during the hardest phases of his illness.
"Clive was a fighter like you can't believe and he proved that on the cricket field and he's proved it over the past few months," Procter told sport24.
"He's just got a heart the size of Africa. He's a remarkable man. When he made up his mind to do things he did them. Everyone knew where they were going with him ... a fighter of note and a true, true gentleman."
"He was always upbeat, there was never any negativity. I remember saying to him when he collapsed ... I asked him how he was and he said 'fine'. I reminded him that he was talking to me and that he could be honest ... he would not be negative at all ... and he was really battling. You had to extract it out of him. He was an incredibly positive guy."
"People forget that he would have been one of the top all-rounders in international cricket. Bowling was easier for him than batting. His batting when he started, he really struggled, he wasn't a natural with the bat. He had to work really hard. He was such an inspirational guy. He never really showed too many emotions either way, he just got on with business. But he was great competitor."