School chess returns with a new hope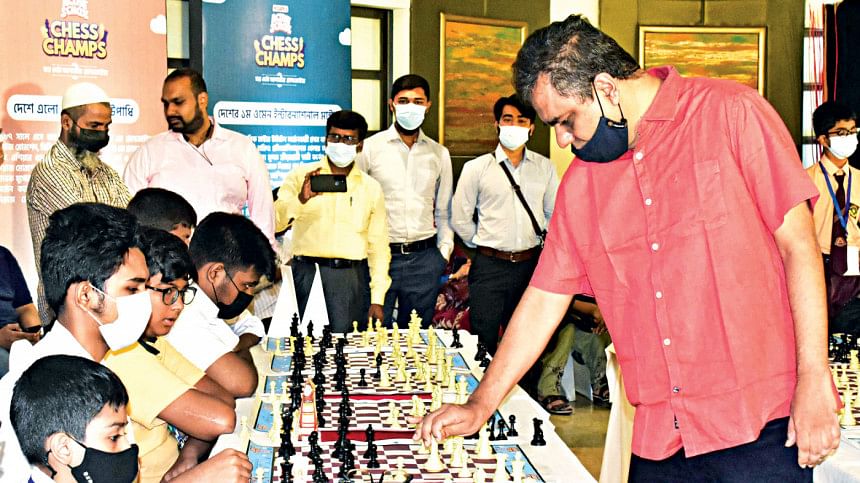 Since the emergence of Enamul Hossain Razib as the country's fifth and last Grandmaster in 2008, no Bangladeshi chess player has won a single GM norm.
The sorry state of the game has apparently prompted Bangladesh Chess Federation (BCF) to revive school chess tournament, which had produced talented players such as former national women's champion Sharmin Sultana Shirin, WIM Shamima Akter Liza, IM Minhazuddin Ahmed Sagor and IM Mohammad Fahad Rahman.
Standard Chartered Bank played a key role in the rise of talented players since 1999 to 2012 except for two years from 2009 to 2010, but the bank withdrew its sponsorship due to the organisers' failure in organising the final round in Dhaka in 2013.
The broken pipeline is now set to be revived through Marks Active School Chess Championship, a championship which will be held on home-and-away format. The inauguration of the championship was held at a hotel in Dhaka on Monday and the games will start on July 23 in 16 districts.
"We held the school tournament twice in last six years with students only from Dhaka schools. However, our president IGP Benazir Ahmed has roped in Abul Khair Group to sponsor school chess across the country for the next five years," BCF general secretary Syed Shahabuddin Ahmed Shamim told The Daily Star yesterday.
Unlike previous occasions, this time the participating schools are given importance with eight to 10 educational institutes competing on home-and-away format in each of 64 districts before the district champions move into divisional level and eight divisional champions play in the final round in Dhaka.
Some 20,000 students from 3500 schools across the country are expected to be involved and the players will be given a week-long training before the kick-off at district level.
"We don't want to chase a sixth, seventh or eighth Grand Master, instead we want to produce at least 100 potential players, who will have rating between 2200 to 2400 and will have the ability to fight for GM norms, through this championship," said the BCF general secretary.
GM Razib has termed BCF's initiative and different format of the championship as an encouraging one.
"As schools will compete as teams, I think the new format will increase interest in schools, who earlier didn't show much interest in individual participants (students)," Razib said, adding that objective of the home-and-away format is to inspire schools to create chess clubs and a chess culture in every school across the country.
"We should set our target to spread chess across the country instead of targeting to get a sixth Grand Master. If we can do it through the school chess championship, we will get different kinds of talented players who will later be FM, IM and then GM will come automatically which is happing in India now," opined Razib.