Blatter faces criminal investigation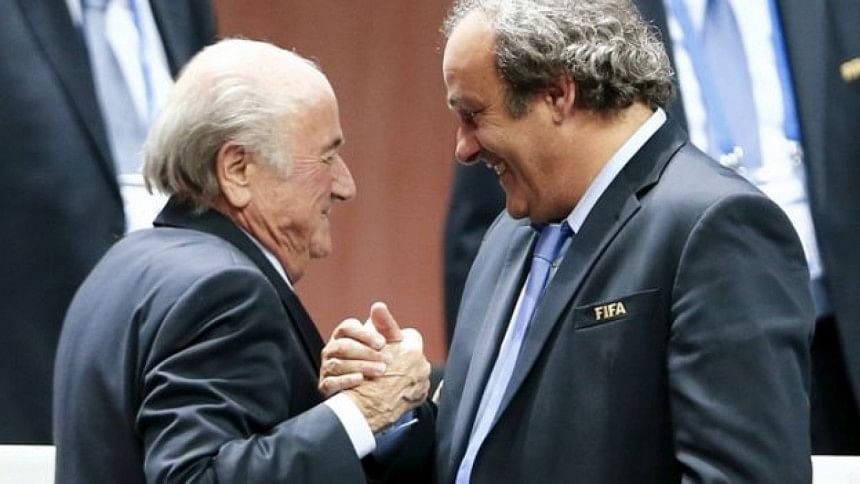 Swiss prosecutors say they are investigating Sepp Blatter, the head of football's world governing body Fifa, on suspicion of criminal mismanagement.
The attorney general's office said he was suspected of signing a contract that was "unfavourable to Fifa" and making a "disloyal payment" to European football chief Michel Platini.
Blatter was being questioned, and his office was searched, it added.
The 79-year-old, who has run Fifa since 1998, has always denied any wrongdoing.
Fifa, which has been hit by a string of corruption allegations in recent years, said it was co-operating with the investigation.
'Disloyal payment'
"Swiss criminal proceedings against the president of Fifa, Joseph Blatter, have been opened... on suspicion of criminal mismanagement... and - alternatively - misappropriation," the Swiss attorney general's office said in a statement.
It said Blatter was suspected of signing a contract with former Caribbean football chief Jack Warner in 2005 that was "unfavourable to Fifa" and in doing so "violated his fiduciary duties and acted against the interest of Fifa..."
The contract they mention is thought to refer to a TV rights deal agreed between Fifa and Warner's organisation Concacaf which, according to an investigation by a Swiss broadcaster earlier this month, allegedly resulted in a multi-million pound profit for Warner's own company.
Fifa owns the TV rights to the World Cup and sells them to regional federations which then sell them on to broadcasters.
Blatter's lawyer, Richard Cullen, said he was confident the inquiry would clear Blatter of any wrongdoing.
"We are confident that when the Swiss authorities have a chance to review the documents and the evidence, they will see that the contract was properly prepared and negotiated by the appropriate staff members of Fifa who were routinely responsible for such contracts, and certainly no mismanagement occurred," he said.
According to the Swiss attorney general, Blatter is also suspected of making a "disloyal payment" of two million Swiss francs ($2m; £1.3m) in 2011 to Platini, the statement said.
It said the payment was "at the expense of Fifa, which was allegedly made for work performed between January 1999 and June 2002".
Blatter is due to step down in February and Platini is widely expected to replace him.
Platini, for his part, issued a statement on Friday evening, saying the money he received from Blatter "relates to work which I carried out under a contract with Fifa" and he had clarified matters with the authorities.