'They're better than we know'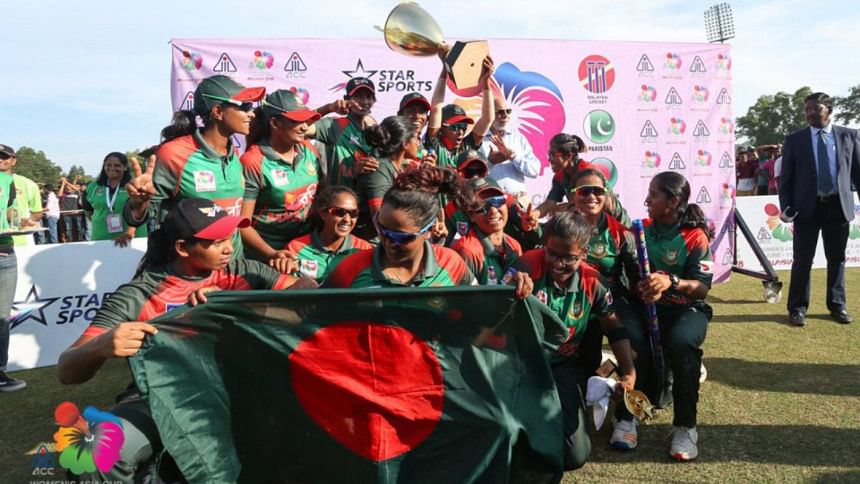 It was very easy for the mind to go back to 1997 because it seems Kuala Lumpur is the out-of-the-way venue of Bangladesh cricket's big step.
"It feels really good to have the support here and there were a lot of Bangladeshi supporters... thank you!" said Bangladesh skipper Salma Khatun to rapturous applause moments before hoisting the Women's T20 Asia Cup trophy, a feat made possible by a last-ball, three-wicket win over giants India at the Kinrara Academy Oval yesterday.
Yet, apart from the crowd support, the seminal nature of the win and the city, there is not much common between Salma's giant-slayers and the Bangladesh men's team that won the ICC Trophy in Kuala Lumpur in 1997 to gain admission to the 1999 World Cup and move a step closer to Test status. While even during their dark days the men had the force of the country's crazed support behind them, it has been a very different road for Bangladeshi women cricketers who have to make do with a fraction of the wages of their male counterparts and an even smaller fraction of their popularity.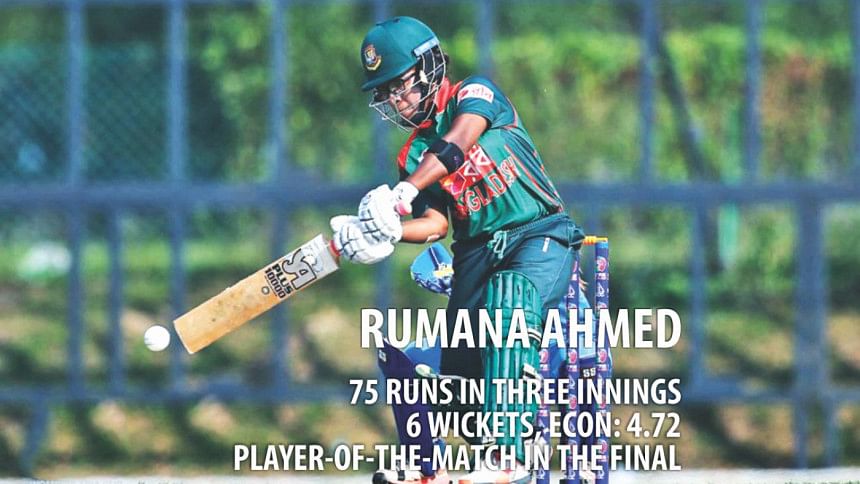 "It's a big achievement; we never thought this was possible," Bangladesh Cricket  Board's (BCB's) women's cricket wing development manager Nazmul Abedin Fahim told The Daily Star yesterday. "But the girls proved that they are capable of much more than we know."
There has been reason for the scepticism. It was not long ago that the extras column was regularly the highest scorer in women's domestic matches. More recently, they were hammered pillar to post in South Africa, but unlike their more celebrated male counterparts, they bounced back from that in the grandest possible style -- brushing aside India twice and Pakistan once in this tournament. Fahim, however, found the roots of this success in the forlorn days in South Africa earlier this year. 
"The South Africa tour really helped us improve because we identified weaknesses. There was no overnight change in skill or ability, but the mentality changed. They don't want to lose. The way they handled the pressure and kept their nerves was special," he said, and added that the recent initiatives in domestic cricket like a women's national league and the premier league also helped.
Fahim admitted that there were nerves aplenty during the chase of India's 112, especially after the asking rate had swelled to eight.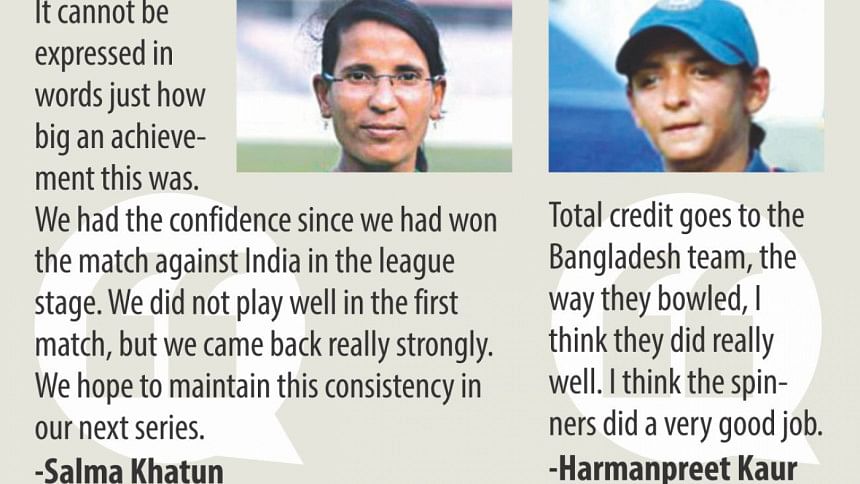 "But [Nigar Sultana] hitting Jhulan [Goswami] for three boundaries in the 15th over changed the match. That is the beauty of cricket because things happen that we don't think are possible... we probably would not have hoped that she would be able to hit three boundaries against Jhulan."
Meanwhile, the beauty of the Tigresses seem to be singular resolve and the belief needed to do the unthinkable.