The sweat behind the glamour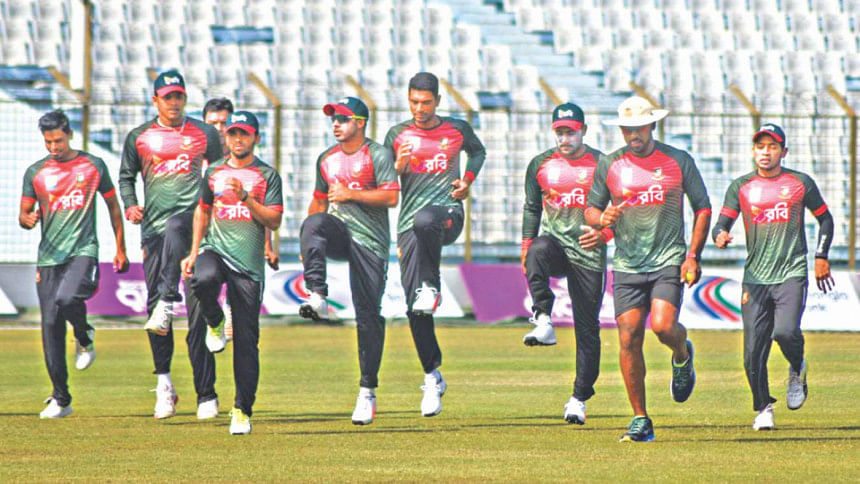 Bangladesh's elite cricketers are enjoying a much-needed break in the off season, but they will be back to the grind by May 13 when the training camp starts ahead of the upcoming away series against Afghanistan and West Indies.
After the lull before the storm of a busy season, one of the most important aspects is the lifting of fitness levels -- an aspect that, while having immense benefits, does not have the same crowd-pleasing effect of fours, sixes, centuries or five-wicket hauls. But those glamorous events would not be possible if the players were not at a high level of fitness, which is why the training camp starts with a conditioning programme where the trainers begin by looking at the fitness levels after the break and work accordingly before moving on to skills training.
It may surprise many that even during the off season the sight of cricketers working on their fitness is a regular feature at the home of cricket in Mirpur.
"Normally, whenever there is a break the first thing that changes is the food habits of players," Iftekhairul Islam, the local trainer of the Bangladesh Cricket Board (BCB) , told The Daily Star at the Sher-e-Bangla National Stadium yesterday. "But nowadays everyone is more aware and work on their fitness and food habits at home as well. So, during the conditioning camp we expect that a few may have become unstable in the movement competency test after the break. So we plan the camp to start with the foundation programme for a week, clearing which we plan for further fitness training.
"Everyone does not have same type of fitness training so we tailor the areas individually by taking tests before starting the conditioning camp. We have separate training programmes for batsmen, bowlers and wicketkeepers."
According to Iftekhairul, who played for Bangladesh Under-19 before becoming a fitness trainer, Sabbir Rahman is the fittest among the cricketers in the national team along with Mushfiqur Rahim and Mehedi Hasan Miraz.
"Obviously the fitness levels of a bowler and a batsman will vary while among the bowlers there are also two categories -- pacers and spinners. Anyone scoring more than 12 in the beep test is deemed fit. From 12 to 14 is excellent, under 11 is good but below 10 is poor. Sabbir is the best among the lot... he hits over 13 in the beep test while Mushfiqur and Miraz are also very good. Recently, Tamim [Iqbal] has improved a lot and he is very fit now and I would say that Shakib's [Al Hasan's] fitness is also good. His skill-related fitness is top-class as he plays a lot of high intensity games."
Many of the national cricketers have suffered various types of injuries recently, with Nasir Hossain and Mushfiqur suffering theirs while playing football. Iftekhairul informed that they would introduce Thai foot volleyball -- which does not have physical contact -- for warm-ups as a replacement for football.
"There is a span during which it's important to notice how much a player will play and take rest. When a player plays continuously without recovering properly for a long time, there is a high chance of injury. So it's important to give a player rest after two-three series and refill his fitness and energy levels, but he has to follow our instructions," Iftekhairul said.
He also informed that the BCB has a fitness monitoring software called 'Edge Ten' that updates trainers, physios and even selectors about the latest fitness information and availability of players.
"We have a computerised software called 'Edge Ten' where we upload all sorts of information about the players. For example, we know how many balls Taskin bowled over the past month and even over a year. Players' statuses are colour-coded red, green and blue... if Taskin overbowls then there will be a red button beside his name, which means he is in danger," he added.