Saifuddin hits first ton at season's end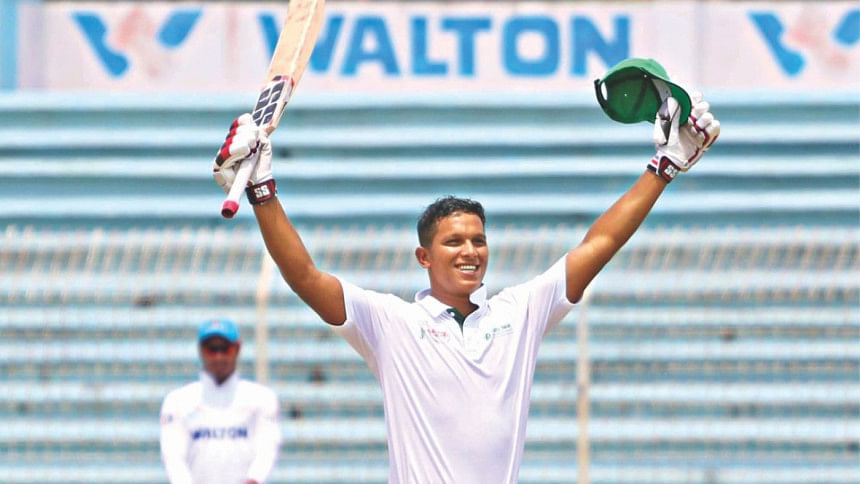 Shadman Islam scored 112, Abdul Mazid hit 205 for Central Zone while Liton Das struck 274, Afif Hossain made 142 and then on the final day of the season Mohammad Saifuddin reached the magical three-digit figure for East Zone in the final round of the Bangladesh Cricket League (BCL) at the Shaheed Kamruzzaman Stadium in Rajshahi yesterday. 
Those individual milestones are indicators enough that the match between East and Central Zone could not produce anything other rather than a draw. Marshall Ayub was well placed to add another big one but the right-hander was dismissed for 85 while Shuvagata Hom scored 64 as Central Zone posted 196- for five before stumps were drawn for the final day.
The four-day competition, which was played in two different weather conditions due to a two-month break to accommodate the Dhaka Premier League in the middle, ended with a run-fest in Rajshahi a day after a dramatic South Zone victory over North Zone at Khulna handed them a record third title. After yesterday's draw in the match without title mplications, East Zone increased their tally to 52 to finish third and Central Zone was one point behind to finish bottom of the four-team table.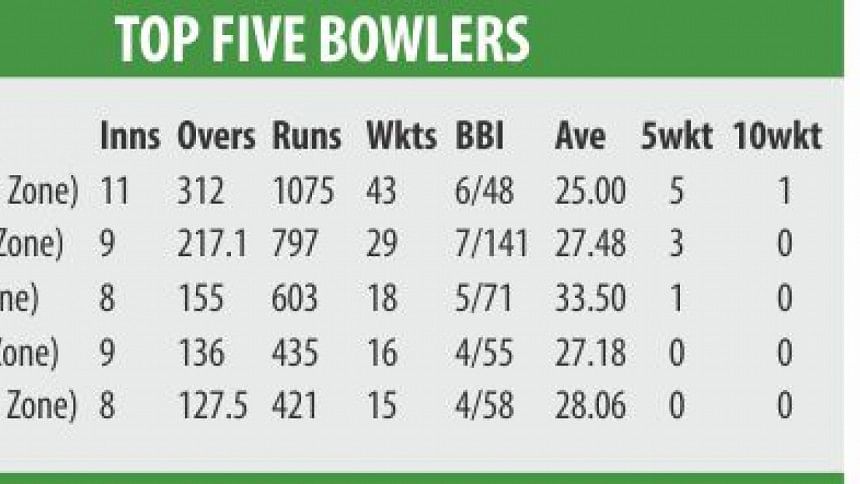 Earlier, East Zone declared their first innings on 711 for eight after resuming the day on 592 for six. Abu Hider produced the first breakthrough, removing Jaker Ali in the sixth over of the final day as Jaker could add only seven runs to his overnight score of 32. However, on 29 overnight, all-rounder Saifuddin struck his maiden first-class hundred. The right-hander smashed 11 boundaries during his unbeaten 174-ball 10-. 
Wicketkeeper-batsman Liton was adjudged player of the match for his mammoth 274, the highest individual score this season. It also helped him pip domestic batting colossus Tushar Imran to the top of the run charts with 779 runs at an average of 97.37.
The bowlers got some success during Central Zone's second innings but they will definitely try to forget this match, especially those who took the burden of bowling in the scorching heat. East Zone's Shohag Gazi bowled 42.3 overs to claim five wickets for 188 runs, teammate Enamul Haque Jr bowled 31.2 overs for one wicket and Central's Elias Sunny toiled for 46 overs for two wickets. The man who perhaps suffered most was Shuvagata Hom as the spinner bowler 56 overs for three wickets during East's mammoth innings.
NUMBERS GAME
3 South Zone won the Bangladesh Cricket League for a record third time, having earlier won it in the 2013-14 and 2014-15 seasons.
38 A total of 38 centuries were scored during the sixth edition of the tournament, with South Zone's Tushar Imran leading the way with four centuries.
4 There were four double-centuries this season -- one each from Mominul Haque, Zakir Hasan, Abdul Mazid and Liton Das, whose 274 for East Zone against Central Zone in the last round was the highest individual score of the season.
735/6 dec The highest total of the 2017-18 BCL came in the third-round match by East against Central in Khulna in January. It was also the only instant this season of an innings containing four centurions -- Liton, Zakir, Yasir Ali and Alok Kapali.
11 There were 11 five-wicket hauls this season, with South captain Abdur Razzak taking five of them. He was the only one to take a 10-wicket haul, which he achieved by picking 11 for 101 in the last round against North Zone.
7/141 East Zone spinner Shohag Gazi achieved the best innings bowling figures in the third round match against Central.
26 North Zone wicketkeeper Dhiman Ghosh was the most successful glovesman of the season with 24 catches and two stumpings.
2 South Zone skipper Abdur Razzak and teammate Tushar Imran became the first Bangladeshis to 500 first-class wickets and 10,000 runs during the second-round match against Central Zone.
SCORES IN BRIEF
WALTON CENTRAL ZONE V ISLAMI BANK EAST ZONE
Central Zone: First innings 546

East Zone: First innings 711 for 8 decl (Liton 274, Tasamul 67, Afif 142, Jaker 39, Saifuddin 100 not out, Enamul 26 not out; Hider 2-91, Shuvagata 3-206, 

Sunny 2-173)

Central Zone: Second innings 196 for 5 (Marshall 85, Shuvagata 64, Sukkur 18 not out; Jayed 3-47, Shohag 2-63)

Result: Match drawn.