There had been curiosity about Sabbir Rahman's role in the Test side ever since he made his debut against England in October last year at the Zahur Ahmed Chowdhury in Chittagong. The right-hander started his Test career batting at number eight in the first innings against England to allow a nightwatchman to go before him and batted at number seven in the second innings to score an unbeaten 64 and share in an 87-run with Mushfiqur Rahim.
In between he batted at number seven, five, six and four and yesterday, on the first day of the second Test against Australia at Chittagong Sabbir hit his highest score of 66 -- an innings that gave some indication of his role. Similar to his debut Test, he shared a valuable 105-run partnership with his skipper Mushfiqur Rahim yesterday to help Bangladesh bounce back from an inauspicious start.
Sabbir's  batting was in high contrast to the determined straight-batted patience of Mushfiqur, as he attacked the bowlers to seize back the initiative from the Aussies who were on top having reducing the home side to 117 for five an hour after tea.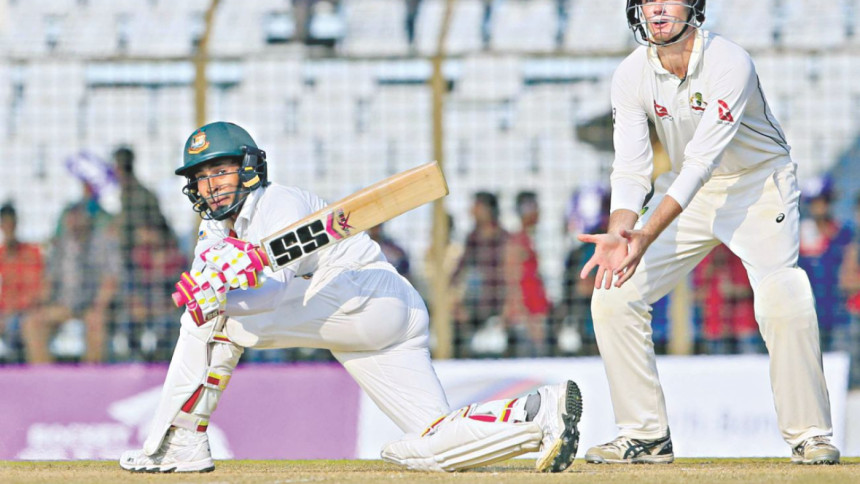 "I practiced a lot. I am yet to play many Test matches, so I don't have that much experience in Test cricket. The important thing for me is to play my own game on such a wicket. Scoring runs is important… I may get out if I try to stay, so my focus was to increase the total score. It is my role in the team," Sabbir explained after making a 113-ball 66 that contained six fours and a six.
"In our 100th Test match (in Sri Lanka), I batted at number four and scored 40 odd runs in both innings. Whether I am on zero or a hundred, batting at number four doesn't matter; the most important thing is how I can set my mindset. It's not as if I was demoted to seven because of a bad score; it's because of team combination," he continued.
The 25-year-old right-hander was glad to have provided support to his captain. "Mindset is important. My intention was very clear before going to the middle and I batted accordingly and became successful, though the score could have been much better. I am however happy that I could contribute something for my team and tried to support my captain," he said, adding that he enjoyed the sledging of the Australian team.
"I enjoyed my batting while they were sledging. I also didn't miss the opportunity to give them a proper reply," he said.
Sabbir was also not unhappy with the first day's outcome as Bangladesh scored 253 for six at stumps. "Overall we played good cricket and scored 253 runs. Yes, it could have been much better had we lost fewer wickets but we played good cricket on the first day which made us happy."
He however said that the pitch became a mystery to him during his innings.
"I cannot say what the behaviour of the pitch will be on the second and third days. Here, the most important thing for us is to play good cricket," he said.