Day FOUR LIVE: SOUTH AFRICA V BANGLADESH FIRST TEST
Bangladesh 49-3 at day's end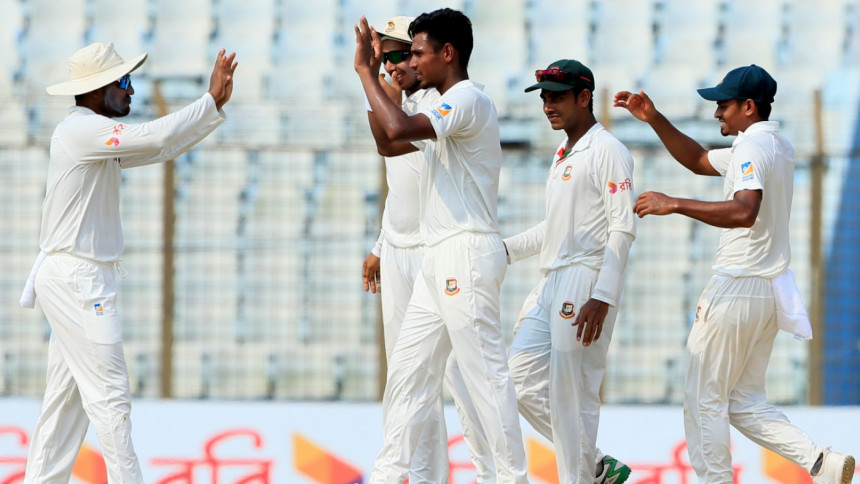 The players are not asked to return after tea as rain sees the day ended. Bangladesh are 49-3 and require 375 runs to win on the final day, while the Proteas need to take seven more wickets.
End of over 15.3, Bangladesh 49/2 Mushfiqur 16
Tea
Opener Imrul Kayes and skipper Mushfiqur Rahim put on 49 runs as Bangladesh recovers from a horrible star. They lost two wickets for no run on the board. The pair added 49 runs for the third wicket before Imrul edge Maharaj behind the wicket for 32. It ended a resolute stand and the umpires called for tea. 
 Mushfiqur however looks solid after surviving that dismissal off a no-ball from Morkel. 
Bad news for fans however is that thunder strom is just round the corner. There might be another spell of rain sooner than later.  
Bangladesh hardly played well in their second innings. So, when they start their second knock against South Africa with a mountain to climb they falter again. They lose two wickets without putting any run on the board. Tamim was bowled by Morne Morkel for a duck in the fourth ball of the first over. Morkel knocked off Tamim's off-stump. 
One ball later, the tall fast bowler had Mominul Haque trapped leg before. Mominul discussed with Imrul but decided against reviewing it. A big mistake as the replay later showed that the ball was missing the leg stump. 
It could have been a third for Morkel when he clean bowled Mushfiqur Rahim in his next over. But he overs-tepped and Mushfiqur survived. 
South African finally declare the innings at 247-6, a lead of 423 runs.
But not before Mominul Haque gets this third wicket. Isn't it amaging for an occassional left-arm spinner to lead the wicket-tally. This time it's Quniton de Kock and Liton Das does another smart job behind the wicket. he whipes the bails of before de Kock cound regain his ground.  
De Kock c Liton Das b Mominul Haque 8
Play sumes after a 48-minute rain break but South Africa lose Bavuma for 71. It is Mominul's second wicket. But it's magnificent catch by wicketkeeper Liton Das. Anticipating early that Bavuma will paddle sweep Liton moves quickly to his left and cling on to a one-handed catch despite rolling over the grond. A catch to remember for a long long time ....
T Bavuma c †Liton Das b Mominul Haque 71 (107b 7x4 0x6) SR: 66.35
Rain comes down hard shortly after the lunch break and South Africa's march to build on a massive lead is disturbed. They were 212-4 in 49.2 overs when rain poured in. But it is expected to be a quick blast and the game might not take that long to re-start.
As South Africa come out to bat after a satisfying lunch, Du Plessis and Bavuma start in the fashion they had left off. The pair add 142 runs for the fourth wicket before the South African captain becomes the second Test victim of occasional left-arm spinner Mominul Haque. Du Plesis tried to work the ball down the leg side but missed it completely. He reviewd the decision but it was overluled.   
The only worrying aspect for them is the dark cloud on the horizon.
F du Plessis lbw b Mominul Haque 81 (101b 6x4 1x6) SR: 80.19
Tigers have resorted to bowling their part time bowlers with Mominul Haque introduced to the attack following spells from Sabbir Rahman and Mahmudullah Riyad. South Africa have been excellent at picking up the singles. The two set batsmen at the crease have kept the scoreboard ticking. The Proteas lead by 379 runs at lunch.
40.4, SA 179/3 - Bavuma drives Sabbir Rahman through the covers for four. The boundary takes him past 50. That's his ninth Test 50. 53 off 77 balls with seven four's.
End of over 40, SA 174/3, Bavuma 48, du Plessis 64 not out
The Proteas have been very good at picking the singles as South Africa extended their lead to 350 runs at the end of the 40th over. This session has already seen 126 being scored from 25.1 overs. South Africa are looking score some more runs before they declare their innings. 
End of over 35, Bavuma 36, du Plessis 50 not out, SA 148/3
Du Plessis reaches 50 with a single of Mustafizur. 50 off 55 balls with five fours and a six. 
Du Plessis has gone after the Bangladesh bowling since coming on. Having struck a four off Mehedi Hasan on the first ball of the 33rd over he proceeds to whack the last ball out of the ground for a hige six. The Proteas skipper is dictating terms here as South Africa lead by 316 runs. SA 140/3, 33 overs.
After 30 overs, South Africa are 113/3. Bavuma 18, du Plessis 33
26.5, SA 97/3 - Bavuma gets lucky. Edges one off Mehedi Hasan but there is no slip in place. Ball runs away for four.
Two boundaries off the 26th over from skipper Du Plessis off Shafiul Islam. The second one a beautiful back drive through point. South Africa very much in the driving sit and moving along nicely at the moment despite the loss of batsman Hashim Amla, who was out for 28 runs.
End of over 25, South Africa are 81/3. Du Plessis 10, Bavuma 9. Mustafizur 2/20
That could have been a crucial wicket for the Tigers. South Africa four down early on in the second day would definitely have allowed Bangladesh a chance to make inroads into the South Africa batting. Du Plessis is the new batsman at the crease.  
21.3, SA 70/3 - Temba Bavuma has been dropped at point by Imrul Kayes. Almost a full blooded cut shot by the Proteas batsman. Ball flies straight to Kayes's face and he can't quite hold on to the catch. Looks like Imrul has hurt himself in the process.
20.1, SA 70/3 - Hashim Amla chases a ful-length cutter from Mustafizur and manages to nick it through to the keeper. Out! 
HM Amla c Liton Das b Mustafizur Rahman 28 (43b 3x4 0x6) SR: 65.11
Welcome to our live updates of the fourth day of the first Test match between Bangladesh and South Africa.
Bad light stopped play yesterdy with South Africa on 54-2, leading by 230 runs. Hashim Amla was on 17 and Temba Bavuma on 3 when the players walked off. Bangladesh were bundled out for 320 runs yesterday. Mominul Haque top-scored with 77 runs and Mahmudullah Riyad scored a valuable 66 that ensured that Bangladesh avoided a follow-on.
Score: South Africa (496-3 dec) and 54-2 (in 15.5 overs)
Bangladesh: 320 all out