Tigers level series with 36-run win
Bangladesh 211/4; West Indies 175 all out in 19.2 overs; FOWs: 1-18 (E Lewis, 2.1 ov), 2-59 (N Pooran, 4.3 ov), 3-62 (SD Hope, 5.2 ov), 4-98 (SO Hetmyer, 10.2 ov), 5-101 (DM Bravo, 10.6 ov), 6-118 (CR Brathwaite, 12.4 ov), 7-138 (FA Allen, 14.1 ov), , 8-150 (R Powell, 15.5 ov), 9-173 (KMA Paul, 17.6 ov), 10-175 (O Thomas, 19.2 ov)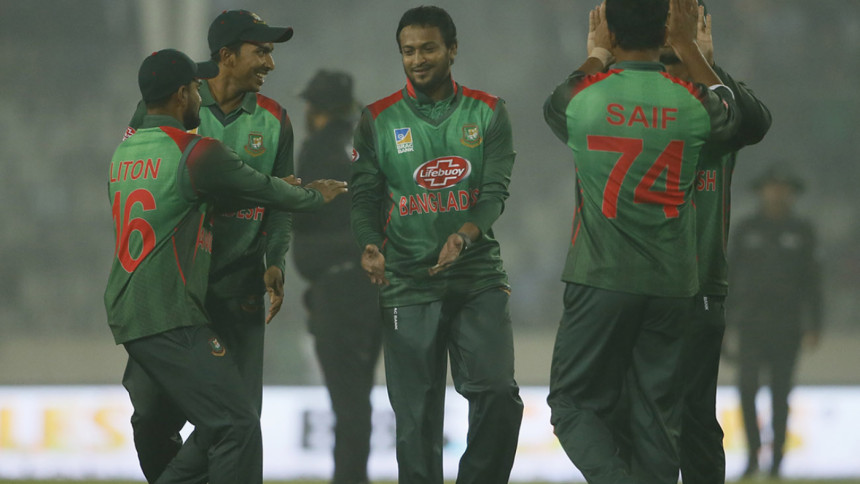 Bangladesh have won the second T20I by 36 runs to level the T20 series against the West Indies after captain Shakib Al Hasan followed up his exploits with the bat to bag five wickets with the ball. 
Earlier Bangladesh posted their second-highest T20 score as Liton Das played a blindind 34-ball 60-run knock. Shakib Al Hasan and Mahmudullah Riyad took centre stage in the late overs and combined to notch the highest fifth-wicket partnership for Bangladesh in T20Is with their unbeaten 91-run partnership off 48 deliveries.
19.2 - West Indies 175 all out. O Thomas b Mahmudullah 0 (2b 0x4 0x6) SR: 0.00
Mahmudullah bags the last wicket as Bangladesh level series.
End of 18 overs, West Indies 173/9
17.6 overs - West Indies 173/9.  Paul c Ariful Haque b Mustafizur Rahman 29 (16b 1x4 2x6) SR: 181.25
Keemo Paul was hitting the ball well but he falls off the last delivery of Mustafizur's fourth and final over. Bangladesh on the brink needing one more wicket.
15.5 overs - West Indies 150/8. R Powell c Tamim Iqbal b Mustafizur Rahman 50 (34b 5x4 1x6) SR: 147.05
Mustafizur Rahman finally gets a wicket as Rovman Powell goes for the big one after reaching his fifty off 33 deliveries. Tamim Iqbal gets under it and keeps it in his grasp.
End of 15 overs, West Indies 139/7
Rovman Powell is going strong at one end but Windies are losing wickets from the other end with Bangladesh on top. West Indies need 73 from 30 deliveries.
R Powell 46 (31b)

KMA Paul 1 (2b)
Shakib Al Hasan 4-0-21-5

Abu Hider 3-0-32-1
Shakib bags fifer


14.1 - West Indies 139/7. FA Allen b Shakib Al Hasan 0 (3b 0x4 0x6) SR: 0.00
Fabien Allen misses the slog sweep and Shakib Al Hasan hit. He has bagged his fifth wicket.
12.4 - West Indies 118/4. Brathwaite st †Mushfiqur Rahim b Shakib Al Hasan 8 (3b 0x4 1x6) SR: 266.66
Skipper Shakib Al Hasan is in song as he picked up his fourth wicket of the evening, removing his Windies counterpart Carlos Brathwaite. Very clever work behind the stumps from Mushfiqur Rahim who delayed removing the bells. Just enough for Brathwaite to lose his footing just a bit after he missed the sweep. Windies lose their sixth 
10.6 - West Indies 101/5. DM Bravo c Mustafizur Rahman b Shakib Al Hasan 2 (3b 0x4 0x6) SR: 66.66
It's Darren Bravo this time and he too looks to sweep accross the line. Gets the top edge and Shakib has bagged another wicket in this over as Windies lose their fifth wicket
10.2 overs - West Indies 98/4. Hetmyer c Mohammad Saifuddin b Shakib Al Hasan 19 (17b 1x4 1x6) SR: 111.76
Shakib Al Hasan has bagged the wicket of Shimron Hetmyer. Top-edges the slog and Saifuddin takes an outstanding catch running diagonally across from wide mid-on to take this catch. Bangladesh are 
9.3 overs - West Indies 90/3. Dropped! Should have been a routine catch but Mushfiqur Rahim drops it as ball takes the edge off Saifuddin's delivery.
End of 9 overs, West Indies 83/3
Bangladesh have managed to cut off the boundaries after the fall of two quick wickets got them back into the match. 
SO Hetmyer 7 (12b)

R Powell 14 (11b)
Mustafizur Rahman 2-0-29-0

Mehidy Hasan Miraz 2-0-12-1
7.2 overs - West Indies 73/3. Hetmyer is given out but big inside edge. Review was taken and the decision was overturned
End of 6 overs, West Indies 70/3 
5.2 overs - West Indies 62/3. SD Hope c Liton Das b Mehidy Hasan Miraz 36 (19b 6x4 0x6) SR: 189.47
Mehedi Miraz has sttuck for the Tigers. Shai Hope sweeps but it goes straight down to mid-wicket and Liton Das takes the catch. Bangladesh have gotten the dangerous Hope here as he was looking to assert his dominance once again. Hope falls after a 19-ball 36.
4.3 overs - West Indies 59/2 N Pooran c Tamim Iqbal b Shakib Al Hasan 14 (6b 2x4 1x6) SR: 233.33
Nicolas Pooran had hit Shakib for a big sixin just the previous delivery. He tries the slog sweep again. Gets a top edge and Tamim Iqbal gets under it. Windies lose their second wicket.
Windies going strong after Lewis wicket
Shai Hope announces his arrival to the crease by hitting for four consecutive fours in the fourth over as Windies reached 52 for 1. 24 runs conceded by Mustafizur Rahman in his first over which also included a wide that went for four.
Hider gets first breakthrough for the Tigers
2.1 overs - West Indies 16/1. E Lewis c Liton Das b Abu Hider 1 (6b 0x4 0x6) SR: 16.66
Abu Hider has bagged opener Evin Lewis. it was a false alarm before, when a leg-before decision was overturned but this time Tigers can celebrate. Lewis went for the big one and it looked like it was sailing well over the ropes. The ball did not have enough on it and it went really high. Liton Das got under it. Kept his calm and took the catch.
End of first over, WI 2/0
West Indies have come out to bat and Abu Hider bowled the first over. The left-armer thought he bagged a wicket when umpire raised the finger after Evin Lewis was trapped in front. Big inside edge as Windies took the review and decision was overturned.
Bangladesh post 211 as Shakib, Riyad light it up
Bangladesh 211/4 after 20 overs, FOWs: 1-42 (Tamim Iqbal, 4.1 ov), 2-110 (Soumya Sarkar, 11.1 ov), 3-113 (Liton Das, 11.6 ov), 4-120 (Mushfiqur Rahim, 12.6 ov)
Lead by terrific batting effort from Shakib Al Hasan and Mahmudullah Riyad in the death overs, Bangladesh have posted 211 runs on the board -- their second-highest T20 total --in the do-or-die second T20I at Mirpur's Sher-e-Bangla National Stadium today.
After Liton's brilliant 60-run knock, Bangladesh stuttered when they lost three quick wickets. Then the duo of Shakib Al Hasan and Mahmudullah Riyad took centre stage and combined to notch the highest fifth-wicket partnership for Bangladesh in T20Is with their unbeaten 91-run partnership off 48 deliveries.
Mahmudullah 43 (21b)

Shakib Al Hasan 42 (26b)
KMA Paul 4-0-54-0

CR Brathwaite 4-0-43-0
End of 18 overs, Bangladesh 195/4
Keemo Paul is taken for 20 runs off the 17th over as Shakib Al Hasan dispatches the bowler for three fours. First one was a lucky outside edge as he looked to go big. He picked up the next one and played it fine over short fine leg. The next one was picked up cleanly as well as the skipper hit it towards deep square leg. 
Riyad was not going to be left behind so he hits Oshane Thomas for three fours too in the next over, the 18th. Bangladesh 195/4.
Mahmudullah 36 (16b)

Shakib Al Hasan 35 (19b)
O Thomas 4-0-43-1

KMA Paul 3-0-45-0
Shakib, Riyad take charge as Tigers cross 150
Shakib Al Hasan hits Brathwaite for a six and four off the 16th over as Bangladesh cross the 150-run mark. The Bangladesh skipper has been hitting the ball well during his short innings so far. The running between the wickets between the duo has been positive too.
Mahmudullah 18 (10b)

Shakib Al Hasan 21 (13b)
CR Brathwaite 3-0-36-0

FA Allen 4-0-29-1
End of 15 overs, Bangladesh 140/4
Mahmudullah Riyad has been in good touch since coming on. He hits Cottrell for three consecutive boundaries in the 14th over as Bangladesh look to post a big total with five more overs to go. 
Bangladesh lose three quick wickets
12.6 - Bangladesh 120/4. Mushfiqur Rahim c Allen b Thomas 1 (3b 0x4 0x6) SR: 33.33
Mushfiqur Rahim went over mid-wicket, looking for the big one. Ball seemed to hold up in air for a long long while before Allen takes the catch at the boundary.
End of 12 overs, Bangladesh 113/3
11.6 - Bangladesh 113/3. Liton Das b Cottrell 60 (34b 6x4 4x6) SR: 176.47
Liton Das falls after a smashing 34-ball 60-run knock. Backed away to Sheldon Cottrell but was deceived by the angle and loses his stumps. Shakib Al Hasan and Mushfiqur Rahim are at the crease as Liton and Soumya both fall in the 12 over.
11.1 overs -  Bangladesh 110/2. Soumya Sarkar c Brathwaite b Cottrell 32 (22b 3x4 1x6) SR: 145.45
Soumya falls to a great catch from Windies captain Carlos Brathwaite. He was having a lot of fun out there as Tigers went past 100-run mark. Soumya backed away and looked to smash it over cover, Brathwaite jumps in the air, gets his right hand to it, the ball lobs over his head, he turns around and dives to take it with both hands, a salute by the bowler, most likely to his captain on this occasion 
Liton hits stormy fifty
End of 9 overs, Bangladesh 83/1
Liton Das is the man of the moment for the Tigers. He reaches his fifty off 26 balls with five fours and four sixes. Hits Brathwaite over extra cover for a one-bounce four to bring up his 50. Bangladesh have reached 83 for 1 after 9 overs.
Liton Das 51 (27b)

Soumya Sarkar 13 (13b)
CR Brathwaite 2-0-21-0

KMA Paul 1-0-9-0
End of 6 overs, Bangladesh 61/1
Liton Das is on fire here as he dispatches Oshane Thomas for two big sixes on opposite side of the field. He backed away to make room for the first to hit it straight over long off for six. Then second went sailing as Liton plays the scoop. Bangladesh 61 for 1 after six overs.
Liton Das 41 (19b)

Soumya Sarkar 2 (3b)
O Thomas 2-0-20-0

FA Allen 1-0-6-1
Tamim falls for a soft dismissal
4.1 overs - Bangladesh 42/1. Tamim Iqbal c Cottrell b Allen 15 (16b 1x4 0x6) SR: 93.75
Tamim struggled with his timing and paid the price with his wicket as he looks to hit this length ball over the short midwicket fielder, doesn't get the timing or elevation right and ends up dragging it straight to Cottrell. Bangladesh lose first wicket.
Carlos Brathwaite came to bowl the fourth over and Liton sent the last two deliveries of the over to the stands for two brilliant sixes. Liton has raced off to 28 off 10 deliveries.
End of 3 overs, Bangladesh 28/0
The duo of Tamim Iqbal and Liton Das have started proceedings in style against the pacy duo of Oshane and Cottrell. Liton Das went after Cottrell after the drop catch, hitting three boundaries in the over. He backed away for the first four, hitting it over point. Scooped the next one to fine leg and then slams a slower delivery through cover for four.
Liton Das13 (7b)

Tamim Iqbal 14 (12b)
SS Cottrell 2-0-22-0

O Thomas 1-0-6-0
2.1 over - Bangladesh 16/1 - Dropped! Tamim pushes at the delivery and Fabien Allen got his hand to it. Ball slips through and Tamim survives a scare.
End of first over
Tamim and Liton Das came out to open the innings with Sheldon Cottrell bowling the first over. Cottrell bowled a beamer - a high full-toss, that caught the left handder by surprise on just the second delivery. Free hit was called by Tamim failed to capitalize on the free hit, missing the delivery completely. A push to mid-wicket got him two runs off the next ball. Then came a lovely flowing cover drive off the fourth delivery which raced for four. Bangladesh are off to a good start with 9 off the first over.
Tigers to bat first in second T20I
West Indies captain Carlos Brathwaite won the toss and elected to bowl first in the second T20I at Sher-e-Bangla National Stadium in Mirpur.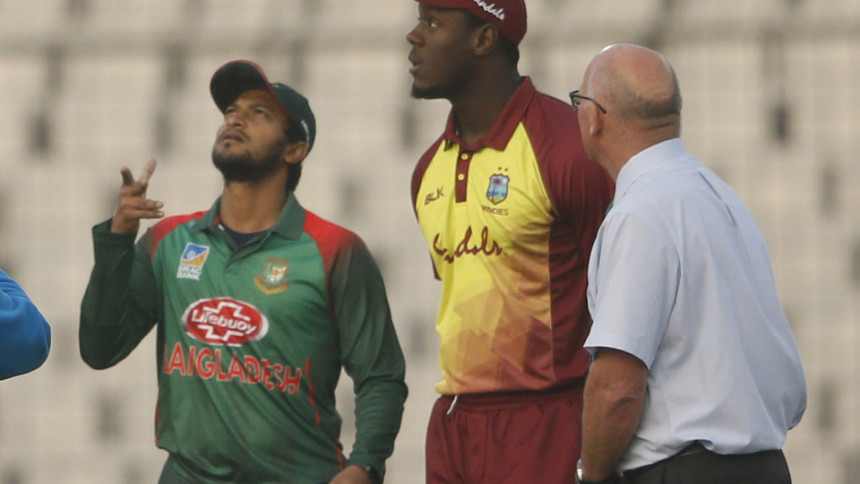 Both teams are going in with an unchanged lineup from the first T20I. Bangladesh will be hoping that Tamim Iqbal and Liton Das can give them a solid start this time around.
West Indies will be eyeing a series win after clinching the first T20 at Sylhet by eight wickets as the prepare to face the Tigers. The players are out onto the pitch, warming out with a game of football.
Windies have the upper hand in this format with capable big hitters in their lineup while Bangladesh will be looking to make sure that they do not lose quick wickets at the start as they did in the last T20.
Bangladesh XI: Tamim Iqbal, Liton Das, Soumya Sarkar, Shakib Al Hasan, Mushfiqur Rahim(wk), Mahmudullah, Ariful Haque, Mohammad Saifuddin, Mehedi Hasan, Abu Hider, Mustafizur Rahman
West Indies XI: Evin Lewis, Shai Hope (wk), Nicholas Pooran, Shimron Hetmyer, Darren Bravo, Rovman Powell, Carlos Brathwaite (capt), Fabian Allen, Keemo Paul, Sheldon Cottrell, Oshane Thomas
More to follow...