Primes shine on Razzak's day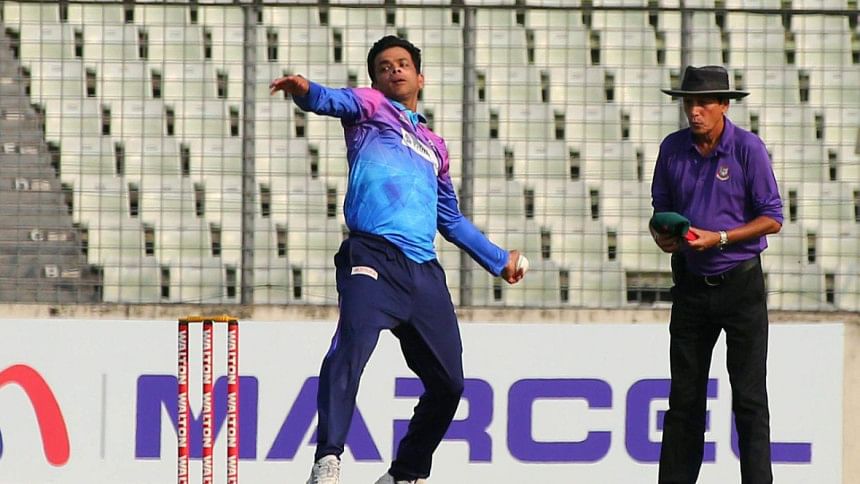 Veteran left-arm spinner Abdur Razzak was not only the major contributor to Prime Bank Cricket Club's 57-run DLS-method win, but his four wickets for 15 runs in eight incisive overs also made him the first Bangladeshi bowler to reach the landmark of 400 List A wickets during the Dhaka Premier League (DPL)  match against Uttara Sporting Club in Mirpur yesterday.
Further north, the Khan Shaheb Osman Ali Stadium in Fatullah saw Prime Doleshwar riding on an unbeaten 105-ball 61 from Taibur Rahman to chase a paltry 160-run total and win by three wickets against Bangladesh Krira Shikkha Protisthan (BKSP).
Meanwhile, at BKSP-3, Shinepukur Cricket Club romped to an eight-wicket victory -- courtesy of an unbeaten 83-ball 90 from Unmukt Chand -- against Brothers Union via DLS method in a rain-interrupted game.
It was however Razzak's day as he extended his lead atop the nation's List A wicket-takers' list. Once a regular in Bangladesh colours, The 36-year-old reached the milestone when he got his first wicket of the match by rattling the stumps of opener Anisul Islam in the 12th over after the right-hander scored a run-a-ball 33, leaving Uttara on 72 for two in chase of 230 for seven.  After that, Uttara's middle order suffered a collapse, unable to handle the Razzak storm as the left-hander went on to dismiss Abrar Alam, Minhajul Abedin and Shakhir Hossain for cheap scores of 10, 11 and two respectively that saw Uttara reeling on 122 for five in 25.4 overs. Despite Sheikh Humayun's unbeaten 30, Uttara fell short on the day, managing only 182 for eight.
Earlier, Prime Bank posted the mediocre total, thanks to Al-Amin's 47-ball 60 accompanied by contributions from Salman Hossain (37 off 42) and Nazmul Hossain (25 not out).
In Fatullah, a team highest of 30 runs off 69 balls came from opener Prantik Nawroz as BKSP were bundled out for a below-par total, courtesy of Doleshwar's disciplined bowling unit. However, after the exchange, Doleshwar made a meal out of a presumably easy chase as they suffered a batting collapse at the top before Shykat Ali and Taibur came to rescue, stringing together a pivotal 57-run fifth-wicket stand after Doleshwar were left struggling on 50 for four in 15.5 overs. Although Shykat fell in the 35th over after scoring 43, Taibur remained unbeaten to see his side through with 30 balls to spare.
Elsewhere, Brothers managed 197 for five in 40 overs which saw the target for Shinepukur become 239 runs from 40 overs as per the DLS method. In chase, Chand's unbeaten knock saw Shinepukur reach the target comfortably in 35.4 overs.
SCORES IN BRIEF
PRIME BANK VS UTTARA

Prime Bank: 230 for seven in 38 overs (Al-Amin 60, Salman 37; Asaduzzaman 2-29, Anisul 3-24)

Uttara: 182 for eight in 38 overs (Humayun 39 not out, Tanzid 35; Razzak 4-15)

Result: Prime Bank won by 57 runs (D/L method)

BKSP V DOLESHWAR

BKSP: 160 all out in 44.4 overs (Prantik 30, Akbar 28; Sunny 2-29, Enamul 2-39)

Doleshwar: 165 for seven in 45 overs (Taibur 61 not out, Shykat 43; Tanzim 3-35)

Result: Doleshwar won by three wickets.

BROTHERS UNION V SHINEPUKUR

Brothers Union: 197 for five in 40 overs (Junaid 74, Jani 54; Shoriful 2-38)

Shinepukur: 239 for two in 35.4 overs (Chand 90 not out, Shadman 77; Sharifullah 1-33)

Result: Shinepukur won by 8 wickets (D/L method)