Bangladesh win tri-nation series final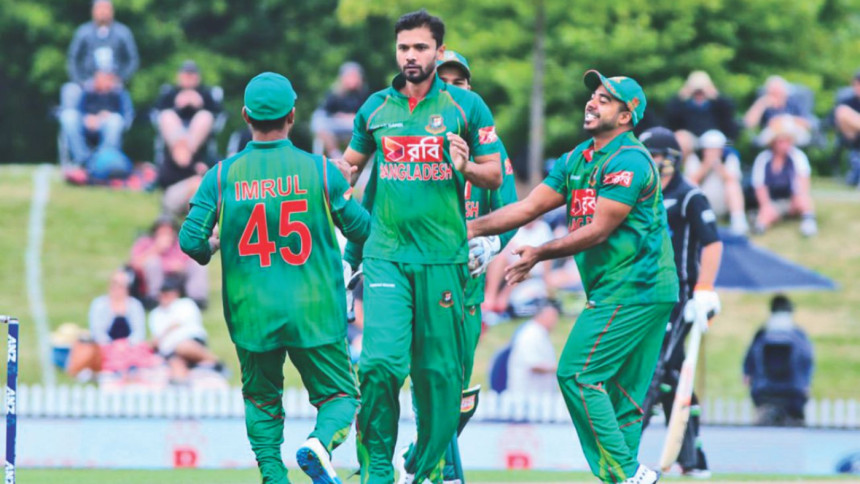 Bangladesh defeated the West Indies in the final of the tri-nation series by five wickets at The Village in Malahide today. This is the first time the Tigers have won an ODI tournament final.
While in chase of 210 in 24 overs, Soumya Sarkar gave a blistering start to the Tigers as the left-hander scored 66 off just 41 balls before getting dismissed in the 12th over. It was however Mosaddek Hossain's late cameo of 24-ball 52 -- featuring five maximums and two boundaries -- that helped Bangladesh reach the target with seven balls to spare. Mosaddek strung an unbeaten 70-run sixth-wicket stand with Mahmudullah Riyad to help the Tigers get over the line.   
22.5, BD-213/5
Mahmudullah smashes one on the offside for a four as Bangladesh win the tri-nation series final.
21.5, BD-207/5
After hitting three sixes and a four, Mosaddek takes a couple to reach his fifty off 26 balls.
End of over 19, BD-165/5
Bangladesh require another 45 runs from 30 balls with Mosaddek Hossain and Mahmudullah Riyad in the middle as they inch towards victory.
Mosaddek Hossain   15 (9b)
Mahmudullah            8 (13b)
JO Holder                   4-0-31-0
FA Allen                      2-0-6-1
[Wicket] 15.4, BD-143/5: Mohammad Mithun lbw b Allen 17 (14b 1x4 1x6) SR: 121.42
Mithun tries to reverse paddle and pays the price for it. An agling in length ball from Fabian Allen hits him in the front leg.  
Mushy departs, Tigers lose their fourth
[Wicket] 13.6, BD134/4: Mushfiqur Rahim lbw b Reifer 36 (38m 22b 2x4 2x6) SR: 163.63
Mushfiqur Rahim tries to nudge it to the leg side but hits him in the pad. The ball although seems to be going down the leg side. No DRS and Mushfiqur has to walk as umpire raises his finger.
Soumya falls after a blistering 66
[Wicket] 11.3, BD-109/3: Soumya Sarkar c sub (SS Cottrell) b Reifer 66 (56m 41b 9x4 3x6) SR: 160.97
Soumya toe-ends a shot while trying to slap it over long off but only finds the substitute fielder Sheldon Cottrell who makes no mistake.
Fastest team hundred for Bangladesh in ODI history 
10.3, BD-100/2
Mushfiqur Rahim revere swept Nurse for a single as the team hundred comes up. It is the fastest hundred in Bangladesh's ODI history.
Soumya reaches fifty
7.3, BD-72/2
Soumya reaches 50 off just 27 balls as he carves one Gabriel delivery over backward point, to the left of third man for a single. It is the fourth fastest ODI fifty for a Bangladeshi.  
Bangladesh lose two wickets in quick succession​
End of over 6, BD-60/2
[Wicket] 5.6, BD-60/2: Sabbir Rahman lbw b Gabriel 0 (3m 2b 0x4 0x6) SR: 0.00
Gabriel gets his second in the over. A back of a lenght delivery that nips in and hits the pad. Given LBW by the umpire and Sabbir Rahman goes without scoring.
[Wicket] 5.3, BD-59/1: Tamim Iqbal c Holder b Gabriel 18 (26m 13b 2x4 0x6) SR: 138.46 
Tamim tries to big off a Gabriel delivery but only gets the elevation and not the distance as Holder takes a catch at mid-off.
4.5, BD-50/0
Fifty comes up for Bangkadesh as Soumya steers a back of a length delivery to third man for a single.
End of over 4, BD-46/0
Soumya Sarkar looks in exquisite touch as the left-hander races on to 37 off just 18 deliveries. 
Soumya Sarkar  37 (18b)
Tamim Iqbal   7 (6b)
ST Gabriel   1-0-13-0
KAJ Roach   1-0-17-0
2.2-BD- 19/0
Tamim Iqbal dropped on 4. Ashley Nurse puts down an easy catch after Tamim ballons one Kemar Roach delivery up towards short third man.
West Indies posted 152 for one in 24 overs. However, the target for Bangladesh in DLS method is 210 from 24 overs.
SW Ambris   69 (78b)
DM Bravo    3 (3b)
Mustafizur Rahman    5-0-50-0
Mehidy Hasan Miraz   4-0-22-1
Miraz removes Hope on 74
Mehedi Hasan Miraz gives Bangladesh their first breakthrough as he removes a dangerous looking Shai Hope. Hope tries to go for the maximum over midwicket but Mosaddek Hossain takes a catch after throwing the ball in the air and grabbing it later in order to avoid going over the boundary.
[Wicket] WI-146/1: SD Hope c Mosaddek Hossain b Mehidy Hasan Miraz 74 (96m 64b 6x4 3x6) SR: 115.62 
The tri-nation series final between Bangladesh and West Indies resumed after several field inspections. The game has been redued to 24-overs-a-side. 
After several field inspections, it has been decided that the game will resume at Ireland time 5:30 pm (Bangladesh time 10:30 pm) and there will be a 24-overs-a-side match.  
The next field inspection is scheduled at Ireland time 4:40 pm (Bangladesh time 9:40 pm).
The umpires will be inspecting the field at Ireland time 4:10 pm (Bangladesh time 9:10 pm) and after that a decision will be given regarding today's tri-nation series final between Bangladesh and West Indies in Dublin.
The rain has apparently stopped and the umpires will carry out an inspection at 3pm Ireland time (8pm BST).
Cricket Ireland has confirmed that Bangladesh will lift the trophy in case of a no-result today. Better results in the group stage. If it happens, it will be Bangladesh's first win in a multi-team ODI tournament.
Play has been interrupted by rain. Sunil Ambris and Shai Hope have been really dominant in this final and are taking Windies towards a big total. WI 131/0 in 20.1 overs.
Hope, Ambris hit 50s in strong start
This is a really strong start from West Indies as both of their openers have reached their fifties with the opening stand going past the 100-run mark. Fizz was brought on to make a breakthrough but he has been expensive so far. Bangladesh are feeling the absence of Shakib Al Hasan who is sitting out the game due to injury. Windies are 125 without loss after 20 overs.
End of over 20, WI 125/0
SW Ambris 59 (65b)

SD Hope 62 (55b)
Mustafizur Rahman 3-0-36-0

Sabbir Rahman 2-0-12-0
18.4 - WI 109/0: Ambris reaches his fifty too win two off Sabbir.


17.5 - WI 103/0: Six off Mustafizur sees Hope bring up his fifty and Windies' 100 up. Full, on off, and he swings this over the bowler's head. Hits the sightscreen. Five fours and three sixesin that innings of 50-ball 54.

 
West Indies reach 88 for no loss after 16 overs with both openers looking solid. No one has looked like breaking the partnership yet. After Mash and Saifuddin's spell, Mustafizur Rahman was introduced but bowled just one over for 12 runs before being taken off. Mossaddek and Mehedi have bowled in tandem after that.
End of over 16, WI 88/0
SD Hope 41 (43b)

SW Ambris 45 (53b)
Mehedi Hasan Miraz 2-0-10-0

Mosaddek Hossain 2-0-9-0
Good start from West Indies here as they have reached 50 without loss in 10 overs. Hope in particular have played some brilliant shots off Mohammad Saifuddin. The pressure will be on Bangladesh to make the breakthrough.
End of over 10, WI 50/0
SW Ambris 23 (34b)

SD Hope 26 (26b)
Mohammad Saifuddin 5-0-29-0

Mashrafe Mortaza 5-0-21-0
Steady start from the West Indies in the final. Shai Hope and Sunil Ambris not looking to give the Tigers any early advantages with some wickets. 
End of over 5, WI 15/0
SD Hope 3 (10b)

SW Ambris 12 (20b)
Mashrafe Mortaza 3-0-13-0

Mohammad Saifuddin 2-0-2-0
No Shakib as Tigers bowl first
Squads:
Bangladesh: Tamim Iqbal, 2 Soumya Sarkar, 3 Mushfiqur Rahim (wk), 4 Mohammad Mithun, 5 Mahmudullah, 6, Mossaddek Hussain, 7 Sabbir Rahman, 8 Mohammed Saifuddin, 9 Mehedi Hasan Miraz, 10 Mashrafe Mortaza (capt), 11 Mustafizur Rahman
West Indies XI: 1 Sunil Ambris, 2 Shai Hope (wk), 3 Darren Bravo, 4 Roston Chase, 5 Jonathan Carter, 6 Jason Holder (capt), 7 Fabian Allen, 8 Ashley Nurse, 9 Kemar Roach, 10 Ramon Reiffer, 11 Shannon Gabriel
Toss:
Bangladesh have won the toss and elected to field first in the final of the tri-nation series against the West Indies in Dublin. After the toss, skipper Mashrafe Bin Mortaza informed about Shakib Al Hasan's absence. 
There was a question mark over Bangladesh ace all-rounder Shakib Al Hasan's availability for the tri-nation series final against West Indies today after the left-hander was forced off the field with what appeared to be a side strain during the Tigers' last match against Ireland. It appears that the Tigers think tank decided not to risk the ace all-rounder.
Will Bangladesh meanwhile be able to break their final curse? They have lost all four ODI finals they have played in. This is the third final Shakib has now missed on the trot.