Mymensingh Riders win country's first 100-ball tournament amid concerns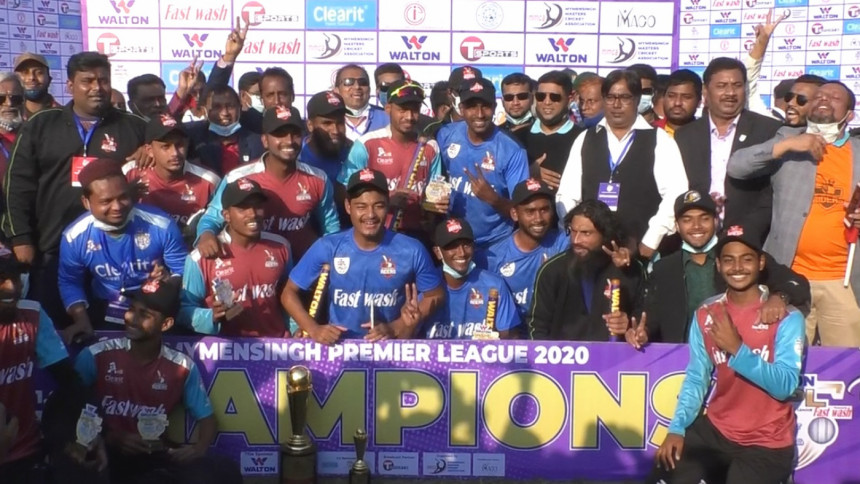 Mymensingh Riders beat Mymensingh Thunders to clinch the title of the Mymensingh Premier League (MPL), the first 100-ball cricket tournament of the country, at the district's Circuit House Ground today. 
The five-day tournament, marking the birth centenary of Bangabandhu Sheikh Mujibur Rahman and titled 'Walton MPL-2020, a Battle of 100 Balls', featured a number of former national players as well as members of the Under-19 World Cup-winning team. 
Organised by the Mymensingh Masters Cricket Association (MMCA), a forum of ex-cricketers, the tournament had already raised concern over a local association's capacity in maintaining health guidelines and social distancing. But despite all concerns, the organisers claimed to have brought cricket back to life in Mymensingh, a place where once the craze about cricket knew no bounds, with a new version of cricket tournament that saw players like Mohammad Ashraful, Suvagata Hom, Sabbir Rahman and Under-19 stars like Akbar Ali, Towhid Hridoy, Parvez Hossain Emon take part.
"Such a flamboyant tournament was not held in the last 40 years in Mymensingh. Thousands of people came to the ground from different parts of the district to see the matches," said tournament committee chairman Faruq Khan Pathan. 
Players like Ram Chand Goala -- a legendary name in the country's domestic circuit -- and current stars like Mahmudullah Riyad and Mosaddek Hossain emerged from Mymensingh but the district has over the years seen the slow death of the sport. But such a tournament was deemed by the organisers as a way of bringing cricket back in the region as well as being beneficial for the local cricketers, who have had the rare opportunity to play with some national stars. 
"Cricket in Mymensingh has been in a sorry state in recent years as tournaments are not held regularly. And a number of scheduled tournaments were also suspended due to the coronavirus pandemic. But through this tournament, the local players had the opportunity to perform with experienced national campaigners and they will be surely benefited," said MMCA's president  Dilip Pandya. 
While the tournament was a way of reviving cricket in the region, the major downside of it remained the health safety of the spectators, organisers and players as very little or no social distancing was maintained by the thousands that flocked to the Circuit House Ground in the last five days to witness the games.