Here not even in spirit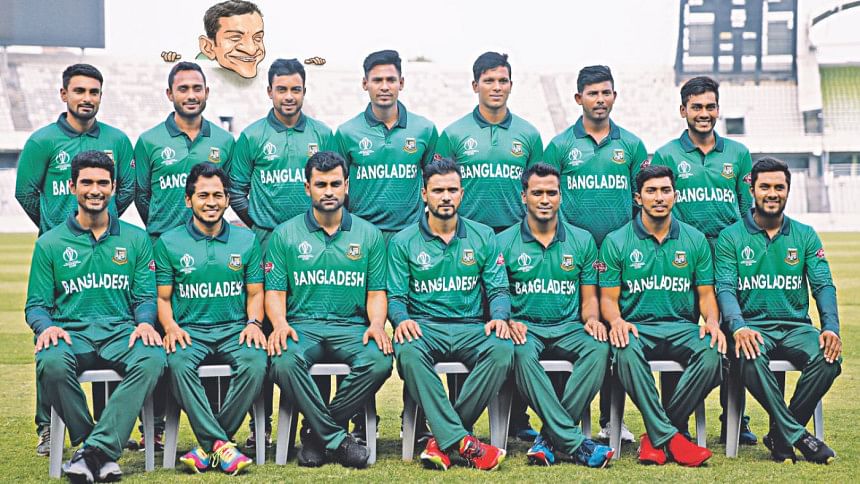 An official team photo session, with players donning their fresh new jerseys for the upcoming World Cup, is usually a festive and auspicious occasion. It is however not a major event, but yesterday one person made the Tigers' jersey photo session a controversial event by his absence.
 "It is unfortunate. What else can I say? It was a team photo," said BCB president Nazmul Hassan after the photo session, where most BCB high-ups were also present. "I called him and asked him where he was and he told me that he had gone home and that he would visit me later tonight [Monday night].
"All the players were told to be at the photo session. I hoped he would be here, but he is not. I think it is unfortunate for him also. Since the team is leaving day after tomorrow, I don't want to say much about it."
The disappointment was apparent in Hassan's words, but it also has to be asked whether disappointment is the only reaction. That is not to diminish Shakib's culpability. The all-rounder came back from India on Sunday night and caught up with his teammates yesterday morning. But, and since even the BCB president cannot say why and Shakib has not said anything on the subject, knowing fully well that an official team event was about to take place he just decided to go home.
At the very least, it displays a disregard for team culture and team bonding. He was absent through the whole training block -- which ended yesterday -- and the one day he did show up, he left the team literally incomplete. It also betrays a total lack of regard for Hassan and the BCB brass, the occasion of the photo shoot and what it means for the groundstaff who toil thanklessly so that Shakib can call the Sher-e-Bangla National Stadium his turf.
While we silently speculate on Shakib's motives, one aspect in this saga needs no conjecture. The buck stops with the BCB boss, and he said it is better not to talk about this too much because the team will leave for Ireland in just two days. The implication is that Hassan does not want to rock the boat so close to the main event. Read otherwise, he would rather wait for the boat to steady after Shakib had already rocked it by jumping overboard.
Spain sacked their football coach Julien Lopetegui on the eve of the last FIFA World Cup because the coach had revealed to Real Madrid players that he had signed with Real Madrid for the next season.
Nothing so drastic is called for now, but this overly philosophical approach from Hassan will not discourage behaviour that can be fractious in a team culture. He was tough on Shakib when he took office in 2014, banning him for six months because of disciplinary reasons. But that stance has since softened and he has presided over an encouragement of bad behaviour by being lenient on Sabbir Rahman in tweaking bans for serious indiscretions. If Shakib escapes sanction, it will just be the latest stroke in an established pattern.
At the risk of sounding like a broken record, perhaps the BCB should realise that a good culture leads to success on the field; not the other way around.