'Who'd you pick from the opposition'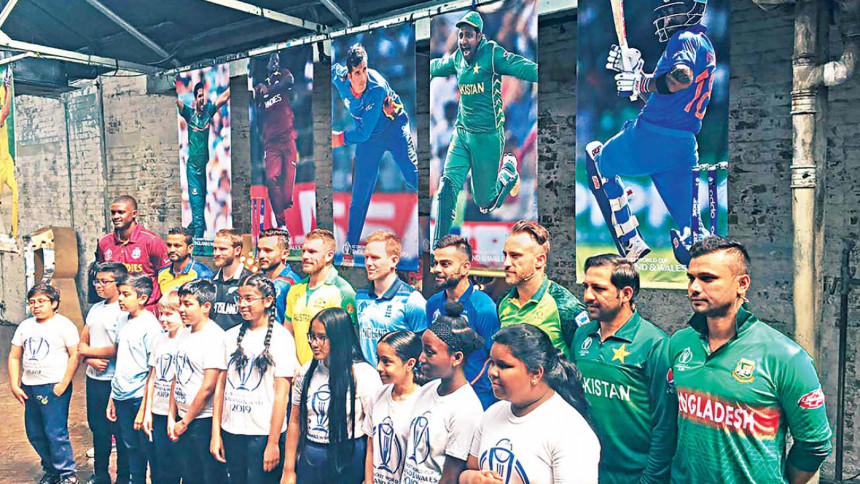 It was easy to wonder why the official captains' press conference was taking place so far off the beaten path yesterday, in Dalston Kingsland. England is the birthplace of cricket and just to the south of Central London there is The Oval, where the World Cup will be kicking off on May 30, and just to the north is the historic Lord's Cricket Ground, where the final will take place on July 14.
However, by the time the event started in what seemed a dilapidated venue called the Film Shed, it became clear that for the event and its thrust towards growing the region's sporting culture, there could hardly have been a more appropriate venue. The Film Shed was badly damaged in the London Blitz during the second World War and then rebuilt in the 1950s. It seemed an apt venue to kickstart the global showpiece of a sport that fights for relevance in its own birthplace, as evidenced by the marked lack of general interest in the World Cup in the UK.
It was also appropriate because this area of London is the hub of grassroots sporting activity with numerous academies nurturing budding talent nearby. When the captains strode out, they were each accompanied by a child who was a budding talent in different disciplines. It was fitting therefore, that the question of the day was not from the media personnel, but from a girl who had a query for each of the 10 captains sitting on the stage: which player from your opponents would you like to see in your team?
Only Bangladesh skipper Mashrafe Bin Mortaza, Pakistan captain Sarfraz Ahmed and South Africa's Faf du Plessis answered the question without any kind of artifice, while the rest needed some coaxing by moderator Mark Chapman.
"I heard Ricky Ponting was with the Australian side, so yeah, Ponting," chuckled England skipper Eoin Morgan.
India's Virat Kohli was noncommittal at first. "It would have to be a current player, right?"
"Don't say AB [de Villiers]," interjected du Plessis from across the stage, and Kohli then laughed and said: "I would have said AB but he's not a current player. So I choose Faf."
Sarfraz did not hesitate before plumping for England batsman Jos Buttler. West Indies captain Jason Holder was happy with his team but nominated the guy to his left, Afghanistan skipper Gulbadin Naib, who came up with the most bland answer: "depends on the day."
Then it was Mashrafe's turn. The Narail express, parked beside the World Cup trophy, pointed to his right with a wry smile. "That guy right there," he said. And just in case anyone was thinking he was mirroring Holder's copout, Mashrafe clarified: "Virat Kohli."
Australia captain Aaron Finch said that he thought South Africa pacer Kagiso Rabada was someone who would be an excellent choice in any format. Du Plessis did not choose just one but several bowlers, arguing that the bowlers would win the Cup in fantastic batting conditions. He picked Jasprit Bumrah, Rashid Khan and Pat Cummins while saying that he would return Kohli's favour when he picked his batting team.
Sri Lanka's Dimuth Karunaratne picked England all-rounder Ben Stokes and lastly, New Zealand skipper Kane Williamson echoed du Plessis and picked Rashid Khan.
There were many other interesting tidbits, but the answers to this question forced the sport to be shown in its true light -- a small global community that depends on adversaries in order to thrive.