Live Updates: Bangladesh vs Pakistan 2nd T20I
Pakistan outclass toothless Tigers by 9 wickets and seal series
Pakistan 137 for 1 after 16.4 overs. Babar 66 (44b), Hafeez 67 (49b); Mahmudullah 0.4-0-3-0, Afif 1-0-16-0. Bangladesh 136 for 6 after 20 overs. Aminul 8 (4b), Soumya 5 (5b); Rauf 4-0-27-0, Shaheen 4-0-22-1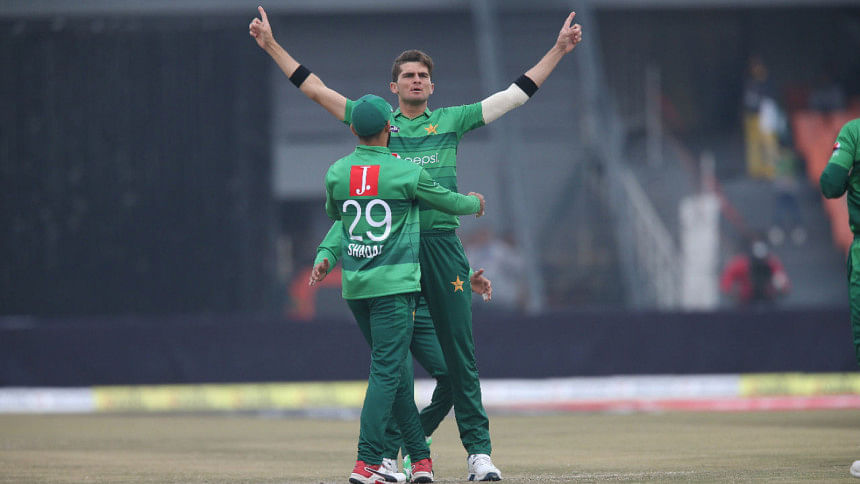 Sparkling 50s from skipper Babar Azam and Mohammad Hafeez take Pakistan to a thumping nine-wicket win over Bangladesh at the Gaddafi Stadium in Lahore. Having won the first T20I on Friday by five wickets, today's win gives Pakistan an unassailable 2-0 lead in the three-match series. 
1.4 - Wicket! Shafiul Islam provides the early breakthrough once again. Rookie Pakistan opener Ahsan Ali tries to hit a length ball over the top and top edges it to Mahmudullah Riyad at mid off. Ahsan Ali c Mahmudullah b Shafiul 0 (7b) FOW 6/1
Bangladesh limp to 136 for 6
A weak batting display takes Bangladesh to 136 for six in the second T20I against Pakistan -- the second-lowest T20I score at the Gaddafi Stadium in Lahore. 
19.1 - Wicket! Skipper Mahmudullah Riyad tries a hoick and misses, furniture disturbed. Mahmudullah b Haris Rauf 12 (12b, 1x4)
17.4 - Wicket! And it won't be a meaningful innings from Tamim as he is run out for the second time in as many matches. Hits to cover and is run out going for a single at the non-striker's end. He did not put in a dive and actually slowed down, lazy running. Having taken up so many deliveries, Tamim needed to do better than that. Tamim Iqbal run out 65 (53b, 7x4, 1x6) FOW 117/5
15.4 - Four! Tamim pulls Shadab Khan to deep midwicket. Three boundaries in the over that ends up costing 14. 100 up for Bangladesh.
15.3 - Four! Tamim punishes a waist-high (may have been over waist height) full toss over short third man. 
15.1 - Four and Tamim's 50! Tamim hits Shadab Khan through cover for four to bring up his 50 off 43 balls. Given his slow batting, he will have to hit many more of those to make his contribution meaningful. 
14.4 - Wicket! The slow progress forces Afif Hossain's hand, as he tries to hit Mohammad Hasnain over the off side but finds the hands of third man. Afif Hossain c Haris Rauf b Mohammad Hasnain 21 (20b, 1x4, 1x6) FOW 86/4
After 12 overs Bangladesh reach 74 for three -- the first time in the innings that the run rate has gone above six.
11.4 - Six! Tamim comes down the wicket to part-time off-spinner Iftikhar Ahmed and hits a six straight back over the bowler's head. 
9.5 - Six! That's gone the other way. A powerful slog sweep over deep midwicket. Some urgency at last from Bangladesh. 
9.4 - Four! Afif Hossain reverse sweeps Shadab Khan behind point. Much-needed boundary.
7.5 - Wicket! Liton Das may consider himself just slightly unlucky as he reviews this leg-before decision and the decision stands because the ball was shown to be just shaving leg stump. A length ball from leg-spinner Shadab Khan pitched on middle and length and did not turn much, Liton missed a sweep. Bangladesh keep their review as the original umpire's decision made the difference, but that won't be of much consolation to Liton. Liton Das lbw b Shadab 8 (14b, 1x4)
6.6 - Four! The first sign that Tamim once used to be a dashing batsman as he unleashes a powerful cover drive off Hasnain for four. 
5.4 - Four! Liton Das plays a sumptuous back foot punch past point off Haris Rauf. 
4.5 - Dropped! Tamim Iqbal, on 15, enjoys some luck as keeper Mohammad Rizwan drops a difficult chance off an incise edge diving to his right. Was a wonderful delivery from Hasnain, cut back into the left-hander from over the wicket and cut Tamim in half.
4.2 - Wicket! Mohammad Hasnain ends Mahedi's time at the crease with a sharp bouncer that the right-hander tried to hook, but only succeeded in top-edging to the keeper. Mahedi Hasan c Mohammad Rizwan b Mohammad Hasnain 9 (12b, 1x6) FOW 22/2
This wicket seems to be much better than the slow surface on which the teams played the first T20I, so a total in excess of 160 would be needed for Bangladesh. 
2.5 - Four! Tamim makes it a good over for Bangladesh by sweeping Imad Wasim for a four between square leg and fine leg. 12 runs off the over and Bangladesh will hope to continue this trend.
2.3 - Six! This is what Mahedi has been picked in the squad for and why he has been included today. Gets down on one knee and deposits an Imad Wasim delivery well beyond the midwicket boundary. 
1.2 - Wicket! Mohammad Naim may have been Bangladesh's highest scorer in the first T20I but he goes for a first-ball duck today. But it was a terrible ball to get first up, and an incredibly good one to bowl to a new batsman from Pakistan pacer Shaheen Afridi. The ball pitched on off stump, zipped away off the surface and kissed the edge through to the keeper. Mohammad Naim c Mohammad Rizwan b Shaheen Afridi 0 (1b). FOW 5/1
Mahedi in for Mithun as Bangladesh choose to bat
Bangladesh skipper Mahmudullah Riyad won his second toss in a row and chose to bat in the second T20I against Pakistan at the Gaddafi Stadium in Lahore. 
There was one change to the team that lost by five wickets to Pakistan yesterday as all-rounder Mahedi Hasan was drafted into the team in place of batsman Mohammad Mithun. 
Pakistan, who lead the three-match series 1-0, are unchanged. 
Teams
Bangladesh: Tamim Iqbal, Mohammad Naim, Afif Hossain, Mahmudullah Riyad (c), Liton Das (wk), Soumya Sarkar, Mahedi Hasan, Aminul Islam, Shafiul Islam, Al-Amin Hossain, Mustafizur Rahman
Pakistan: Ahsan Ali, Babar Azam (c), Mohammad Hafeez, Shoaib Malik, Iftikhar Ahmed, Imad Wasim, Mohammad Rizwan (wk), Shadab Khan, Haris Rauf,  Shaheen Afridi, Mohammad Hasnain