BPL
Fighting for too little on offer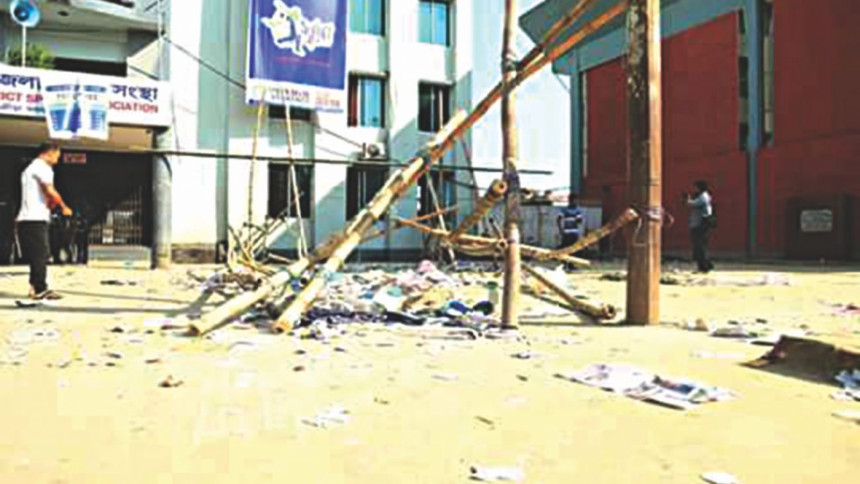 The chaos for Bangladesh Premier League (BPL) tickets continued in Sylhet yesterday as fans who turned up were ultimately involved in a clash with police after failing to get their hands on tickets.
The fans made their anger known by vandalising windows of the Sylhet District Stadium once the selling booths were closed after an hour of selling tickets for the second day's matches.
Tickets for the opening day's matches (November 4) had sold out earlier and a huge number of cricket lovers gathered at the stadium to buy tickets for the November 5 matches but only a few were fortunate. When it was declared after an hour that gallery tickets for the second day's matches were sold out, people started to show their anger which ended in a clash with police that left a few fans slightly injured.
Gousul Alam, officer-in-charge of Kotwali Police Station, said the police were forced to charge the mob to clear the stadium area and had to close the ticket selling in booths.
However, fans complained that tickets were available on the black market but the price was five times higher. In the booths people could buy only one ticket at a time but ticket touts were selling bulks of tickets near the stadium and through Facebook.
Nirjhor Tapadar, who failed to buy any tickets on Tuesday and came for a second time yesterday only to return empty-handed again, alleged that ticket touts were selling a ticket worth Tk 200 for between Tk 1,000-1,200.
When journalists tried to speak to authorised vendors at the Sylhet District Stadium, they hid to avoid cameras and were unwilling to talk.
BPL governing council member secretary and BCB director IH Mallick however said that they were helpless to meet the huge demand.
"The stadium capacity is only 17,000. Twenty five per cent of the tickets are sold online and we had to give more than twenty five per cent of the remaining tickets as complimentary tickets. On the other hand Sylhet Sixers bought more than one thousand tickets as the home team. Our local board director got some to distribute among the local administrations and other dignitaries. So, everybody has to accept the reality."
Shafiul Alam Nadel, BCB director from Sylhet, said that the huge demand and overcrowding led to the chaos.
However the organizers informed that they would sell tickets of the November 7 and 8 matches at the booths today.