Asia Cup Final
Ticket troubles irk desperate fans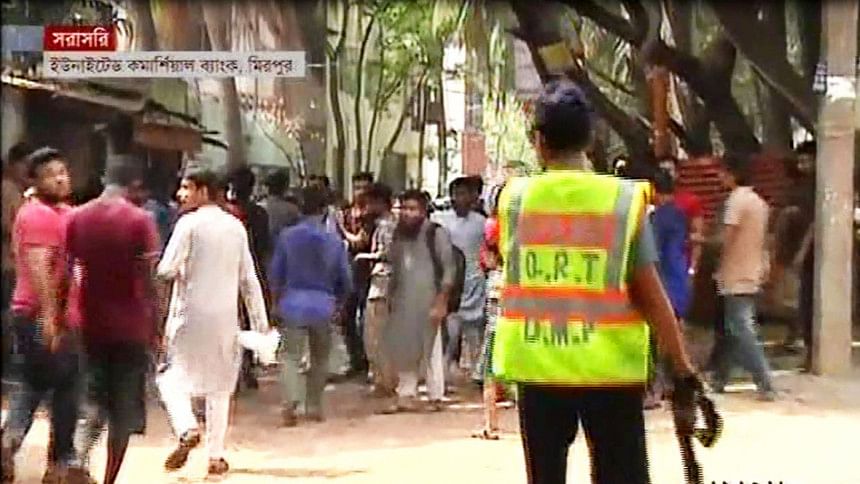 Chaotic scenes dominated the area around the United Commercial Bank Limited's (UCBL) Mirpur 10 branch yesterday as desperate ticket buyers, for the Asia Cup final, and the police were involved in a number of clashes throughout the day.
So intense was the scenario that it led to eight individuals being detained and a number of injuries.
The police was also forced to block the road along that path and stop traffic activity for half-an-hour in the afternoon.
Most of the ticket buyers, who had queued up in front of the bank since Friday night, complained that the bank had sold very few tickets.
"At first we heard rumours that tickets won't be sold. And that's when a number of those standing in the line got agitated. And then once they did start selling tickets, they stopped after a very short time," said Ashfaque Chowdhury, a private university student who was present at the area since 7 am.
According to Sourab Ghosh, another student studying in a private universty, there were many who had lined-up in front of the branch and had spent the entire night there.
"Many of them didn't even move out of the line fearing that they would be pushed back," he said.
According to eyewitnesses, several hundred people began attacking the booths at noon once when the bank stopped selling tickets. The police, in a bid to dismiss the commotion, charged at the crowd with batons. According to sources the sale of tickets resumed in the evening at around 5 pm but was stopped after ten minutes. 
 Additional Deputy Commissioner of Mirpur Division, Masud Ahmed said that four police offiicals were injured yesterday.
According to an official from the Dhaka medical college hospital, a passerby from the area, who had been hit by a brick that was being hurled at the bank, had gone to the hospital for treatment.
While standing at the line, many ticket buyers were criticizing the Sher-e-Bangla National Stadium's (SBNS) capacity and the ticket distribution mechanism.
Later in the day Bangladesh captain Mashrafe Bin Mortaza sympathized with the team's fans.
"I saw in the morning that there were many people standing in line in front of the booth. It's a lot of trouble for them and it's unfortunate. I just hope our team does something good.
"Our biggest strength has always been our fan-base. We get inspired because they come in huge numbers. They have sacrificed a lot for us and I think this is a big opporuntity for us to do something good," said Mashrafe during the pre-match press conference at the SBNS.
In addition to the fans, few national cricketers also complained that they didn't get the number of tickets that was originally allocated for them.