Soumya shines, Bangladesh smiles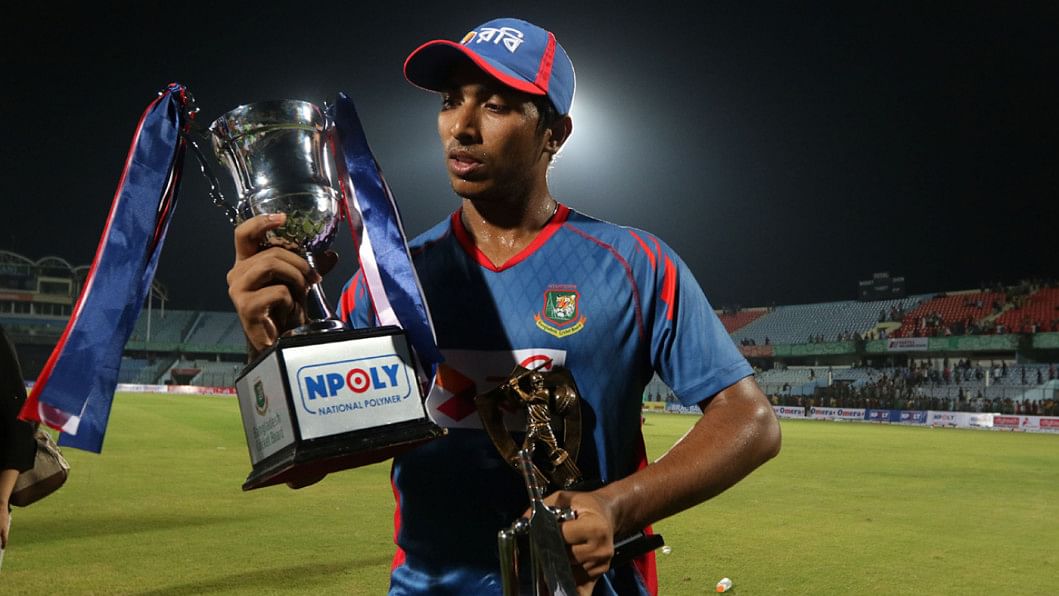 Distinctly charismatic and undeniably courageous, Soumya Sarkar is making headlines and heads turn with his unforgettable knocks, only in 16 matches of his ODI career.
Man-of-the-series of the historic victory against South Africa, Soumya contributed convincingly to help his side come back from 0-1 down to beat the visitors after three losses earlier in the tour.
On the memorable night of July 15, 2015 at Chittagong, Soumya's opening stand with Tamim Iqbal of 154-runs was a special treat for Tigers' supporters, which was the highest partnership against South Africa for any wicket.
Incidentally, it was Bangladesh's highest first-wicket partnership in ODIs against a Test nation other than Zimbabwe.
Soumya was disappointed to fall just 16 runs short of victory, but his terrific knock of 90 runs from only 75 balls in the 3rd ODI truly established his credentials as Bangladesh's most exciting opening batsman in recent times.
Soumya Sarkar's batting average of 49.4 is the highest for any Bangladesh batsman in their ODI history. He has scored 692 runs from 16 ODIs, including one hundred and four fifties, at a strike rate of 102.5.
In the four innings after his maiden century on April 22 against Pakistan, Soumya failed to bat for more than 47 deliveries or 70 minutes. He made 54, 34, 40 and 27, but got out trying to attack further.
In the second match of the series against South Africa on July 12, Soumya made amends and took Tigers home with an unbeaten knock of 88 from 79 balls.
In both the match-winning knocks from Soumya, what stood out was his valor under fire, the will to fight, take the blows and go on till the end.
"I heard from somewhere that they will stop me by bowling bouncers," Soumya told ESPNcricinfo after the 2nd ODI.
"I wanted to play at them, even if I got out. I wanted to get out of that mindset. I planned that no matter how fast they bowl and how much they try to bounce me, I just wanted to take them on."
The fearless brand of cricket certainly paid off for the Bangladesh opener, whose uncanny ability to keep composed while attacking opposing bowlers came to the fore during the South Africa series.
Unlike other batsmen who throw their wickets away recklessly trying to get on top of the bowlers, Soumya holds himself back and attacks selectively.
Soumya's knock of 90 to help Bangladesh win the first ever ODI series over South Africa defined his approach to batting.
He did not go all gung-ho from ball one, instead played sensibly to get his eye in before unleashing his full repertoire of strokes.
Soumya kept the good balls out, took ones and twos regularly while waiting for the opportune moment to attack.
When the South African bowlers erred in line or length, Soumya made them pay heavily. Whenever the lefty played a shot in anger, it pierced the field to reach the boundary to the delight of the home crowd.
Soumya's most productive shot was the pull on Wednesday, and he was particularly severe on Kagiso Rabada apart from the other fast bowlers of South Africa.
By the time Soumya left the field to a standing ovation from the Chittagong stadium, he smashed 13 boundaries and a massive six to stamp his authority on the game.
No wonder when Soumya Sarkar shines, Bangladesh smiles!