India in Bangladesh 2015
Harbhajan returns to India's Test squad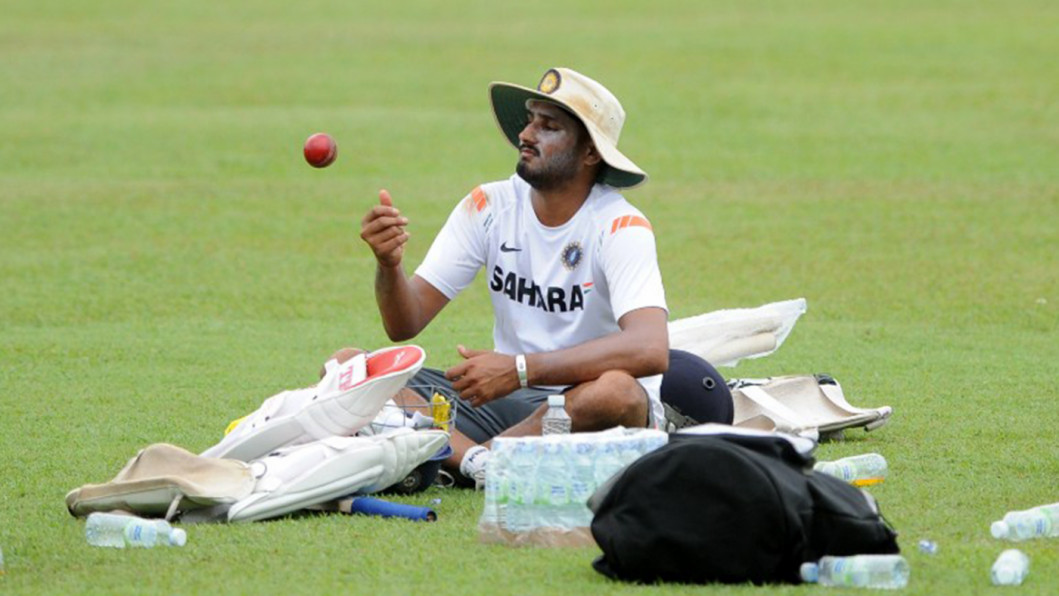 Offspinner Harbhajan Singh has returned to India's Test squad for the first time in two years after he was picked for the only Test in Bangladesh from June 10 to 14.
The selection committee, which met in Mumbai on Wednesday, retained the majority of the squad that toured Australia in 2014-15 with the exception of left-arm spinner Ravindra Jadeja.
Fast bowler Mohammed Shami was not picked because of the knee injury he suffered during the World Cup that also ruled him out of the IPL.
No first-choice players had requested rest despite having played the World Cup and the IPL back to back and so the selectors were able to pick full-strength squads for both formats.
Sandeep Patil, India's chairman of selectors, said consideration had been given to the number of left-handers in the Bangladesh Test squad before the decision to pick a second offspinner was made.
However, Harbhajan played only three first-class matches in last season's Ranji Trophy - six wickets with a best of 3 for 51 - but has been in impressive form for Mumbai Indians this IPL season, picking up 16 wickets in 14 matches.
"The Bangladesh batting order has six left-handers, keeping that in mind, we discussed with the captain and we felt it was necessary to have a second offspinner," Patil said. "I also want to point out we not only discussed Harbhajan. We also discussed other youngsters and considered them. Ultimately the selection committee and the captain felt this was the right choice for this particular tour."
Patil said Harbhajan had not been picked in the ODI squad because the selection panel felt "chopping and changing or disturbing the combination" of the team that had reached the World Cup semi-finals was unnecessary.
In an interview with PTI, Harbhajan described his recall as "a fresh beginning", and said he was ready to play for another four-five years.
"It feels like a fresh beginning for me," the offspinner said. "It's a new innings which I want to start on a confident note and make the best possible use of the chance that I have got.
"For me, there is nothing more precious than the India jersey. For the past two years, I have been working hard for this day. Not for a single day, nor for a single moment, did I have a feeling that I won't play for India again.
"At this point of time, I am ready to play for another four to five years. I am confident that I can represent India in all formats to the best of my abilities."
Addressing his first press conference after becoming the head of India's selection panel in October 2012, Patil did not say which players had been discussed at the selection meeting. "It will be difficult for me to say who all would be discussed. Those who we felt - the selection committee and captain felt - were discussed. There was no discussion about Yuvraj Singh."
Patil said there had been "no emotional angles, emotional attachments" while picking the squads. "We look for the performances, the fitness and the combination - whether a bowler or batsman fits in that combination. Last two years we have been trying … we have made some mistakes, and may be, we will make some more mistakes but we have to learn from the mistakes. Indian cricket has gone through transition period and we are just trying to settle down."
A day before the selection meeting, Mumbai Indians had beaten Chennai Super Kings to qualify for the IPL final, and Harbhajan had spoken of a "burning desire" to make an international comeback.
He last played Test cricket in 2013, when he was picked for the final two matches of the home series against Australia that India won 4-0.
Harbhajan took only five wickets in those games at an average of 40.80, compared to R Ashwin and Ravindra Jadeja whose 29 and 24 wickets in four Tests came at 20.10 and 17.45 apiece.
Subsequently the selectors and team management under the captain MS Dhoni and Duncan Fletcher retained Ashwin and Jadeja, and dropped Harbhajan, who had played 101 Tests.
Harbhajan's decline had begun on the 2011 tour of England, where an injury forced him to return home after the first two Tests. He had taken just two wickets in the 70 overs he bowled at an average of 143.