ICC CRICKET WORLD CUP 2015
Aussies thrash India to set final with NZ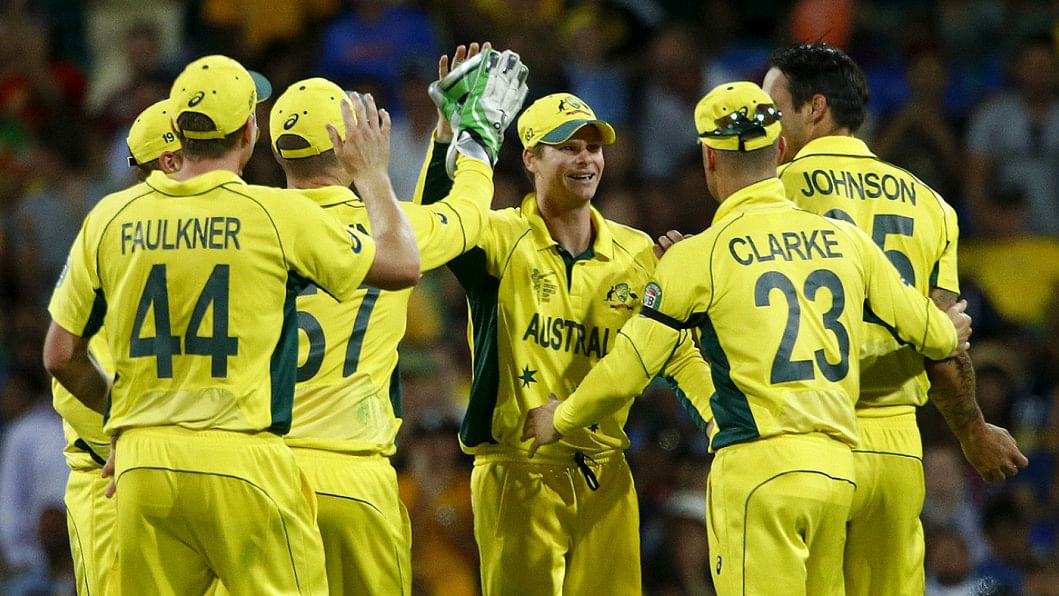 SEMIFINAL 2: AUSTRALIA VS INDIA
Australia 328/7 (50 Overs)
India 233 (46.5 Overs)                                Australia won the match by 95 runs
Four-time ace Australia shoved out defending champions India at the Sydney Cricket Ground today and booked a date with New Zealand for the World Cup finals on Sunday.
It has been an all-round performance from hosts Australia – piling 328 riding on the century of Steven Smith and then defending the total competently in bowling and fielding.
For India, the fight they put up was feeble in the heavyweight semifinal clash in terms of their batting considering they came through unbeaten in the tournament.
Watch the highlights of today's match in PHOTOS, VIDEOS & MORE
Choosing to bat, India bowled well in the latter phases to curb Australia to 328 after a powerful thrust provided by the century of Steven Smith at Sydney Cricket Ground.
It was the fast bowlers who did the job for India again – Umesh Yadav especially with a four-for – that pulled down the Aussies from what seemed around 370 a reality.
Australia lost the wicket of David Warner early to strike from Umesh Yadav before Steven Smith and Aaron Finch gave them a solid 182-run partnership.
At that point, Indian fans believed they were staring at an agonisingly tall score before Yadav broke through again in the powerplay overs. Ravichandran Ashwin and Yadav took one more each during the period to stem the run flow.
Brief flurries in the bottom end took Australia to the competitive total, becoming the only side to have not been bowled out by India in this tournament.
Apart from Yadav's four for, Mohit Sharma took two wickets and Ashwin one.
| | | | |
| --- | --- | --- | --- |
| Australia |   | Runs | Balls |
| AJ Finch | c Dhawan b Yadav | 81 | 116 |
| DA Warner | c Kohli b Yadav | 12 | 7 |
| SPD Smith | c RG Sharma b Yadav | 105 | 93 |
| GJ Maxwell | c Rahane b Ashwin | 23 | 14 |
| SR Watson | c Rahane b MM Sharma | 28 | 30 |
| MJ Clarke* | c RG Sharma b MM Sharma | 10 | 12 |
| JP Faulkner | b Yadav | 21 | 12 |
| BJ Haddin† | not out | 7 | 7 |
| MG Johnson | not out | 27 | 9 |
| Extras  14 | Total | 328 |   |
Coming down on the chase, the Indian's started slow and cautious and lost too many wickets on the way starting with a three-wicket slide before and after the first drinks break.
The highest partnership was between the opening pair of Shikhar Dhawan and Rohit Sharma at 76 runs. Others came and went without making much of a stand except MS Dhoni.
Australian pacers did their job well with James Faulkner claiming three wickets, Mitchell Starc and Mitchell Johnson claiming two each and Josh Hazlewood one.
The fielding was top notch from the Aussies and the two run outs of MS Dhoni and Ravindra Jadeja by Glenn Maxwell and Steven Smith respectively were exemplary in the making.
| | | | |
| --- | --- | --- | --- |
| India |   | Runs | Balls |
| RG Sharma | b Johnson | 34 | 48 |
| S Dhawan | c Maxwell b Hazlewood | 45 | 41 |
| V Kohli | c †Haddin b Johnson | 1 | 13 |
| AM Rahane | c †Haddin b Starc | 44 | 68 |
| SK Raina | c †Haddin b Faulkner | 7 | 11 |
| MS Dhoni*† | run out (Maxwell) | 65 | 65 |
| RA Jadeja | run out (Smith) | 16 | 17 |
| R Ashwin | b Faulkner | 5 | 13 |
| Mohammed Shami | not out | 1 | 1 |
| MM Sharma | b Faulkner | 0 | 1 |
| UT Yadav | b Starc | 0 | 5 |
| Extras  15 | Total | 233 |   |
Australia Team
MJ Clarke (C), GJ Bailey, PJ Cummins, XJ Doherty, JP Faulkner, AJ Finch, BJ Haddin (wk), JR Hazlewood, MG Johnson, MR Marsh, GJ Maxwell, SPD Smith, MA Starc, DA Warner and  SR Watson
India Team
MS Dhoni (C & wk), R Ashwin, STR Binny, S Dhawan, RA Jadeja, V Kohli, B Kumar, Mohammed Shami, AR Patel, AM Rahane, SK Raina, AT Rayudu, MM Sharma, RG Sharma and UT Yadav