Australia take series with 177-run win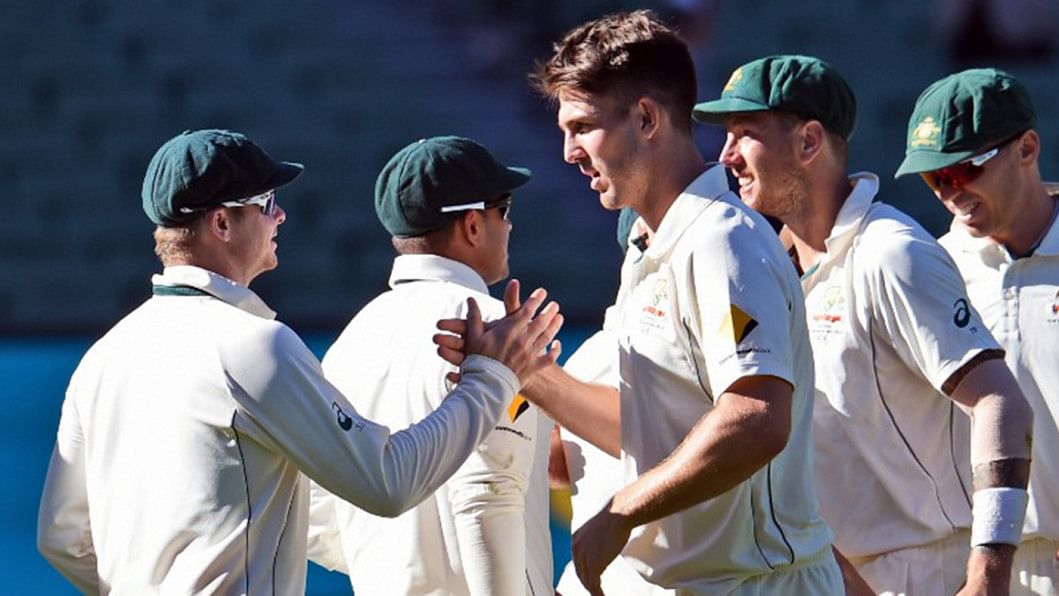 Slowly but surely, Australia worked their way through the West Indies for a victory that kept the Frank Worrell Trophy in their possession for 20 unbroken years, stretching back to the triumph of Mark Taylor's team in the Caribbean in 1995.
Having fought hard over the final two days of the Boxing Day Test at the MCG, the West Indies lost their final four wickets for 32 in 10 overs, allowing Steven Smith's team to enjoy success inside four days after they declared before play began to set Jason Holder's men a target of 460.
With the benefit of more time in Australia, the visitors put up a better show than they managed in Hobart, though the hosts were never in any danger of losing the match. It was more a question of time, and Holder was despondent at a checked drive to mid off that opened up the tail to the second new ball with a handful of overs remaining.
Mitchell Marsh claimed that wicket, and it was his fast-medium that did the majority of the damage for Smith. At times touching speeds in excess of 140kph and getting the ball to climb off the seam, Marsh vindicated the national selectors' commitment to keeping an allrounder in their XI despite a logjam further up the batting order that forced the omission of his brother Shaun after a record stand with Adam Voges in Hobart.
Nathan Lyon and James Pattinson also contributed strongly, the offspinner's seven wickets earning him the man of the match garlands on a surface that remained good for batting throughout. Lyon's final victim was the debutant Carlos Brathwaite, who ended a memorable first Test appearance by having his off bail fall after it was grazed ever so gently by an offbreak.
Brathwaite, Darren Bravo, Holder and Denesh Ramdin all had something to take from the match, which showed that this young West Indian side may not be beyond all help. They have been awfully short of experience and confidence in recent months, but there were signs of promise over the past two days that will be cause for optimism in the mind of the coach Phil Simmons.
Brathwaite and Rajendra Chandrika made a reasonable start, trying to score wherever possible and seeing off the opening spells of Pattinson and Josh Hazlewood.
However, Lyon has been a dominant performer for Australia in this match, and in his third over he coaxed Brathwaite into an ill-advised cut at a ball too straight and too full for the shot. Duly cramped, Brathwaite skewed a chance to slip, where Smith held it sharply.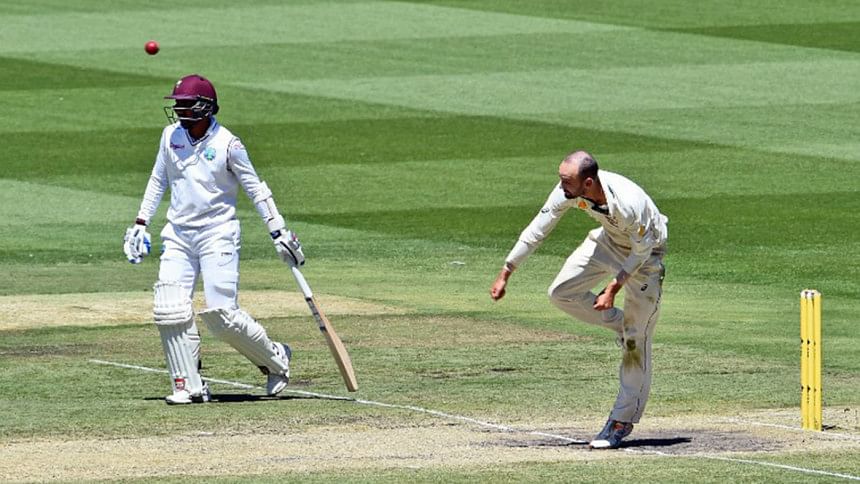 Following his first innings resistance, Bravo began with similar intent to frustrate Australia, and with Chandrika also obstinate, the Australians were unable to go on to further exploit Lyon's initial break. Fifteen minutes before lunch, Pattinson thought he had Chandrika LBW, and after Marais Erasmus declined the appeal, the Australians shaped to review the decision.
However they lingered in their deliberations and were overruled from referring by Erasmus on the basis that they had taken more than the allotted 15 seconds to decide. This was perhaps a blessing in disguise, as replays showed a shuffling Chandrika had been struck outside the line of the off stump.
Moments before lunch, Hazlewood procured an edge from Bravo, but replays showed that Hazlewood had none of his front foot behind the line and a no-ball was ultimately called. Hazlewood's transgression followed two by Pattinson on day three that also robbed Australia of wickets.
The assistant coach Craig McDermott will be doubtlessly keeping a close watch on the crease line in training for the third Test in Sydney. Peter Siddle was more disciplined when he repeated the trick soon after the resumption, ending Bravo's occupation after facing a total of 265 balls in the match.
Pattinson followed up by defeating Chandrika, pinned lbw in front of the stumps and consigned to walking off the ground after his review showed the ball to be clipping the bails. Marsh's impact was then felt when he found a way through Marlon Samuels, who was beaten on length to edge behind.
Holder and Ramdin then combined for a stand of 100 that looked to be taking the Test into a final day - untold riches given how the match seemed destined to finish on day three after a first innings batting collapse. However Marsh's persistence was to be rewarded with an edge from Ramdin, and the end followed swiftly. Australia deservedly celebrated two decades of dominance, but they had at least been made to work for it.