Schooling spoils Phelps's party
Bolt hits Rio tracks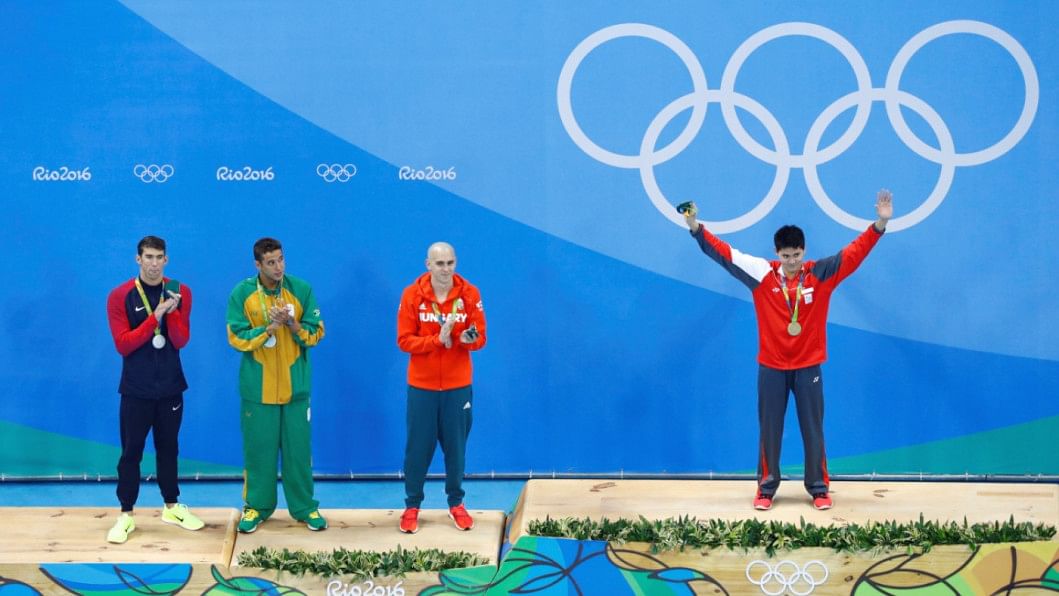 Nineteen-year-old American swimmer Katie Ledecky turned her last race at the Rio Olympics into a pool party by winning the 800m freestyle in record time and setting a new landmark for women's all-round swimming at the Olympic Aquatics Centre on Friday night.
The latest in a line of American phenoms, Ledecky won the race -- her fourth gold medal in five events -- by more than 12 seconds on way to breaking her own world record and setting a new landmark of winning the 200m, 400m and 800m at the same event for the first time since Debbie Meyer in 1968.
The Washington native was so dominant in this long-distance race that she allowed herself time to take off her goggles and cap and watch the rest of the field approach the wall. "I had a lot of fun tonight. I just wanted to push myself and see what I could do," she later said.
On the penultimate night dominated by Americans at the pool, there were quite a few upsets including Katinka Hosszu's defeat to America's Madeline Dirado in the 200m backstroke. Trailing for the better part of the race, Dirado accelerated at the final turn and took the gold by 0.06 seconds to deny Hungary's Iron Lady a fourth gold in four events.
However, the biggest shock of the night was reserved for the men's 100m butterfly where Michael Phelps was beaten to gold by Singapore's Joseph Schooling.
The 21-year-old Singaporean, who once took an autograph of the Baltimore Bullet during the 2008 Beijing Games, beat his idol by 0.75 seconds for an Olympic record. It brought back memories of 2012 where Phelps was outdone by a young Chad Le Clos in the 200m butterfly. Interestingly, Chad, Michael and their long-term rival Lazslo Cseh finished second in a three-way dead-heat behind Schooling on Saturday night.
Phelps later reiterated his stance of quitting the sport after Saturday's 4X100m medley relay.
"No. I am not going four more years. And I'm standing by that," Phelps said. "I've been able to do everything I've ever put my mind to in this sport. And 24 years in the sport. I'm happy with how things finished."
While the greatest Olympian of all time was preparing for a final flourish, another modern day great, Usain Bolt, was hitting his strides at the Olympic Stadium tracks on Saturday morning, with his pace as well as showmanship.
Taking part in the 100m heats, the Jamaican great ambled his way to qualification, clocking a languid 10.07 seconds while teasing his closest competitor Andrew Fisher of Bahrain.
The 29-year-old Jamaican, who is gunning for an unprecedented triple triple with a 100m, 200m and 400m haul at these games, like always, stepped up a gear after a slow start and soon surged past the rest of the field, with Fisher turning on his afterburners to catch the Jamaican.
Bolt looked over his shoulder, and sensing Fisher was still behind, took his foot off the gas a bit yet ambled to a comfortable first-place finish.
The best time of these heats was clocked by America's Justin Gatlin, the man who is expected to mount the main challenge to Bolt's search for a third consecutive gold medal at this event, at 10.01 seconds. Bolt's compatriot and London 2012 Silver medallist Yohan Blake clocked 10.11 seconds.