Zahir cracks 32-year record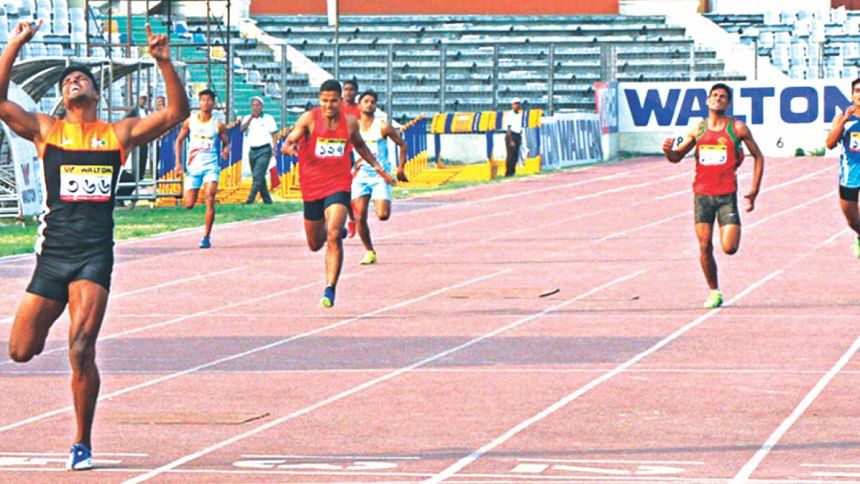 After sprinter Mohammad Ismail's record-breaking performance on the opening day of the Walton National Athletics Championships, teenager Zahir Rayhan stole the show on the second day by breaking a 32-year-long national record in the 400m run at the Bangabandhu National Stadium yesterday.
Zahir, who came into the limelight after reaching the semifinals of the World U-18 Championships in Nairobi in 2017 with a time of 48 seconds, clocked 46.86 seconds (electronic timer) in his first ever participation in the national athletic championships to eclipse the previous best of 47.55 seconds by Milzar Hossain during the Asian Games in Seoul, South Korea in 1986.
Abu Taleb and Masud Rana from Bangladesh Army finished second and third, clocking 48.50 and 49 seconds respectively.
The 19-year-old Zahir had to sit idle in the 2017 meet following an eye injury sustained in a motorcycle accident before returning to the track through the 2018 Summer Athletic Championships last July, when he won gold in both the 400m and 200m events.
However, the precious moment was worth Zahir's wait as this time, the athlete from BKSP made his debut remarkable by setting a national record.
"I'm really happy to break a 32-year-old record," said Zahir after completing the lap at the Big Bowl. "Actually I set my target to create a new record in the 400m sprint since I could not produce good timings in the Summer Athletic Championships, though I won gold in the 200m and 400m."
Creating a new national record was especially momentous for Zahir as his parents were watching from the gallery. Former athlete Milzar Hossain also watched how his record was broken by a promising athlete.
"Many may think that I am not happy with his record-breaking performance but truth be told, I am really happy that my record was broken by someone after 32 years. I could have been more happy had this record been broken earlier," said Milzar.
"From the beginning, I followed his running [in the race] and thought something was going to happen when he passed the 200m mark. Eventually, he did a great job," said Milzar. "I think he has good potential with height, stamina and technique. We have to look after him in any way possible if we want something from him at the international level."  
Before writing his name in the national championships, Zahir took part in three junior meets in which he bagged all the gold in the 200m and 400m events. The boy from Sherpur is now looking forward to doing something for the nation in the upcoming South Asian Games.
"Probably only five months are left for SA Games and it is not possible to reduce the time in this period. Nevertheless, I have to work hard to do something good in the SA Games. If I can maintain this timing, a medal can be expected because an Indian athlete recently clocked 45.99 seconds in the 400m sprint," added Zahir.
Meanwhile, Bangladesh Navy dominated the medals table with 10 gold, 13 silver and 5 bronze at the close of the second day. Bangladesh Army were in second position with nine gold, eight silver and 13 bronze while Bangladesh Jail were in third position with two gold, one silver and one bronze.