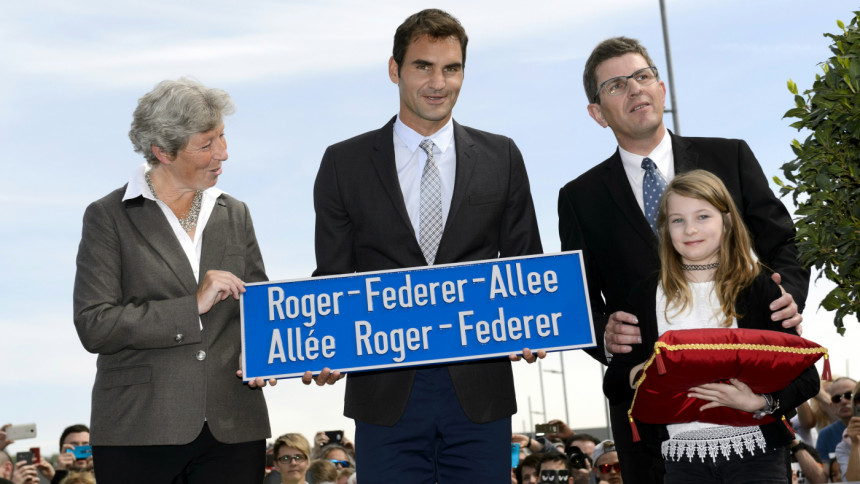 Swiss tennis maestro Roger Federer has had a street -- which leads to the national centre where he trained as a junior -- named after him in the city of Biel in Switzerland on April 21. 
The street was named 'Allee Roger Federer' during a ceremony before 15000 people. 
'I am very moved. I never thought I would see a street named after me,' Federer is quoted as saying in Swissinfo.com. 'I hope that we will see future champions on the Allee Roger Federer. Thanks a million.'
The 34-year-old Federer, ranked number three in the world behind Serbia's Novak Djokovic and Britain's Andy Murray, is gearing up for the second Major of 2016, the French Open, which runs from May 22 - June 6 at Roland Garros. He also had words of encouragement for his great rival and friend Rafael Nadal, who seems to be coming out of a slump in form, winning his first Masters 1000 event for over two years in Monte Carlo earlier this month. World number one Djokovic and Nadal, known as the King of Clay, will once again be major roadblocks in Federer's quest to win his second French Open, and first Major since Wimbledon 2012.  
Federer was not surprised at Nadal's apparent resurgence as the 29-year-old put an end to his injury and confidence woes which stifled him last year.
'Perhaps he surprised you journalists, but certainly not us players,' Federer said to Gazzetta World. 'A guy who has won nine times in Paris, nine times in Monte Carlo, who was No 1 in the world for a long time doesn't lose his quality. 
'Rafa exploded very quickly, our best moments often coincided, some of our games have become historical, unfortunately he has also suffered some of the most painful defeats of his career. 
'Also, he's left-handed, and that forced me to find different solutions to combat it.'