Little cushion for people against inflation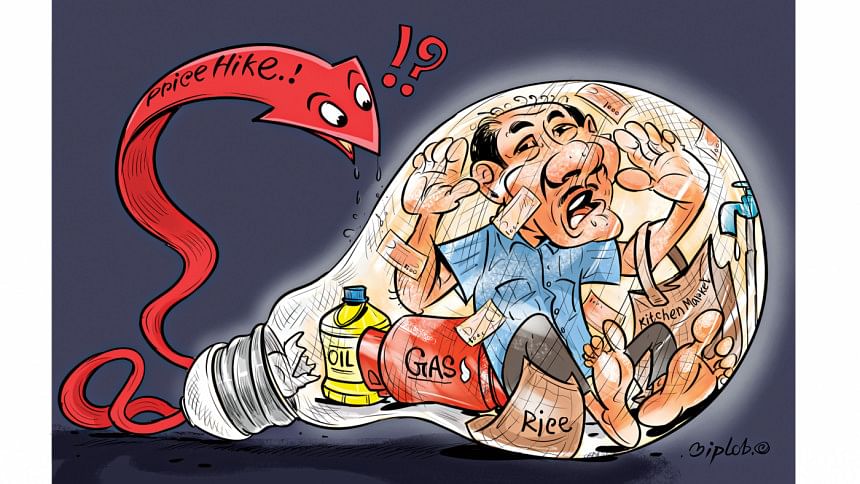 In April, the inflation rate in Bangladesh stood at 9.24 percent. And for some, this economic term has become an issue for deliberation in brightly-lit air-conditioned conference rooms.
But for most people with fixed income, it translates to their struggle for making ends meet getting tougher day by day.
"The thought of going to the kitchen market gives me jitters because I am scared that the prices of groceries and staples have risen further. I wonder whether there is anyone to care about us," Maksudur Rahman of Adabar in the capital told The Daily Star.
With his nine-to-five job, Maksudur earns around Tk 35,000 a month. The 35-year-old is the lone breadwinner for his family of four.
He feels the walls are closing in on him with his rent, healthcare, and education costs rising. Some things had to go on the chopping block. Non-essentials were the first, like dining out and trips to his village home. Even his expenditure on food had to be reduced.  
The belt-tightening helped but the struggle continued.
He said, "The list of exclusions is long, yet I cannot strike a balance between my income and expenses.
"Things were not so bad last year. I used to buy chicken and fish several times a month as my children love chicken. Now I can afford chicken only twice a month and try to get by with eggs, lentils and vegetables. It makes me sad when I see my children eat," Maksudur said.
From metropolises to small towns and villages, people are struggling to stay above the water. After taking a pounding during the pandemic, people of fixed incomes, like Maksudur, are now overwhelmed by the high cost of living in the absence of a corresponding wage increase.
The national budget unveiled yesterday is unlikely to bring any relief for them.
It is true that the budget proposed raising the minimum taxable income ceiling to Tk 3.50 lakh from Tk 3 lakh but there are no specific measures mentioned in the budget that can curb raging inflation, said experts.
There is not much in the budget to ease the rising cost of living, said Selim Raihan, executive director of the South Asian Network on Economic Modeling (Sanem).
"It is not clear in the budget how the inflationary pressure would be reduced or what measures would be taken to decrease the commodity prices."
Raihan said inflation has largely been hovering between 8 and 9 percent during the current fiscal year. Such a high inflation rate for so long has become a huge problem for families with low income.
According to a Sanem survey on 1,600 homes across the country in March, low-income households reduced consumption of rice and wheat by a staggering 37.08 percent and 56.55 percent respectively.
A stunning 96 percent of the poor slashed their meat consumption and 88.22 percent gave up fish.
Consumption of egg, the cheapest means for getting animal protein, and edible oil was down by 77.06 percent and 81.43 percent, it found.
The reasons behind the runaway inflation are many, but disruptions in global supply chains, Russia's invasion of Ukraine, inadequate domestic food production, price manipulation at local markets, and the weak taka are usually blamed for high prices of food, fuel and other commodities.
Raihan said, "We had assumed that inflation would come down automatically, but it is not going to happen like this. We cannot still blame the Russia-Ukraine war for the persistent inflation because prices of many products have come down globally but not in our country."
Citing an example, he said the price of crude oil in the international market has dropped but fuel prices are still high in Bangladesh. The government could have reduced the prices by adjusting taxes since fuel prices directly impact inflation. But that did not happen, he added.
Raihan said apart from implementing appropriate monetary policies, the government should take effective steps against market players who manipulate prices.
"Some drives are conducted on and off but those do not help much. As long as the unscrupulous traders are not made accountable and a proper monitoring system is not in place, nothing much will change," he said.
Yesterday, proposals were made for increasing the allocation for social security programmes and raising the number of beneficiaries and allowances for elderly people, widows, and deserted and destitute women.
However, food distribution programmes, like food for work and open market sale, will have less food, 30.92 lakh tonnes, next year. In the current fiscal year, the programmes had 32.82 lakh tonnes.
The budget did not mention any government interventions for curbing non-food expenditures of people, like rent, transportation, and healthcare.
Banker Shamsul Akand, who makes Tk 52,000 a month, said, "It is as if we don't fit into any of the government's measures in the time of surging cost of commodities. Prices of everything have gone up -- from rice to onions to spices… we have been left in the lurch.
"The cost of education for my child is going up… My son insists on a pair of sneakers for school sports but this is a luxury item now. And now we have to pay more to buy ballpoint pens as I heard the government will impose VAT on them. Where would people like us go?" he said.